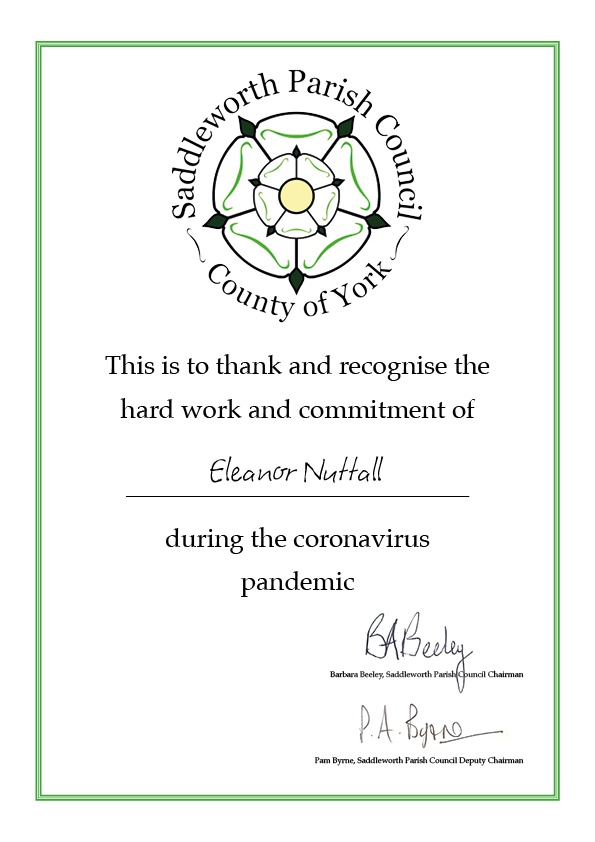 Saddleworth Parish Council has marked the hard work of a number of individuals across the district during the coronavirus pandemic.
Residents groups from across the district helped to nominate individuals who had gone the extra mile – and more – to help out fellow residents and make a difference.
There was a huge range of activities that were carried out by the winners - from helping with Facebook groups to keep people in touch, keeping community centres Covid-19 free, providing food parcels and accommodation to NHS staff, to doing odd-jobs for people who needed support.
Communications Committee chair and local Lib Dem councillor Sam Al-Hamdani said: "One of the strengths of our community has been the number of people who have put time and effort into helping others, whether it is with shopping, checking in with neighbours, or more recently providing lifts to people to get vaccinated.
"We couldn't hope to reach everyone who has done something remarkable for others during this period, but we wanted to demonstrate the strength of gratitude that there is in Saddleworth for the people who are doing so much to help. And we're also very grateful to all the residents' groups who put forward nominations from each of the villages across the district."
The certificates that the winners got were originally due to be presented in person but unfortunately the current lockdown restrictions have put paid to that, so they were instead posted out to the nominees.
Cllr Al-Hamdani added: "When we originally put together the idea last summer, we – along with everyone – were hoping that we would not be in this position still. But it is an indication of how much that these people's work was needed that we are still in restrictions, and people are still getting support. We all hope that things improve soon, but we have left open the option to issue more certificates in the future."
The full list of nominees are:
John Arthurs, Grasscroft & Greenfield; Greg Barrett, Grasscroft & Greenfield; Charles Brierley, Lydgate; Tracy Buckley, Diggle; Robert Cragg, Austerlands; Sandra Critchley, Dobcross; Denshaw Litter Pickers (Paul Gilbert), Denshaw; Chris Dummett, Delph; Jenna Evans, Diggle; Grotton Co-op's staff; Sam Hodgkiss, Grotton; Sharon Jones, Uppermill; Peter Killan, Uppermill; Light Up Denshaw (Paula Parslow), Denshaw; Eleanor Nuttall, Austerlands; Oldham Mountain Rescue Team, Grasscroft & Greenfield; Donna Simpson, Grasscroft & Greenfield; Roy Smith, Springhead; Elaine Tarrant, Dobcross; Ian Tarrant, Springhead; Jo Taylor, Diggle; Karen Williams, Uppermill; Brian Wilcox, Lydgate.
Main image:
An example of one of the certificates given out by Saddleworth Parish Council.