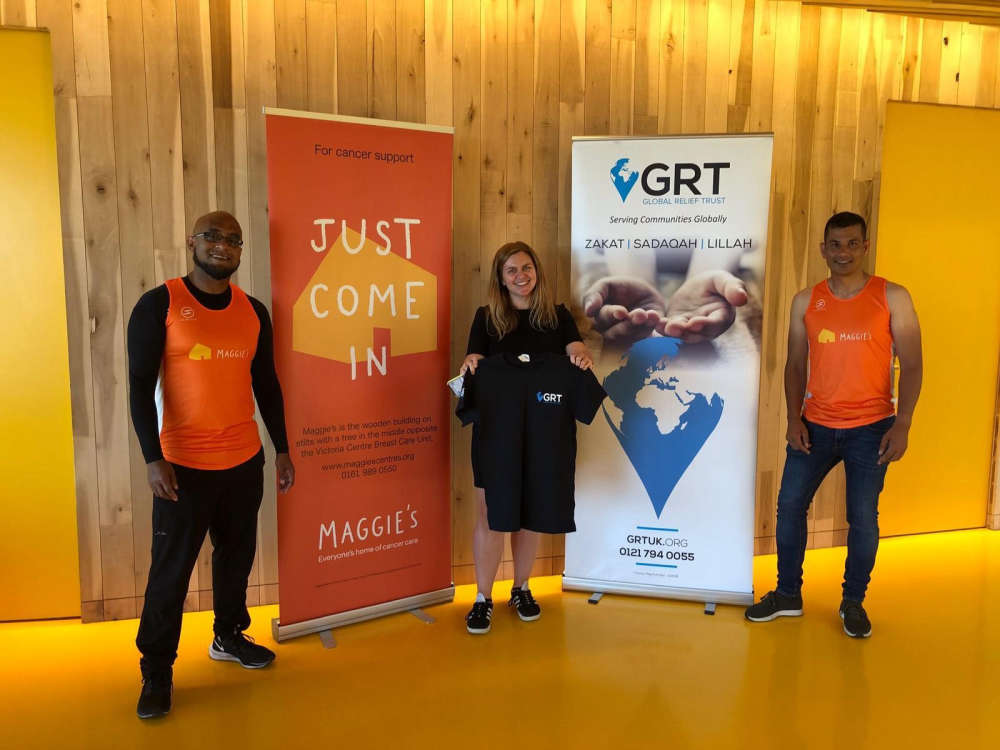 Afruz and Mofozul with Laura Tomlinson from Maggie's Oldham.
Two fundraisers are gearing up to run their first ever marathon later this year to raise funds for Maggie's Oldham. 
Afruz Miah and Mofozul Miah will be lacing up their shoes to take on the Virgin London Marathon on Sunday 3 October for Maggie's and Global Relief Trust.
Afruz said: "This will be my next challenge after my recent epic 313km run whilst fasting in Ramadan where I managed to raise over £115,000 for the poor, needy and vulnerable around the world!
"I am so excited and at the same time privileged to be taking part in the London Marathon and representing not one but two charities close to my heart. Please support and share this within your friends and family circle and let's make a difference to the lives of the people who need it most. Thank you in advance."
If you would like to support Afruz and Mofozul, visit https://givebrite.com/londonmarathon/runningman or https://givebrite.com/londonmarathon/mofozul
Maggie's is a charity which provides free psychological and emotional support for people living with cancer.
Laura Tomlinson, Fundraising Manager at Maggie's Oldham, said: "We're absolutely delighted to be supporting Afruz and Mofozul as they run their first ever marathon. A challenge of a lifetime!
"At Maggie's we have been here for people with cancer and their families during the most difficult of times. We rely on donations and fundraising to allow us to continue to offer the best support possible to people with cancer as well as their family and friends.
"Everyone at Maggie's sends the very best of luck and is so thankful to Afruz and Mofozul for choosing to support us as they take on this epic challenge."
Meanwhile, Global Relief Trust is a charity based in the United Kingdom, working across the globe with teams and expertise in conflict and disaster hit zones.
Read more from the Oldham Reporter