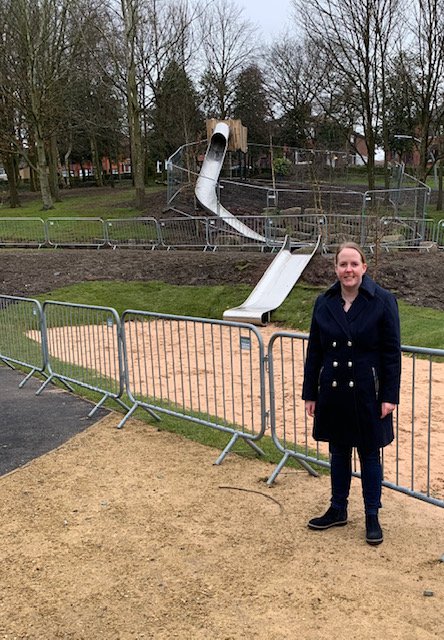 Local councillors and campaigners have hailed the transformation of Royton Park, after more than £150,000 has been spent on much-needed improvements. 
The park has had new play areas, a huge sandpit, a brand new slide, new paths and more trees and plants.
The majority of the funds came from Section 106 money, following development in various areas of Royton, while councillors contributed £10,000 through their ward budgets.
Following the removal of part of the play area in 2019, the play facilities were in dire need of improvement.
There were numerous incidents of vandalism to the play areas, and these have now been replaced with more robust equipment.
The park has been made more accessible, with new paths and people now able to explore the whole park more easily.
A new drainage system has been put in place to bring a large area of the park back into use all year round. Trees, a wild flower meadow and an orchard have all been planted.
Royton South Councillor Amanda Chadderton (pictured) said: "Royton Park is looking absolutely fantastic; our Parks staff have clearly been working non stop during lockdown to get the park ready for families to enjoy over the summer.
"The new paths have made it much easier to get around and the new play areas are looking great. I can't wait to spend more time in there with my newborn daughter as the weather gets warmer."
This summer Royton Park will also begin to be home to Royton Growing Hub.
The grow hub will be an area where local residents and community groups can come together, learn how to grow vegetables, socialise and improve their physical and mental wellbeing.
Planning permission for the grow hub was granted last year but work put on hold due to the pandemic.
Royton councillors have agreed to match fund the investment from United Utilities, which will allow tarmac around the area and for a drainage system to be put in.
Local campaigner Mick Harwood said: "I have been in this scheme from the start and whilst it has been delayed due to Covid, I am really excited to see it come to life this year.
"We held a really well attended consultation at Royton Town Hall at the end of 2019, where people were positive about the plans for the grow hub. Grow hubs have been really successful and well used in other areas of Oldham and its about time Royton had its own."
Read more from the Oldham Reporter