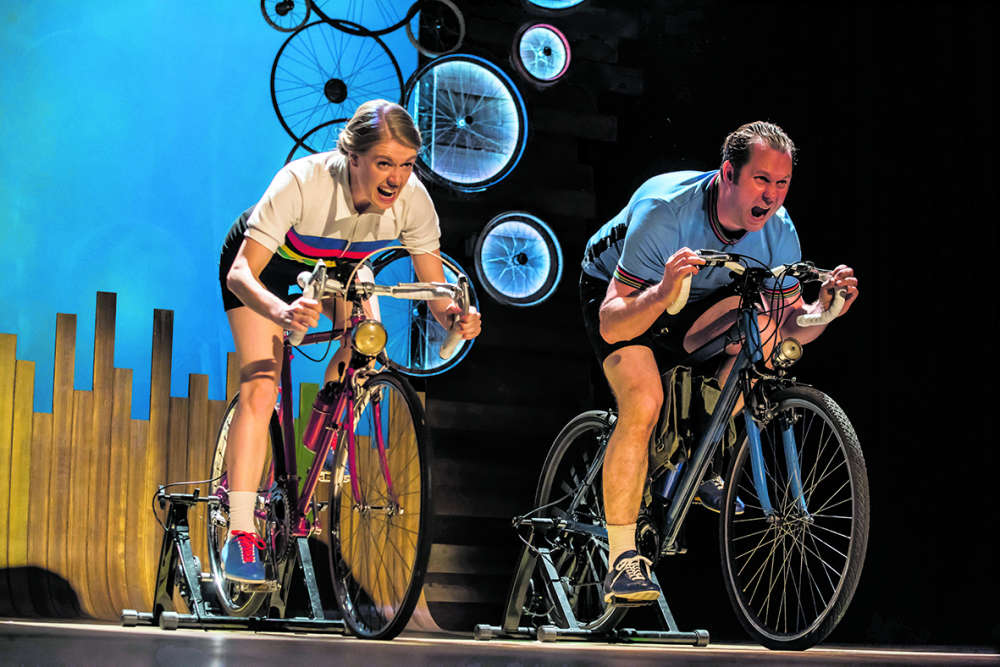 DETERMINED: Beryl and Charlie, played by Elizabeth Twells and James Lewis. Photo credit: Chris Payne.
A gem of a show has cycled on to the stage at Oldham Coliseum Theatre.
Beryl, written by actress Maxine Peake, tells the true story of unsung champion cyclist Beryl Burton. This inspirational tour-de-force, fuelled by rhubarb, northern charm and fierce determination, is a wonderful production - and one which you can see being turned into a film/drama at some point.
Before this show, I, along with many people I should imagine, had never heard of Beryl Burton, and yet she is quite possibly the most successful woman on two wheels.
She dominated cycling in the '50s, '60s and '70s, and became world pursuit champion, national pursuit champion, road racing world champion, national road racing champion, British record holder, world record holder, an MBE and an OBE.
What's even more remarkable is that Yorkshire lass Beryl had a heart condition and early in her life doctors advised her that she should never take part in strenuous activities.
This play follows Beryl from early childhood when she passes out during her 11-plus, taken to hospital and told that she has health problems and must take life easier.
Determined to prove everyone wrong, Beryl, played superbly by Elizabeth Twells, goes to work on a rhubarb farm, where she meets up with Charlie, played by James Lewis. He is a member of Morley Cycling Club and invites her along.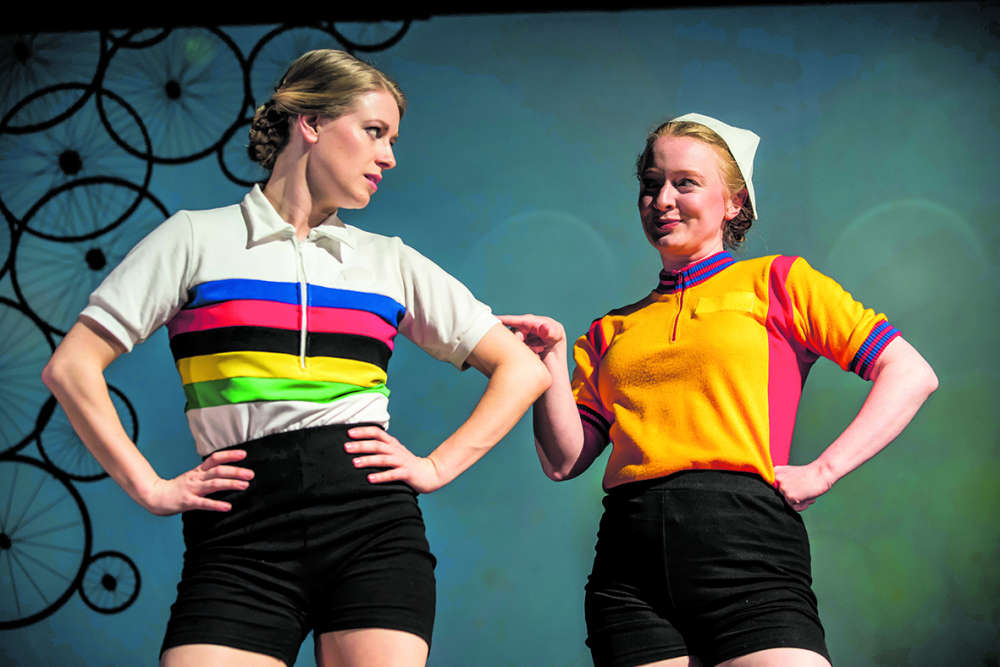 WINNER: Elizabeth Twells and Tori Burgess. Photo credit: Chris Payne.
It soon becomes apparent that Beryl is something special and she pushes herself to become the best at everything she does.
She trains harder and harder and starts taking part in races across the country - even cycling to the events herself to cut down on costs.
She is backed all the way by devoted Charlie, whom she marries.
They have a daughter, Denise, who is looked after by Charlie's mum when the two of them go cycling.
Eventually, Beryl is called up to the national cycling squad and goes on to take glory across Europe as well as at home.
Brave Beryl never lets her condition or her lack of funds hinder her progress - with true northern grit she just gets on with it.
This production is a whirlwind of a play, with all the parts played by just four people, who switch from character to character with aplomb.
Hopping on their bikes and playing the multiple roles are Tori Burgess (Olivier Award nominated 2022), James Lewis, Charlie Ryan and Elizabeth Twells, were all totally believable as the people in Beryl's life.
Beryl feels like a true northern kitchen sink drama, played with determination and plenty of dry comedy.
The audience, which was a mix of ages, and included a school trip of teenagers, loved it and I heard cries of astonishment when the ending was revealed.
Beryl is a fantastic play and one that I am certainly glad to have seen. It shone a light on an unsung sporting hero who justifiably should be remembered.
Beryl runs until Saturday, May 21. Visit Oldham Coliseum at https://www.coliseum.org.uk/whats-on/
Read more from the Oldham Reporter