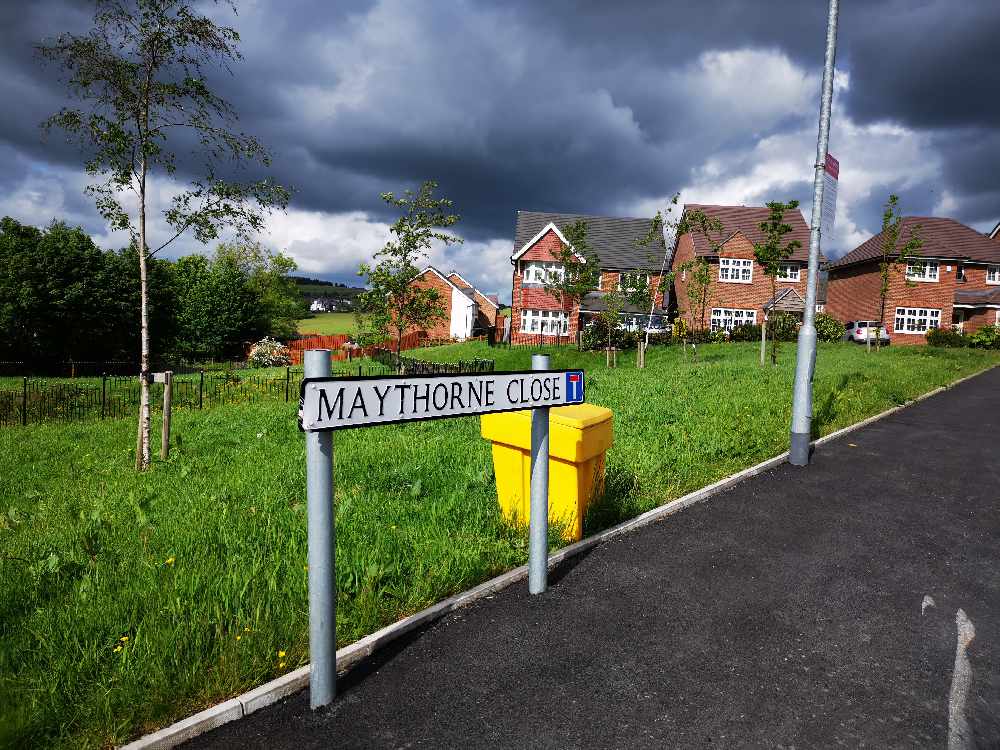 Maintenance of new Redrow estate at a standstill due to dispute.
Furious residents living on a brand-new Oldham housing estate have slammed house builders Redrow after being charged over £200 each per year for 'grounds maintenance' that hasn't happened.
Homeowners living on Meadow View in Moorside, which comprises 48 homes, say that despite demands from property management company, RMG Living, for the fees since the flagship Oldham site was launched in 2016, the company had failed to carry out any services under its contract whilst grabbing in excess of £10,000 per year.
The discovery came after residents complained that the grassed area to the entry of the estate hadn't been maintained for over six months. They were told by RMG that it wasn't responsible for the estate and it was still a matter for Redrow Homes.
However, things took a turn when Redrow itself advised that RMG had in fact taken responsibility since 2018. When pressed further by angry residents, both companies cited a 'missing email' as the reason why no handover had taken place and a dispute emerged between the two as to whom was responsible for the upkeep of the estate.
Michael Davis, a homeowner on the estate, said: "Since moving on to the estate, many residents have shared frustrations about the lack of customer care and quality of service from Redrow and its associated partners.
"We had no choice of property maintenance company when we purchased our homes, and to find out that we've paid such a large sum of money for no service whatsoever is appalling.
"Neither Redrow or RMG communicated with us beforehand to advise of the situation, it was only when we complained about the lack of services that the bigger picture became clear. Who knows how long this fiasco would carry on for if we hadn't intervened?
"We're paying for nothing."
Following a number of emails and calls to RMG to query the monies paid, the company has stated that it "is obligated to demand and collect service charge funds for the services that are due to take place across the estate in advance."
Residents are still unclear about how their funds have been spent and credits back to homeowners have yet to materialise, however RMG has since raised its fees across the entire estate.
Michele Breslin, who also lives on the estate, added: "We were absolutely shocked to find that even after admitting RMG hadn't taken responsibility of the estate, our service charges went up.
"We were promised a credit back on our accounts, but it feels like we've been penalised because we have no choice in the matter."
Redrow Homes, which is currently promoting its two newest Oldham developments, Saddleworth View and Fox Meadows, responded to residents with an instruction to cut the estate grass as a one off "gesture of goodwill" whilst the matter is resolved.
Craig Ward, technical director for Redrow Homes in Lancashire, said: "Communal areas of our new homes developments are maintained by a management company on behalf of all residents and this should be explained to customers by their solicitors and our sales teams during the purchase process. Until a substantial number of properties are completed on a development Redrow undertakes the maintenance before they are handed over to a management company, which at Meadow View is RMG.
"RMG will then manage the maintenance works and the management company will start incurring maintenance costs. Up until this point any monies collected by RMG in management company fees are held in a separate account and an annual statement will be produced. If there are any savings made due to the maintenance fees not being expended then they will be returned to the clients as a credit at the end of the management companies' financial year.
"Unfortunately, there has been a mix up on this handover date between Redrow and RMG and some services were not maintained as frequently as they should have been. We can only apologise to residents of Meadow View for this. We have since redone the handover with RMG who are managing the development from June 3 2019 onwards."
Justin Herbert, Operations Director for RMG, said: "We are sorry to hear of the residents concern. We can reassure them that although they have been invoiced, they will not pay for any services they have not received. In line with their legal documents, they are invoiced but the money is held in trust up to the point we put on services. Prior to that Redrow maintain the area. Residents will receive credits on their accounts when the accounts are produced at the end of the year.
"Residents should have been made aware by their solicitors at the point of sale in regards their responsibilities to pay to maintain for the communal services but RMG customer service team are available to speak to residents at any time. In addition, we will arrange a meeting on site to answer any questions as we are committed to working with them going forward."