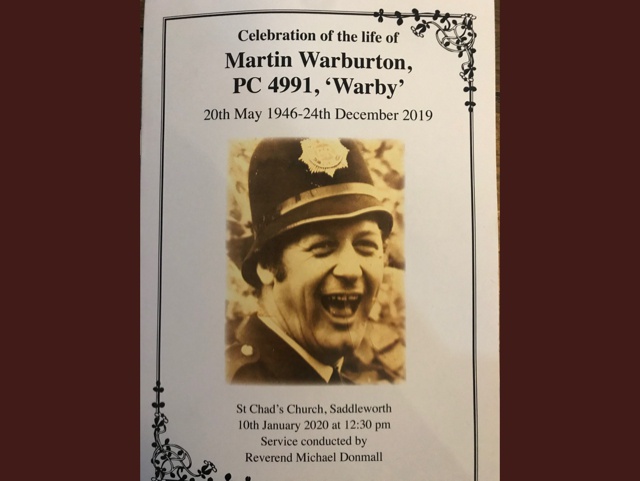 The compelling peal of the ancient bells sounding across the valleys summoned villagers to celebrate the life of their very own laughing policeman. 
PC Martin Warburton, described in one tribute as dependable as Saddleworth's dry stone walls, was praised by serving police officers as 'a cornerstone of community policing.'
So the villagers and people from further afield came with warm smiles and handshakes to share their memories at St Chads Church of the man universally know as 'Warby'.
To underpin the depth of feeling and respect for the genial retired police officer, Reverend Professor Mike Donmall, Associate Priest, said in his address: "Warby was incredibly well-known in the area – by his many friends but also by others, who just knew of him.
"That's why we had bells this morning as we walked in – the bell-ringers just wanted to honour the man."
And in moving family tributes and a specially dedicated poem, Martin was described as a man with a big personality, upbeat and positive, very funny and warm-hearted.
Rev Donmall added: "As a policeman, he really cared for the community that he served and by all accounts was a trusted friend to many, always with a twinkle in his eye and a smile on his face.
"Lisa, his daughter, summed up her feelings for her dad – he was just a legend, larger than life, my hero!"
Richard Hankinson, former squire of Saddleworth Morris Men, paid tribute to Martin's family, adding: "He was one of life's true gentlemen. I was proud to have known him and shared laughs and a couple of pints with him. God bless you Martin."
In the raft of poignant tributes on social media, one said: "Martin was a salt of the earth copper and will always hold a place in our communities' hearts.
"He helped my mum many a time when she was a district nurse in Saddleworth.
"When the snow was bad and she was struggling to get to patients in the rural farms and hamlets, Warby would drive her up in his Landrover to make sure her patients got their treatment. He was a good man."
Now, in affectionate memory of the Saddleworth legend, Dovestone W.I. are holding a coffee morning to raise funds for a memorial bench in his honour.
Jess Moreland, the president, said: "We have been given the blessing and permission from his family, as this is a most befitting and lasting legacy of the man who meant so much to so many people in our community. If anyone would like to donate any cakes or food to serve and sell at this fundraiser, that would be great."
The event will be held on Saturday, February 8, from 10am to 2pm at Uppermill Civic Hall.
A Justgiving page has been started for people who can't make it to the coffee morning or would like to donate online.