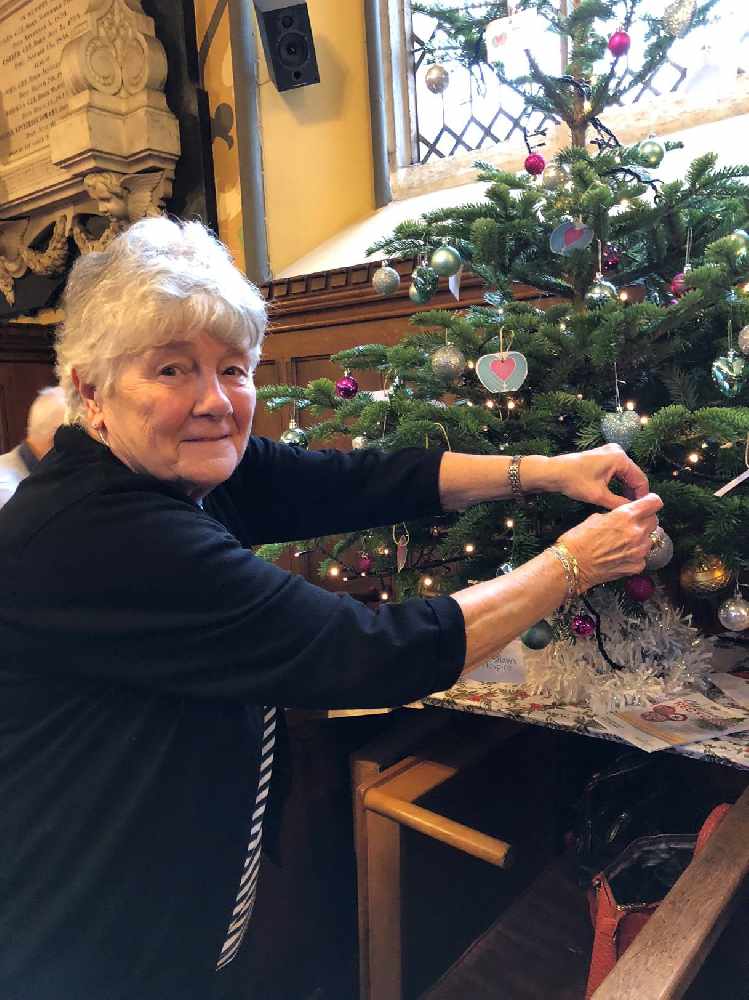 Dr Kershaw's Hospice is welcoming the community to remember their loved ones at its annual Light Up a Life event, which is taking place virtually this year.
With the dedication deadline of Monday 9 November nearly upon us, it is not too late to make your dedication to be included in the hospice's 'Book of Remembrance' as well as having your dedication on screen during the service.
The virtual service will take place on Sunday 6 December at 7pm and will be streamed via the hospice's Facebook page and YouTube channel.
Pat Swinborne (pictured), who volunteers at the hospice, has supported Dr Kershaw's for a number of years in a variety of different roles, from manning the hospice reception to working in the hospice's charity shops.
Pat has even helped out many times at the annual Light Up a Life service, serving tea and coffee to those who have attended the poignant event.
Although Pat can't physically attend the event this year, she will still be joining in virtually and has made her dedication already.
She commented: "Dr Kershaw's Hospice means a lot to me; giving me strength when I've needed it. The Light Up a Life service is soothing and gives me the opportunity to remember happy memories of those I love. This year, I'll remember my brother, Jack, who died in March along with my mother, father and my beloved husband, George."
The annual service aims to bring the community together to celebrate those special people who have helped light up their life, whilst also helping to keep their memory alive and positively support their local hospice.
The ceremony will follow its traditional format, allowing people from all over the borough to make a dedication in the form of shining light on the dedication tree - which is situated within the hospice grounds in Royton to remember their loved ones no matter their faith, culture or connection to the Hospice. It's something particularly poignant after what has been a challenging year for all.
The virtual service will include multi-faith readings, performances from the Hospice's very own choir, The Dr Kershaw's Crooners and the Saddleworth Musical Society and the ceremonial lighting of the Hospice Remembrance Tree.
Those who wish to dedicate a light can also request a Light Up a Life At Home pack which includes instructions on how to join the service, an order of service so that you can follow the event from the comfort of your own home, a greeting card with your dedication inside, a cut-out star to hang on your tree at home or any space that holds a special place in your heart, and a tea light candle which we would encourage you to light during the service in memory of those you hold dear, or on a day that is special to you.
Kathryn Harding, Emotional and Bereavement Support Nurse, said: "The Light Up a Life event is a chance to come together in remembering our loved ones and supporting one another through the challenges of ill health, grief and bereavement. This seems particularly important this year when many of our usual avenues of comfort and strength have been disturbed and disrupted.
"Your participation helps us to continue to support our patients and their families to the very best of our ability and empowers us to work effectively for the community of Oldham. It means a lot to us. Thank you."
To make a dedication, you can call the Hospice's Fundraising Team directly on 0161 624 9984 or visit www.drkh.org.uk/support-us/light-life. It will be possible to still make a dedication after Monday 9 November but it may not be included in the Book of Remembrance or on screen during the event.