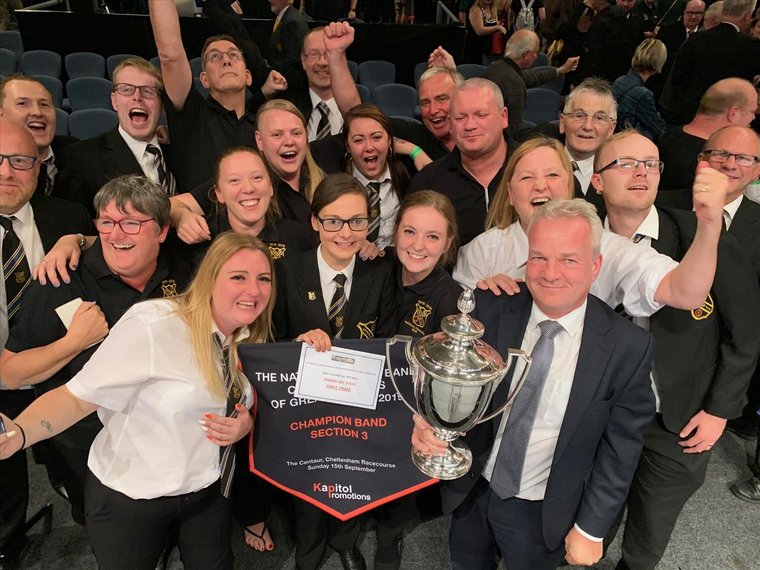 Uppermill Band is celebrating after being crowned National Third Section Champions for 2019 at last weekend's Brass Band Finals in Cheltenham. 
The band, which was formed in 1979, came out on top in a field of 18 bands who qualified from across the UK with their performance of set test-piece 'Viking Age'.
Adjudicator Paul Holland said there was "one clear winning band" with the team of adjudicators describing the band's performance as "full of atmosphere, tenderness and one that demonstrated excellent control of dynamics".
After a five-hour wait for the results and a tense few moments, the band and their supporters erupted in the hall when their name was announced as the winner.
The recognition is the pinnacle of the band's 40-year history.
Uppermill Band chairman John Ward said: "What a fantastic result and, in our 40th anniversary year, it's our best-ever result. There is a great deal to celebrate.
"Those anxious moments prior to the announcement and then hearing National Third Champions 'Uppermill' is a moment to be treasured.
"Preparation and team work was the key. Everyone worked so hard in the lead-up and gave an excellent performance on the day under the direction of our Musical Director, Dean Redfern.
"The result was so richly deserved for 'Team Uppermill' and I'm so very proud of this fantastic achievement.
"The band would like to take this opportunity to thank everyone who has supported them during this year and made it possible to bring the Third Section National Championship trophy back to Saddleworth, and particularly to our home town of Uppermill."
Dean added: "Viking Age was a beautiful piece of music, which allowed us to play a very musical rendition.
"I am so proud of all the players who delivered a stunning performance. It is a real privilege to conduct this band."