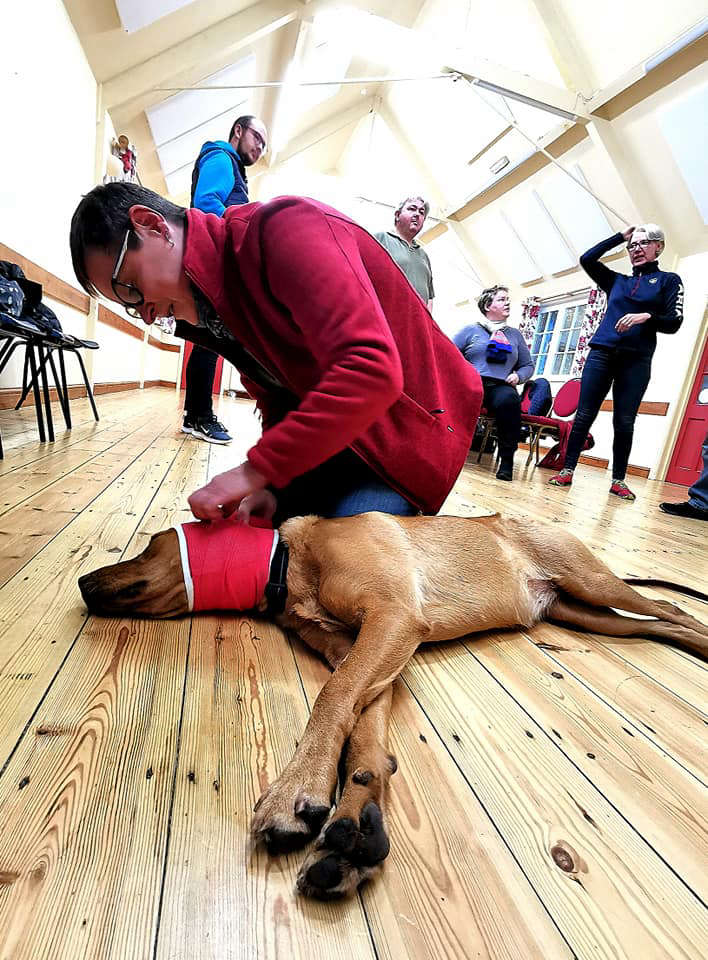 Rachel carrying out first aid on a dog.
Put your pet's safety first this new year - that's the message of qualified veterinary nurse Rachel Bean, who is urging pet owners to take a first aid course as part of their new year resolutions. 
Rachel, who lives in Grotton, has seen many instances of owners simply not knowing what to do when their dog has an accident.
And she says that by doing the inexpensive training the chances of a happier outcome for your pet increase ten fold.
She said: "The training isn't teaching you how to be a vet, simply how to react quickly and calmly in a crisis situation.
"A lot of owners panic when something goes wrong, whereas if they knew what to do in those precious moments they would remain calm, and there would be less chance of a situation seriously escalating."
A dog expert and behaviourist, Rachel wrote the canine first aid course for Ofqual regulated training provider iPET Network, and Rachel's own dogs Chilli and Wisp frequently go along to training sessions to act as models.
And she believes that, particularly with the dramatic rise in new dog owners due to the pandemic, there has never been a more important time to learn first aid.
Rachel, who supports the national Safe Pets and People campaign, which is calling for mandatory first aid qualifications for all UK pet professionals, added: "There are more dogs than ever, so surely more people than ever should know how to help them should they have an accident.
"I am proud to support Safe Pets and People, and believe that at the very least our pet professionals should know what to do.
"But owners can join in too, and the more people that know the basics the better."
Read more from the Oldham Reporter