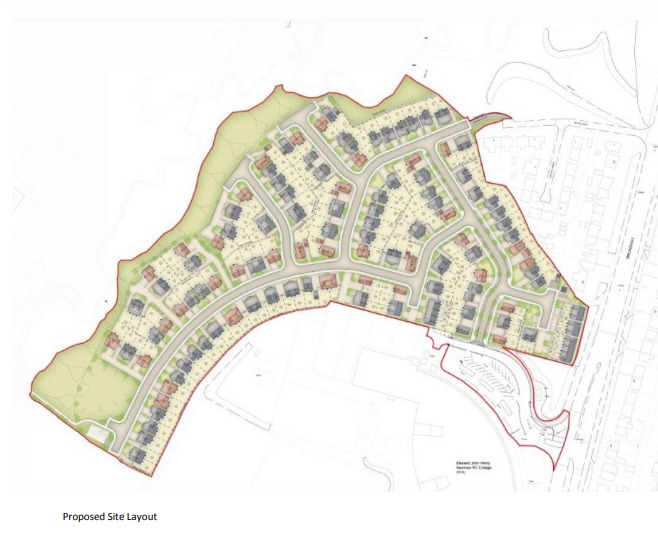 Councillors are set to make a decision on plans to build a huge new housing estate of 160 homes in Oldham.
The borough's planning committee is set to vote on the proposals to develop agricultural land currently occupied by Matthew Fold Farm in Chadderton on April 21.
The site, which is bounded by Broadway to the east, is south of Newman RC College and the school playing fields.
The new development by applicant FO Developments LLP would be made up of 34, two-bed, 96 three-bed and 30 four-bedroom houses.
Of these, 51 would be classed as 'affordable' dwellings, split into a mix of shared ownership and affordable rent.
All of the proposed estate would be accessed from a new entry point adjacent to the junction of Newman College onto Broadway. An emergency access point would also be created onto Milton Drive.
Planning officers are recommending that the application be approved, subject to a Section 106 agreement.
This would cover the implementation of the first phase of a proposed 'linear park' to the west and north of the site, and education contributions totalling £540,000.
The site forms part of the wider Foxdenton Strategic Site, which has outline planning permission for residential use.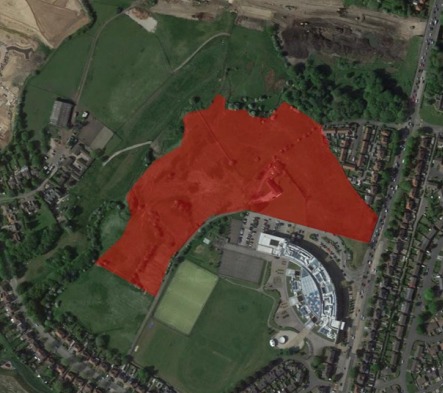 The location of the new housing estate in Chadderton. Photo: FO Developments LLP.
There have been 12 letters of objection about the plans, including one from the Peak and Northern Footpaths Society, who says that the proposed alternative footpaths are currently 'unacceptable'.
Residents have also raised concerns about the use of Foxdenton Lane for construction traffic during the building phase.
Officers admit that Foxdenton Lane will 'initially' need to be used while the estate is being built.
However their report states: "While it is accepted that there will be some unavoidable disruption during the construction period, all realistic measures to minimise the impact on residents adjacent to the construction access road have been secured upfront within the construction management plan."
These include widening of part of the construction access track and a programme of work to use the access for HGVs for as 'short a period as possible'.
As part of the application, it is also proposed to replant 109 trees as well as 'numerous' hedgerows and shrubs.
Officers conclude: "This proposal is part of the wider Foxdenton development and will deliver a mix of residential dwellings in a highly sustainable location which will also support the wider initiative of the immediate area and will be well-integrated with the adjacent proposed Linear Park."
Main image:
The planned layout of the new estate in Chadderton. Photo: FO Developments LLP.
Read more from the Oldham Reporter