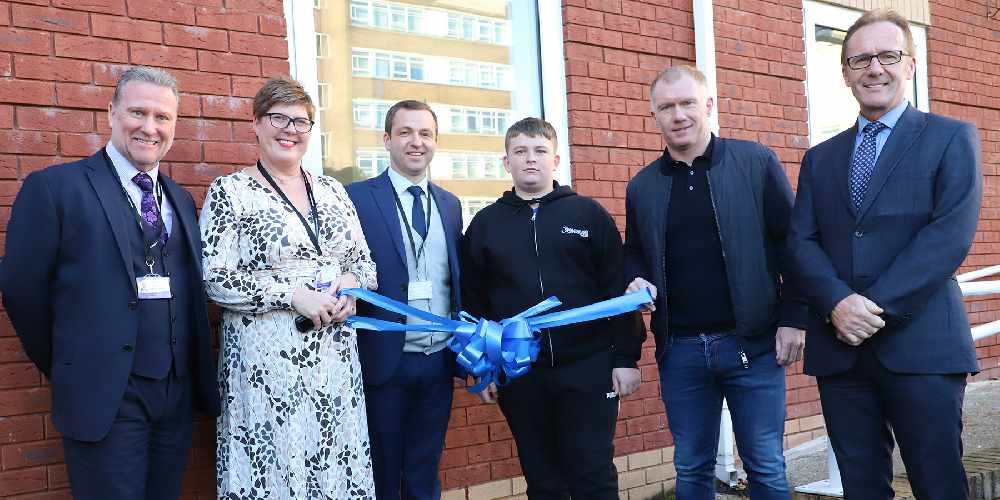 Manchester United and England legend Paul Scholes has helped to officially open a new Oldham college. 
The former footballer, who lives in Oldham and used to manage Oldham Athletic, was a guest of honour alongside Andrew Sutherland, Oldham Director of Education, and Graham Quinn, CEO of the New Bridge Trust, at a special ceremony at The Springboard Project last Friday.
The project, which was three years in the making, is the newest educational build within the New Bridge Multi Academy Trust.
The college, based in the heart of Oldham, offers a bespoke curriculum that centres around cutting edge technology and skills into employment.
Head Alison Tootill, born and raised in Oldham, said it was 'a proud day' for her and the building 'will provide a top class education for Oldham young people aged 14-19'.
Mr Sutherland and Mr Quinn both spoke at the ceremony about the impact that the Springboard Project would make to all young people and that it would provide students with meaningful futures and defined destinations on to employment.
The head then closed the ceremony by thanking the key partners who had contributed to the project. In the audience, there was representation from Conlon's Construction, the building contractors, as well as representatives from Oldham LEA plus governors and trustees.
Alison, a former Saddleworth School student, expressed her pride in opening the project.
She said: "It is a proud day for me today as I stand here, an Oldham girl, born and raised in Oldham, and I have now been given the opportunity to open a college for Oldham's young people."
She then went onto to thank staff and students of the Project.
The ceremony concluded with Paul cutting the ribbon before he embarked on a tour of the project with Springboard students.