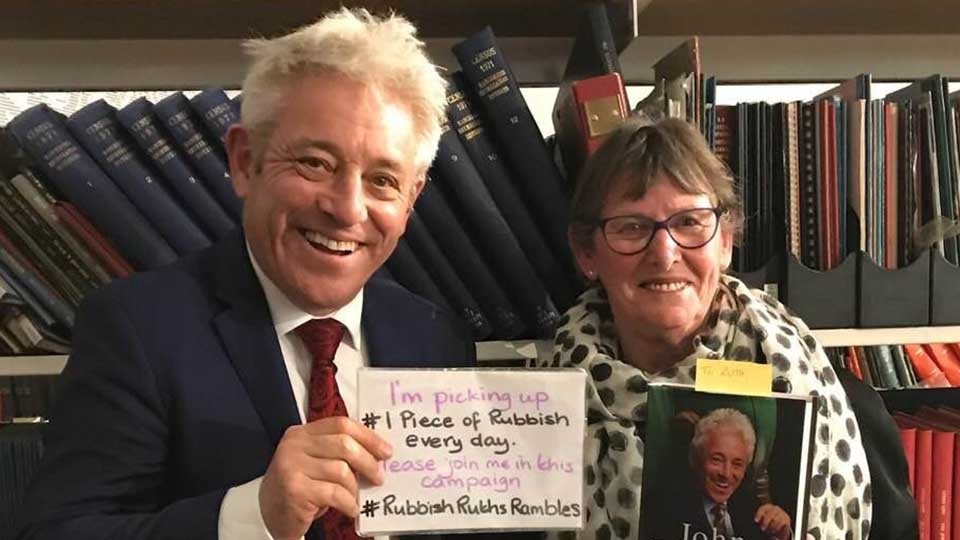 Oldham's intrepid anti-litter sleuth Ruth Major did not hesitate calling for order when she confronted the former Speaker of the House of Commons John Bercow.
She attended the promotion of his book in Manchester and promptly presented him with her famous hand-written 'calling card' urging people pick up one piece of rubbish.
In fact, whenever this dynamic 74-year-old steps out of the door of her Werneth home, she has a single focus - to actively encourage people to pick up one piece of litter a day.
Ruth said: "Being the 'pushy' little madam that I am, I asked him for a photograph with my 'rubbish' card and, to my astonishment, he agreed.
"He queried it with his agent who gave him the nod of approval. I told him I talk a load of rubbish, unlike him, and that I'd thoroughly enjoyed his presentation as he's a great 'speaker'!
"I think he was somewhat taken aback by my audacity but he acknowledged what I was doing was in a good cause.
"We only chatted a couple of minutes as there was a queue waiting to get his book signed. I think he was a bit non-plussed that I'd asked him to do something for the campaign.
"He wished me well with the campaign and said it was an estimable thing I was doing."
This is Ruth's fifth year of campaigning, having appeared on 13 local radio stations and BBC One's The One Show last year.
In addition, she made eight 'week-long' public transport trips, including a tour of Ireland and the Isle of Man, covering almost every county in England and was nominated for a Climate Coalition 'Green Heart Hero Award'.
This year, she is planning tours in Scotland, including Edinburgh and Glasgow, plus two bus pass trips in and around the south of England.
And on a daily basis, she will make public transport 'tours' of Manchester and similarly a 'tour' of London.
But after meeting Mr Bercow, she is aiming to include celebrity or recognisable personalities.
"Who knows," she added, "it could go worldwide."
In the meantime, she will continue with social media posts and promotions of her campaign by events and public speaking appointments.