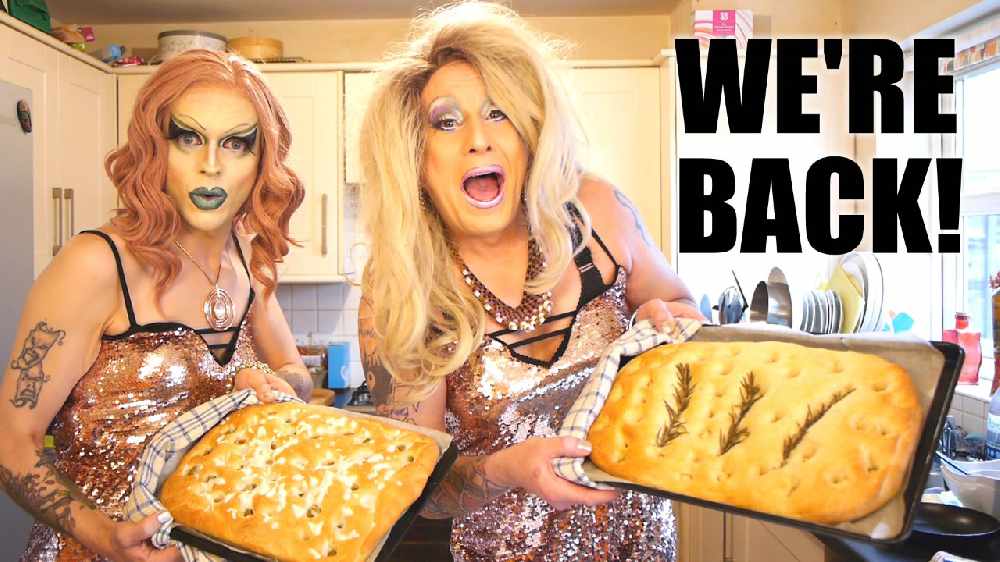 A couple from Oldham have become a huge hit on YouTube with their unique brand of vegan culinary expertise and a hilarious drag act.
Married pair Paul Burgess and Jason Bromley, from Limeside, have gained more than 1,000 subscribers this year alone as 'Those Vegan Guys'.
Their online presence has also seen Paul, as Rita Ridiculous and drag act partner Stuart Crowther as Mavis Malarky aka The Vegan Queens, take YouTube by storm.
They started the channel - which you can see by visiting www.youtube.com/c/thoseveganguys - in late 2015 as a way to pass on the lessons they were learning themselves on their vegan journey.
They were slowly building the channel until the end of 2016, when the duo were viciously attacked during a robbery at Brookdale Golf Club, in Woodhouses in Failsworth.
Paul suffered from post traumatic stress after the gang struck as the 50-year-old was waiting to be picked up by husband Jason.
The couple were then marched to the club's safe and ordered to hand over the cash. One of the gang was later locked up for 13 years and six months for his part in the attack.
But in 2018, Paul and Jason began to create more content for their channel, which promotes "down to earth veganism", and this year has seen them enjoy "fantastic growth".
"Our style of promoting vegan food with easy recipes and easily accessible taste tests has seemingly helped many people to start their own journey," Paul explained.
"We feel that we are helping to put the vegan northwest on the map, and helping to highlight venues, shops, businesses and eateries that cater well to vegans.
"We've got to the point with our channel now that we are being sent things to taste test and even being invited out to eat and review vegan menus all over Greater Manchester.
"We have very varied content on the channel, from really easy recipes to make at home, some 15-minute meals for a family of four that cost less than a fiver, drag cooking shows, debates and discussion and I personally have even started some walking vlogs which I broadcast live from my phone and show our subscribers places like Daisy Nook or the town centre."