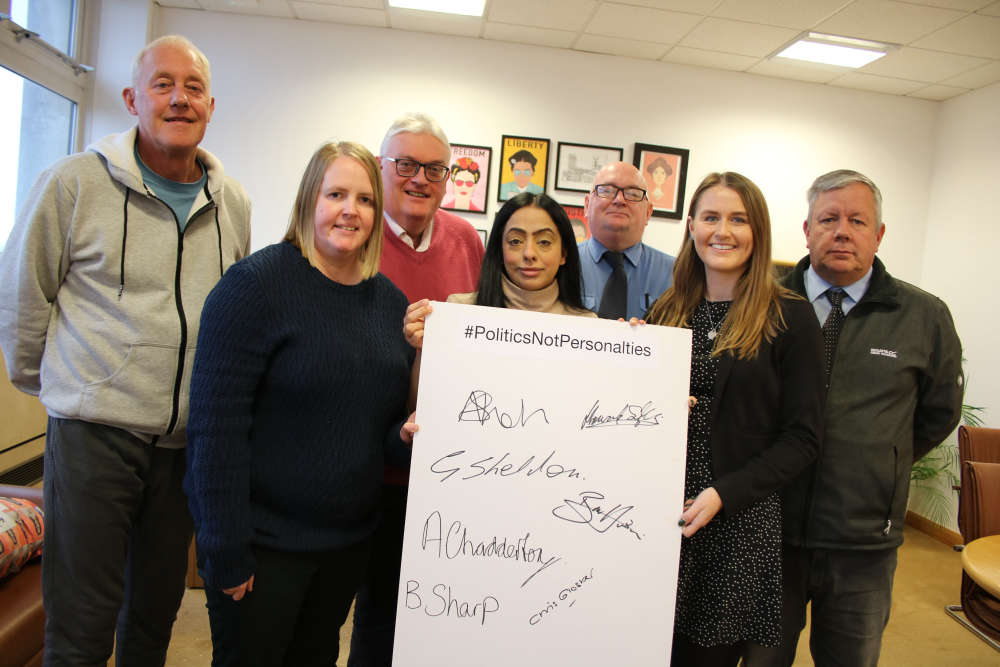 (left to right) Cllr Graham Sheldon, Cllr Amanda Chadderton, Cllr Howard Sykes, Cllr Arooj Shah, Cllr Brian Hobin, Cllr Beth Sharp and Cllr Chris Gloster.
Leaders from across the political spectrum in Oldham agreed to "put politics before personalities" and set a tone of civility and respect that they hope will be mirrored by everyone.
Leaders from the local Labour Party, Conservatives, Liberal Democrats and the Failsworth Independent Party unanimously agreed to rise above the often-toxic culture of online debate, and set an example to the residents they represent.
Leader of Oldham Council, Councillor Arooj Shah, said: "We, as local politicians, must set a strong example to the rest of our borough of how we should be conducting ourselves in a modern society – and that starts with our own behaviour towards each other as councillors.
"Politics may revolve around differing opinions, but our debates should be clean and respectful. Anything other than that only causes divide and, in the worse cases, unnecessary and unwarranted negativity towards individual members themselves.
"Since I became Leader I've been clear that I want to see politicians from all parties working co-operatively together, for the benefit of those who matter most - our residents. That means rising above the tone of debate we unfortunately see all too often on social media, and treating each other with respect and decency, whatever colour rosette we wear."
Cllr Howard Sykes MBE, Leader of Oldham's Liberal Democrats, added: "This agreement represents our commitment to put the true matters of discussion to the fore.
"We may have differing opinions of how we act on local issues and how we take our borough forward but there is no time for squabbling – especially at a time when our residents need us the most after a devastating past 18 months."
Cllr Graham Sheldon, of the Conservatives, said: "The Conservative group are committed to the respect of all councillors, staff, and residents of the borough.
"It is our aim to make sure the council provides the best service for the people who live and work within the borough, and where necessary challenge and suggest change to improve these services but we should do this in a respectful way."
Failsworth Independent Party Leader, Cllr Brian Hobin added: "Failsworth Independent Councillors remain committed to our residents in representing them and their views, working alongside other parties for the good of the whole borough.
"As Councillors, we may not always agree on policies. Challenging alternative views and holding the administration to account is a necessary part of our role, but should always be done respectfully.
"As Councillors I believe we should role model mutual respect and that is why my party is committed to this cause."
Oldham's Labour Leader Cllr Shah and Deputy Leader Cllr Amanda Chadderton, were joined by Cllr Sykes MBE and Cllr Chris Gloster of the Liberal Democrats, Conservative members Cllr Graham Sheldon and Cllr Beth Sharp and the Leader of the Failsworth Independent Party, Cllr Brian Hobin, to sign the pledge.
Read more from the Oldham Reporter