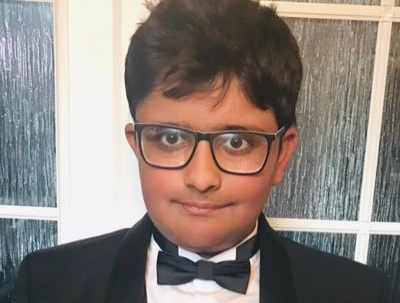 Country's youngest honour's recipient speaks to the Oldham Reporter about how proud he is to receive BEM - but says the charities he supports are the real heroes
An inspirational young man from Oldham has been recognised in the New Year's honours list after raising thousands of pounds for charity despite his own health problems.
Ibrahim Yousaf, who turns 14 today (January 9th), has been awarded a British Empire Medal for services to the community in Oldham. He is the youngest recipient to be named in this year's New Year's honours list and it's the pinnacle of a string of awards Ibrahim has received for his remarkable generosity.
Speaking to the Oldham Reporter, he shared how 'humbled and overwhelmed' he was to receive the honour - plus admitted it had been a struggle to keep it all a secret.
Known as 'Ibby', the teenager started by donating all his birthday money to the Royal Manchester Children's Hospital charity, as well as raising awareness on Twitter when he was just 12.
Since then, Ibrahim has raised £848.99 for the hospital, of which he is also a patient under a number of clinics. Ibrahim has used his health to raise awareness for the centres that have helped him.
Lily Preston, Community Fundraising Officer for Royal Manchester Children's Hospital Charity, said: "We're so pleased to congratulate Ibrahim on this very special honour – he should be incredibly proud of this award. Ibrahim is an inspirational young man who has fundraised for us while also undergoing treatment.
"Our fundraisers mean the world to our staff and patients and it's wonderful when they're recognised for their efforts. If Ibrahim has helped inspire other fundraisers we'd love to hear from them and encourage them to visit www.rmchcharity.org.uk to find out more about what we do."
He helps Maggie's, the cancer support centre in Oldham who offer free practical, emotional and social support to people with cancer, as well as their family and friends. In just eight months he has managed to raise £1,310.51 for the charity.
Ibby also fundraises for other local charities including Oldham food bank, Oldham Food Aid Hub, Dr Kershaw's Hospice and Oldham Mayor's Charities, raising more than £2,000 for local charities in total.
Ibby has been awarded a BEM for services to his community of Oldham and he is helping 11 charities on Twitter, raising awareness and funds for them @sugs75.
In July 2019 he was awarded the British Citizen Youth Award, presented to him at his school in Oldham.
A modest Ibby, who has won a clutch of other awards for his community and charity work, told the Oldham Reporter: "I wanted to help charities and the amazing people of Oldham.
"Due to my health I can't run for my charities so I decided I wanted to give them as much awareness on Twitter and ask everyone to follow and support them, retweet and like tweets and so raising awareness of them."
The full list of charities he is supporting is: Oldham Foodbank, Maggie's Oldham, Spoons Charity, RMCH Charity, Mahdlo's, Dr Kershaw's, Action Fund Oldham, Oldham Street Angels, Ukeff, Real Change Oldham and Teamhill.
Ibby added: "I know I have received lots of awards but I truly believe the real stars are the charities not me and they deserve the recognition.
"When I opened the letter I was in complete shock that I was being awarded a BEM for my campaign as I never expected this especially at my age, but I felt that my charities deserved this, not me, as they are the real heroes. I am just so humbled and overwhelmed.
Ibrahim had to keep his honour secret from everyone for weeks, despite being desperate to tell his friends, teachers, charities, consultants and followers. He wants his honour to encourage other people to support the charities.
"The hardest part was not being able to tell anyone as the letter said 'In Strict Confidence,'" he said. "I am not good at keeping secrets, but knew I could not tell anyone although I really wanted to tell my charities, my outstanding teachers, my friends, my followers, my consultants - but I had to keep it to myself."
Instead of celebrating his recent 13th birthday last year, Ibby donated the money for a party and presents to his charities.
He hopes he can inspire his generation to support charities and their local community.
Ibby added: "I want to thank my outstanding school Hathershaw College and Oldham Pledge for presenting me with my first award which inspired me to help my first Oldham Charity.
"I want to thank the incredible people of Oldham, Greater Manchester and across the UK who have supported my campaign and I especially want to thank the #Oldham Hour community who supported me from day one of my campaign, especially Lee Hollingworth from Whittaker Design and Ian Wolstenhulme from Pearson Solicitors.
"I want to thank Royal Manchester Children's Hospital and The Royal Oldham Hospital for their absolutely outstanding care - and thank you to the people that nominated me.
"It is a massive honour helping my 11 incredible charities and I just want to say they are the real heroes of our community.
"Oldham is a amazing town with the most amazing people and this recognition is solely down to everyone who has supported my campaign. All I ask is for everyone to please continue supporting these incredible charities."