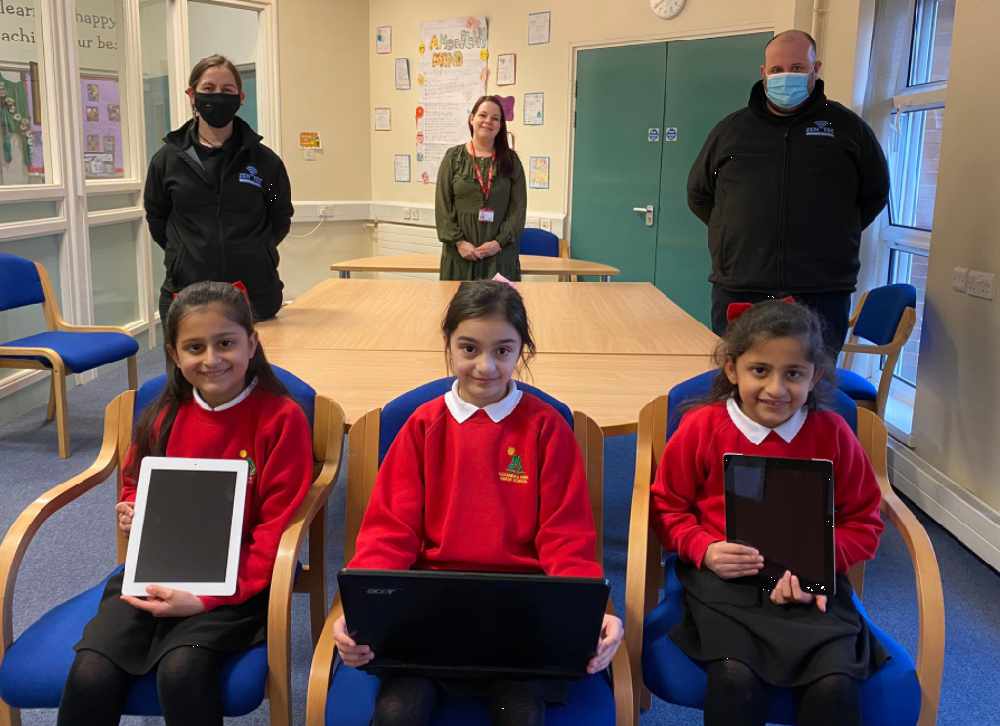 An IT support company in Dukinfield has supplied much-needed laptops for pupils at an Oldham school to support their learning from home during the current lockdown. 
Alexandra Park Junior School in Glodwick has benefitted from the appeal led by ZenTec Network Solutions, after Cerid Grimshaw and business partner Mike Brooks put the call-out to encourage people to donate old technology so it could be refurbished and donated to families who need it.
While schools remained closed to the majority of pupils, online learning has become the tool of the modern teacher for supporting youngsters at home.
Mrs Stephanie Griffin, Deputy head teacher at the Brook Lane school, said: "We are delighted to have received this kind donation for our families! Many are struggling to access remote learning through mobile phones and some children are sharing devices with their siblings so they can't always access work or live lessons. We know just how important this will be to them, we can't thank ZenTec enough for how they are supporting schools and pupils in the local area."
Samantha Nicholson-Hickling, Year 5 teacher at the school, commented: "We recognise that not everyone has a stable internet connection at home, or access to a laptop or tablet to do online learning. It's been an uphill struggle to provide the best for our families, especially those who have no device. We thankfully have an amazing team around us who are doing their absolute best to support the children working from home."
The school has accessed and ordered laptops via the scheme ran by the Department for Education on behalf of the government, but has had to look further afield to ensure they received as many devices as possible to support families.
Some families have also been offered data bundles for their mobile phones, or routers to support a more stable internet connection.
Heading up the hunt for devices is Simone Corry, a member of the school admin team.
She said: "We are incredibly grateful to ZenTec for their help in supplying our school with devices to assist our children with home learning. We have had a lot of families who have been working on one mobile phone between siblings and made it our mission to be able to supply all our families with at least one device, we have almost reached our goal. We appreciate all the support and kindness from ZenTec in helping our children access learning from home."
As previously reported, ZenTec Network Solutions have been busy refurbishing computers and iPads for children locally and wider afield. Among other schools to benefit are Ravensfield Primary in Dukinfield, Buckton Vale Primary in Stalybridge, St Anne's Primary School in Denton, Stanley Road Primary in Chadderton and Horton Mill Community Primary in Glodwick.
The company have already sent out more than £7,500 worth of technology and have now spent over £2,000 refurbishing devices.
They have set up a GoFundMe page to raise £10,000 so they can continue refurbishing tablets and laptops to help children learning from home.
You can donate here:
Main image:
Youngsters from Alexandra Park Junior School with devices donated by Mike Brooks (back right) and Cerid Grimshaw (back left) from ZenTec Network Solutions, with the school's deputy headteacher Stephanie Griffin (back middle).