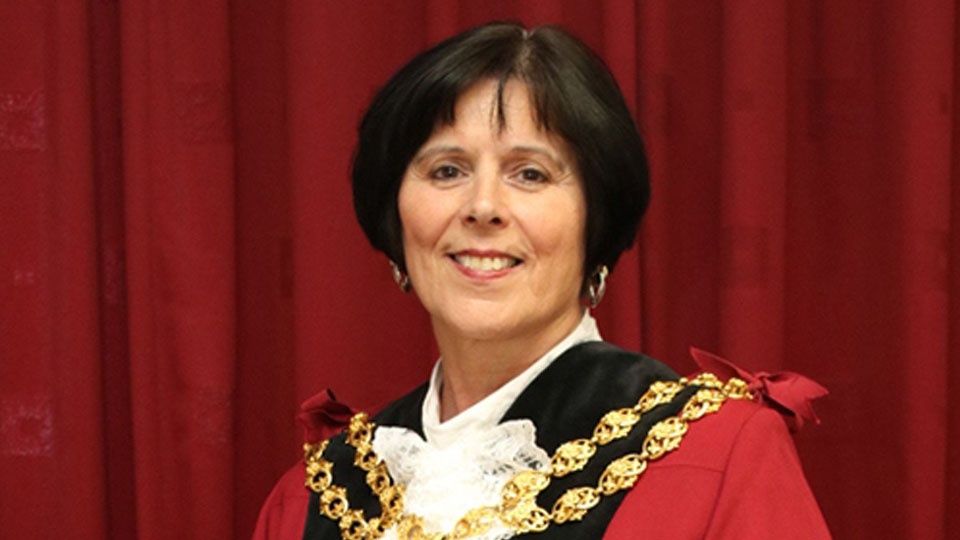 Despite recovering from major surgery, Oldham's plucky lady Mayor is showing the real wartime spirit and attending key remembrance functions this weekend.
Councillor Ginny Alexander (pictured) told followers on social media she was compelled to take a "short break" from her high profile Mayoral duties to recover after an operation two weeks ago.
But the resolute lady has vowed to attend Reception and Festival of Remembrance in Mayor's Parlour and QE Hall on Friday with her husband Adrian, her consort, and the youth mayor.
And she will head up the official trio who will attend Oldham's Remembrance Service at Lyceum Building and Oldham Cenotaph on Sunday.
Said her husband Adrian, former councillor for Saddleworth West and Lees: "Ginny is very determined to pay homage to the fallen. She is a very resolute and determined lady."
Ginny has gained a respectable following on social media who have sent her goodwill message on her recovery.
She revealed her decision to step back from her duties temporarily, on social media saying: "I am extremely saddened to announce I will be forced to take a short break from my mayoral duties.
"On Thursday, October 24, I underwent major surgery. I cannot praise the wonderful staff of our beloved NHS enough, and I am so grateful and proud of the team of doctors and nurses that facilitated this operation.
"I am glad to say everything went really well with the surgery, and I was discharged in the late hours of Thursday night.
"I came to the conclusion it would be best to try and rest as much as possible on the Friday as we had our 'Spooky Saturday' event at Spindles.
"Adrian did a marvellous job of looking after me while I began my journey to recovery. I am so appreciative to him for his constant support.
"Unfortunately, I think I may have overdone it during Saturday's event as in the days following I have been really quite ill.
"I visited my GP and the doctor's orders are that I must take a break from my mayoral duties to allow time for rest and recovery.
"I cannot apologise enough to the citizens and organisations whose events I will not be able to attend during my recovery period.
"If I had the choice, I would be with you in a heartbeat, but I must allow myself this time to rest so I can continue in my capacity as Mayor until the end of my term.
"I hope you can understand my need for a short break from my duties. I look forward to continuing my role as your Mayor when I have fully recovered."