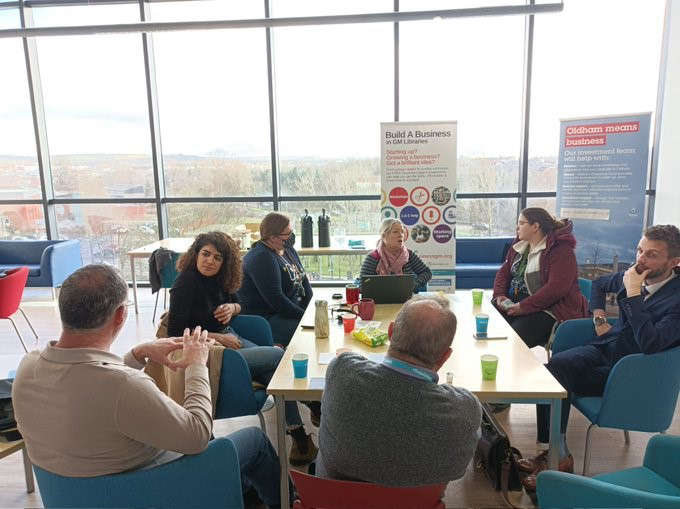 One of the sessions in the library.
Oldham Council is inviting budding entrepreneurs to build a business in Oldham Library.
The local authority is taking part in a new and innovative project run by libraries across Greater Manchester – and want residents to get involved and develop their business ideas.
'Build a Business in GM Libraries' is a new scheme part funded by the European Union with £1.3 million from the ERDF (European Regional Development Fund).
The exciting business-focused project will run until June 2023 and workshops have already started in Oldham.
The scheme offers advice, tailored support and guidance to local business owners and their teams through a programme of workshops.
The project also helps entrepreneurs to plan, develop and grow their business ideas, whilst also providing the opportunity to network with like-minded people in the borough.
In tandem with the workshops and advice available, one-to-one support will be provided in each authority by local small business experts known as 'SME Champions'. These champions are carefully selected experts who can share a wealth of knowledge to help participants expand their ideas and build their businesses.
Participants will also have access to Oldham Library's Business and Intellectual Property Centre (BIPC), where users can access industry-standard business information resources, including powerful market research databases.
Jayshri Mistry, founder of Wellness by Jay, is one of the local businesses who have benefited from the scheme already.
Jayshri said: "I have found my 1-2-1 session with the SME Champion, very valuable, supportive, and easy to access.
"They have shown me how to use the resources available at the library for market research and other tools to help me with my business.
"I have been overwhelmed how many contacts they have. They've been able to direct me or make introductions to other services and people who are useful for my business.
"I've found the sessions very useful to support my business. So many things and ideas I had not thought about."
Councillor Shaid Mushtaq, Cabinet Member for Education and Skills, said: "I'm pleased Oldham Council is taking part in this scheme as it's got the potential to benefit business owners and start-ups across the borough.
"It's a great scheme.
"The programme offers a wide range of support for individuals and smaller businesses which will prove helpful for entrepreneurs wanting to expand their reach and scale up.
"With the pandemic having hit businesses badly this kind of help couldn't have come at a better time. Please get in touch if you think we can help."
More information about the Build A Business project and to find out how you can get involved email buildabusiness@oldham.gov.uk
Read more from the Oldham Reporter