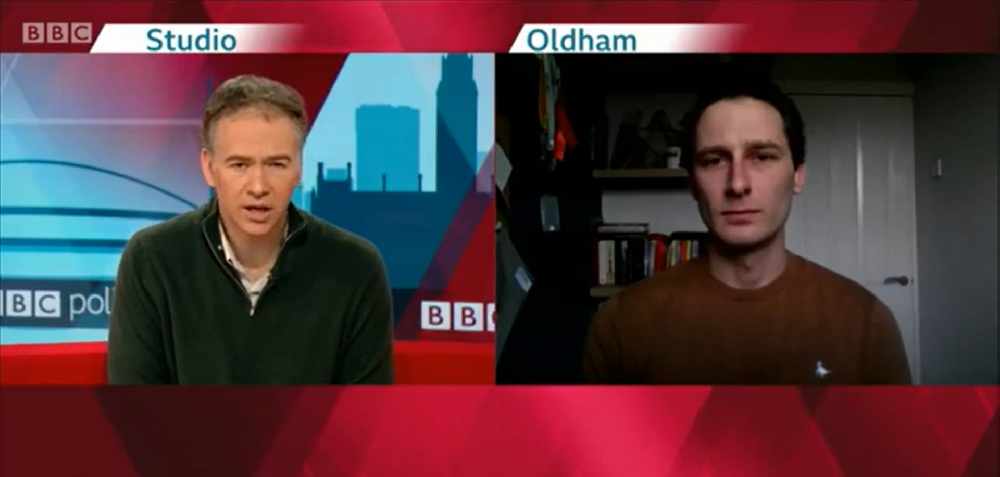 Oldham Council leader Sean Fielding has branded the government's finance settlement for local councils a "sham" and says public sector workers are facing "betrayal" due to government failure to reimburse councils the cost incurred due to Covid.
During an interview with the BBC's Roger Johnson on Politics North West at the weekend, Councillor Fielding spoke of how prior to the Covid crisis Oldham Council was faced with having to make £23 million worth of cuts this year. He says this figure has now risen to £28 million because of the increased costs heaped on councils due to the pandemic and "the failure" of the government to "honour their pledge to reimburse these".
When quizzed on why Oldham Council had decided not to put Council Tax up by the maximum amount allowed of five per cent, despite the financial challenges it faces, he said: "In Oldham we have amongst the highest Council Tax rate in the country… we have lower than average rates of weekly income and higher than average unemployment… we don't think it's fair to ask the full five per cent additional Council Tax from our residents."
Oldham Council can levy an Adult Social Care Precept of three per cent on Council Tax and an increase of up to 1.99 per cent for other council services. Instead of taking the full 4.99 per cent permitted councillors have provisionally opted for and Adult Social Care Precept of two per cent and a General Fund increase of 0.99 per cent.
He continued: "It's a balance for us. We need to continue to provide the services we need to keep our most vulnerable safe but at the same time we don't want to be asking too much of our residents who are finding themselves in financial difficulty."
Cllr Fielding had strong words, however, for the government's Local Government Finance Settlement, branding its figures a "sham" on the basis that, of the £1 billion the government claims to be investing in adult social care, £700 million is predicated on Council Tax increases. Only £300 million is being provided by the government itself, he claims.
He also described the government's failure to properly fund councils a "betrayal" of key workers.
The council leader said: "The betrayal of (key workers) whereby (the Government) are failing to fund Local Authorities such that it will lead to Councils like mine having to make them redundant over the next 12-18 months. That is a betrayal and it is absolutely scandalous the way the Government is treating public sector workers."
Oldham Council's budget is due to be set at a meeting of all councillors in March. It proposes a Council Tax increase of 2.99 per cent, comprising a two per cent precept for Adult Social Care and a 0.99 per cent increase for other services.
Communities Secretary Robert Jenrick said back in December that councils in England will receive £51.2 billion in 2021 as additional funding to "deliver effective local services and continue to support their communities during the pandemic, while protecting council taxpayers from excessive increases".
Main image:
Cllr Sean Fielding talking to BBC Politics North West presenter Roger Johnson. Photo: BBC.