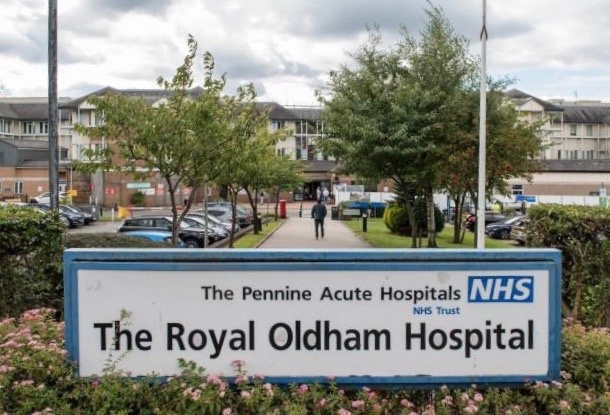 The Royal Oldham Hospital has been shortlisted for a prestigious accolade at this year's Health Service Journal (HSJ) patient safety awards. 
The Rochdale Road hospital has been nominated for a 'Changing Culture Award' for work being undertaken to improve staff experience and patient safety, with the introduction of a new 'Kindness Collaborative'.
Dan Grimes, Director of Operations at Oldham Care Organisation, which is part of the Northern Care Alliance Group of hospitals, said: "We are thrilled to be shortlisted for this HSJ patient safety award.
"We've put a massive amount of work into changing the culture at the hospital to help us improve patient safety – and we're starting to reap the benefits. To have the hard work, dedication and efforts of our teams recognised is fantastic."
Dan explains more about the work taking place at Oldham to improve patient safety.
"When we initially looked at setting up a 'Kindness Collaborative', our key aim was to embed a culture of kindness across the organisation," he said.
"There's a growing body of evidence that shows a culture of kindness and civility can result in many benefits for staff experience including better working relationships and less bullying, abuse and harassment, as well as many benefits for patients both in terms of the experience that we can give to them and the quality of care that they receive.
"The evidence behind it suggests that how we treat each other has a direct link to the quality of care our patients receive and even the outcomes that they get. How we interact and treat each other directly affects staff performance and the quality of care we give our patients, which is why it was so important for us to try and embed a culture of kindness, to help us achieve the quality improvements we want to achieve for our patients."
Staff at all levels of the organisation were asked to reflect on how they interact with and treat each other and to identify ways to improve civility and kindness across the hospital. This created a social movement within the care organisation, based on the strapline #bekindtoeachother.
Since the kindness collaborative was introduced, the NCA quality improvement team has monitored the effect it has had on both staff and patient experience. There have been some significant improvements, including a reported reduction in bullying and harassment amongst staff from 26 per cent to just 3.5 per cent over a 12-month period.
There have also been some tangible quality improvements made to improve patient experience, with the Kindness Collaborative working alongside other Quality Improvement collaboratives focussed specifically on reducing patient harm. There has been a reported 59 per cent reduction in pressure ulcers, a 45 per cent reduction in cardiac arrests, a 10 per cent reduction in falls and a 14 per cent reduction in length of stay over the past two years.
The success of the Oldham Kindness Collaborative is now being shared across the Northern Care Alliance Group, with similar collaboratives being set up at the group's other hospitals including Salford Royal NHS Foundation Trust.
The next phase of the Kindness Collaborative journey at Oldham will look at how patients can get involved, have their say and help co-design the next steps towards creating and growing a culture of kindness.
Meanwhile, Salford Royal NHS Foundation Trust has also been shortlisted for two HSJ patient safety awards: an 'Improving Safety in Medicines Management Initiative' award and a 'Patient Safety Innovation of the Year' award.