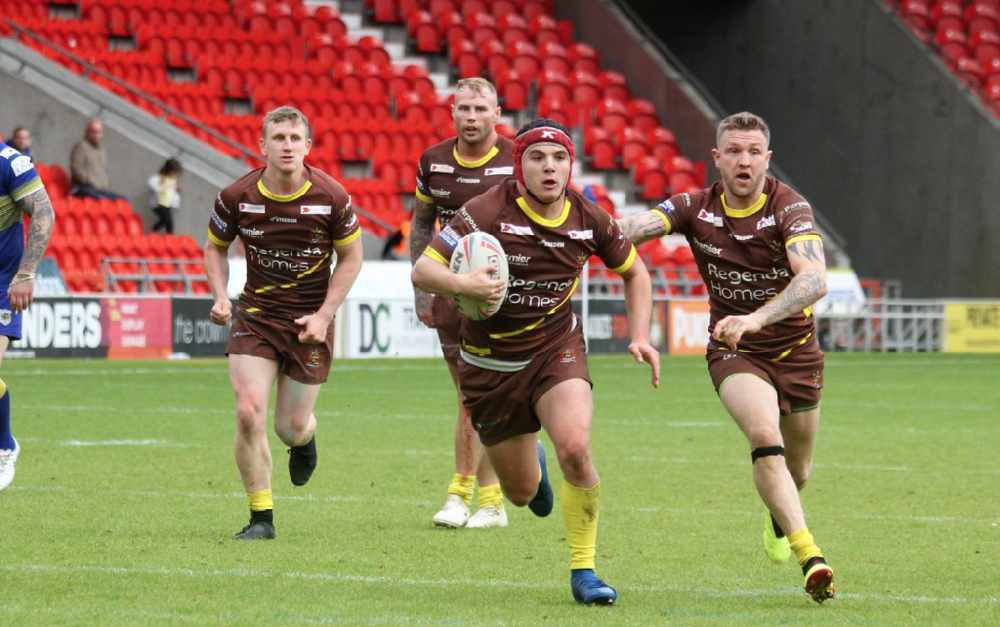 Betfred League One Doncaster 31-0 Oldham
On the very day when The Dons came up with their best form of the season, (that's their assessment), Roughyeds hit rock bottom .
Yes, it really was that bad. Nothing went right for Scott Naylor's men, whose ball control was wretched and whose tackling and general defensive work was the poorest its been all season.
That was partially due to how well Doncaster performed in both attack and defence, but only partially.
The biggest problem for Oldham was their apparent lack of self belief and determination and their failure to take on and beat the home forwards up the middle.
Roughyeds don't have the best or fastest backs in Betfred League 1 and they are currently missing three wingers in the injured Aaron Jones-Bishop and Kyran Johnson and Wakefield's on-loan Lee Kershaw, who has been recalled by the Super League side.
They normally rely on their middle men to set the platform, but on this occasion the likes of Titus Gwaze, Jack Spencer, Liam Bent, Scott Law and Ben Davies played second fiddle to the Doncaster 'middles' , led by the superb Connor Scott.
Significantly, the Yorkshire side's pack had two of the best players on the field in front-row man Scott and loose-forward Jordie Hedges, who scored two of Doncaster's five tries and carried off the man-of-the-match award.
By comparison with the home set, Oldham's middle-men seemed to lack weight and the strength to bust tackles; not that the home side's advantage in that respect was restricted to the forwards.
Centre Cameron Scott burst open the Roughyeds' left-flank defence as early as the third minute and Doncaster were on their way.
They bossed and bullied Oldham up the middle; they had speed on the break as provided by PNG international Watson Boas; and they had the most creative man on the field in half-back Matty Beharrall, who kicked Oldham to death with a structured ability to put the ball wherever he wanted to put it.
Stand-off Boas, on loan from Featherstone Rovers, scored a magnificent solo try over almost the full length of the pitch when an Oldham move broke down near the Donny line.
The home side led 16-0 at half-time and then went on to score 15 more points with tries by Hedges (his second), winger Sam Doherty and full-back Jordan Howden, a Beharrall conversion and, after the hooter, a Beharrall drop goal.
Full-back Ritchie Hawkyard was Oldham's best player by a country mile but, like his captain Gareth Owen, he blotted his copybook near the end when the pair of them were sin-binned for fighting along with the home side's Jez Litten.
Earlier, in a separate incident, Doncaster's Jack Brown was sin-binned for a late tackle with the result that both sides finished with 11 men on the field.
It was a seriously bad day at the office for out-of-touch Oldham, who have a chance to get their promotion show back on the road when they entertain Keighley Cougars at the Vestacare Stadium on Sunday (3pm kick-off).
DONCASTER; Howden; Doherty, Cameron Scott, Tali, Chrimes; Boas, Beharrall; Connor Scott, Kyle Kesik, Russ Spiers, Menzie Yere, Brad Foster, Jordie Hedges. Subs: Boyle, Brown, Bower, Litten.
OLDHAM: Hawkyard; Aaronson, McComb, Holmes, Maders; Bowman, Hewitt; Gwaze, Owen, Spencer, Bridge, Langtree, Bent. Subs: Law, Davies. Whittel. Wilkinson.
Ref: Tom Crashley; Att: 678.
By Roger Halstead