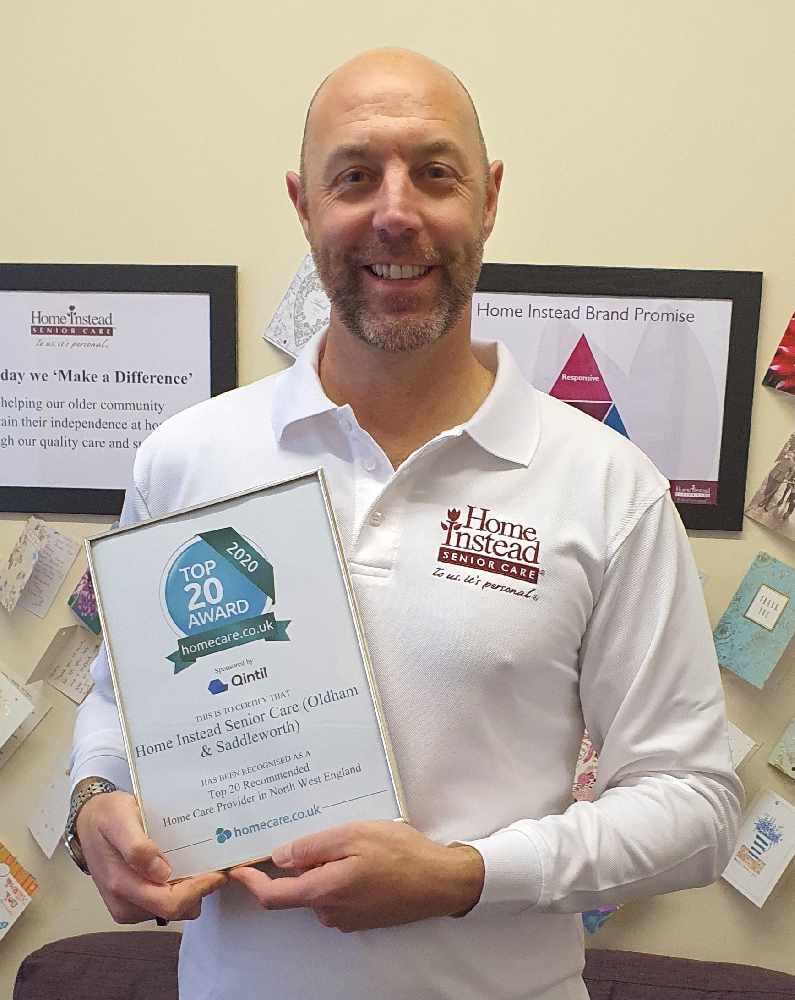 Home Instead Senior Care Oldham & Saddleworth has scooped an award for being one of the top 20 home care providers in the North West.
One of 969 home care providers in the region, they have now won the award five times.
The award is based on the home care provider's reviews from the people they care for, plus their friends and relatives.
Reviews site homecare.co.uk lists all registered UK home care providers, which helps people search for the right home care provider.
Mick Sheehan (pictured), owner of Home Instead Senior Care Oldham & Saddleworth, said: "It's great for the team to be given this award from homecare.co.uk, not least because the scores are calculated based on reviews by clients and their families.
"With their empathetic nature and passion for the role, our caregivers have done everyone proud. Throughout the pandemic, it's never been more crucial to ensure that older people are happy and safe at home, and this has been the top priority for our caregivers over the past few months."
Amanda Hopkins, reviews manager of homecare.co.uk, said: "High quality home care is crucial as it enables people to stay living in their own homes and keep their independence, with their home care worker often becoming their friend and companion as well as their lifeline to the outside world.
"During the pandemic, their contribution has been invaluable as many vulnerable and elderly people have been forced to self-isolate and to some of these, care workers have been their only link with the rest of society. They have also been able to bring people living at home, food and the medication they desperately need.
"Home Instead Senior Care Oldham & Saddleworth has shown that it provides care that is of excellent quality and we would like to congratulate it on being one of the top home care providers in the North West."
One of the reviews of Home Instead reads: "I have nothing but praise for Home Instead, their carers and managers. From day one they have been efficient and accommodating. I have always felt that Mum was in safe hands.
"Her carers quickly formed a positive relationship with her and she thoroughly enjoyed their visits and trusted them. Carers and managers always went the extra mile to look after her. The communication was also excellent and I was always informed promptly of issues arising. I would thoroughly recommend this service to anyone."
The homecare.co.uk Top 20 Home Care Awards are based on nearly over 14,000 reviews by service users and family or friends of service users from between 1 May 2018 and 30 April 2020. A full list of winners can be found at https://www.homecare.co.uk/awards/
For more information about Home Instead, call 01457 356953 or visit https://www.homeinstead.co.uk/oldham-saddleworth.