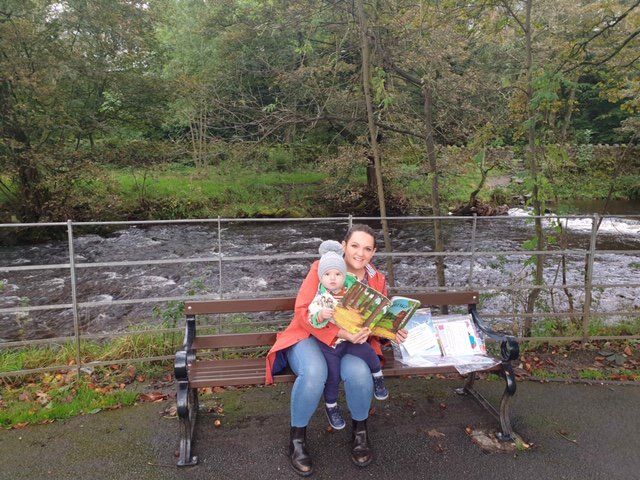 A Saddleworth mother, who is passionate about encouraging toddlers to get the reading bug, has launched a novel scheme across the hillside villages.  
Danielle Jones, 28, a primary school teacher, has rolled out 'Look for a Book' in Saddleworth - a children's book treasure hunt.
Danielle, who has an 18-month-old son called Seb, hid the books in waterproof packs in and around the villages.
Once the delighted youngsters discover the "hidden treasure", they can keep the book and are encouraged to hide a new book to keep the reading hunt going.
Danielle said: "Similar schemes have been done locally, but this is an attempt to get more people involved.
"Most importantly, it encourages as many children as possible to love reading and spend time outdoors. The scheme has been a great success so far. I'm overwhelmed by how many people have been involved and shared their adventures on our Facebook page.
"One of my favourite things about every picture I have seen, regardless of whether children are hiding or finding books, is that they are all spending some time having fun in the great outdoors."
She went on: "I have included a few basic rules on the Facebook group to help those wanting to get involved.
"One of them is reusing bags and wallets to limit the use of plastic as much as possible. I really hope people get behind this as it seems to have taken off in other places across the UK.
"I think it would be great fun for the children of Saddleworth. Seb, my son, and I love exploring and getting muddy outside with the dogs.
"There are so many gorgeous places in Saddleworth that are perfect reading spots. It's a very cheap thing to do - it's free even, if you just replace the book. I also think it encourages children to be generous and share with others.
"I dotted books around the area and posted clues to locations on the Facebook page initially. But I am hoping people will enjoy 'stumbling' across them on their adventures through Saddleworth too."
Danielle went on: "Sharing clues to the locations of the books won't be compulsory. I've limited it to children's books and, as I am a primary school teacher, I can't emphasise the importance of reading enough. I really wanted to find a way to get children enthusiastic about reading.
"It's also a fantastic way to spend some time outdoors. So many primary schools have been in touch and want to get involved and people from outside of Saddleworth have also contacted me about the idea. Therefore it may eventually expand beyond the Saddleworth boundaries."
Danielle's rules are it must be a children's book and it must be left in a waterproof cover - zip up food bags are ideal.
"It's helpful if it contains details of the Facebook group 'Look for a Book Saddleworth' and Instagram #lookforabooksaddleworth, so people can share their finds with the rest of the community.
"Other than that, it really is just about leaving little treasures around to encourage children to have a love of reading!
"I've recently started a blog on Instagram called @mymummyisabookworm. I realised people are looking for free, local and simple things to do. I first spotted the idea on Instagram."
She added: "I have had a very kind donation of books from several local people. If anyone would like to join in please message me and I'll be happy to share these out and give you more information."