National Poet Laureate Simon Armitage paid a visit to Oldham Sixth Form College recently for a poetry reading and Q&A session.
English Language and Literature students from the Union Street West college were joined by pupils from Newman RC College, Saddleworth School and The Radclyffe School.
Year 13 student, Megan Bruton, opened the event with a warm welcome and a synopsis of Simon's life and career so far.
Discussing his current role as Poet Laureate, Simon said he sees the job as an opportunity to make important changes and intends on 'leading from the front'. He is proud to be able to "celebrate, encourage and promote poetry with some royal and ceremonial duties."
Simon's most recent project is the introduction of the Laurel Prize, which will celebrate eco and environmental poetry, in support of our all-important climate crisis.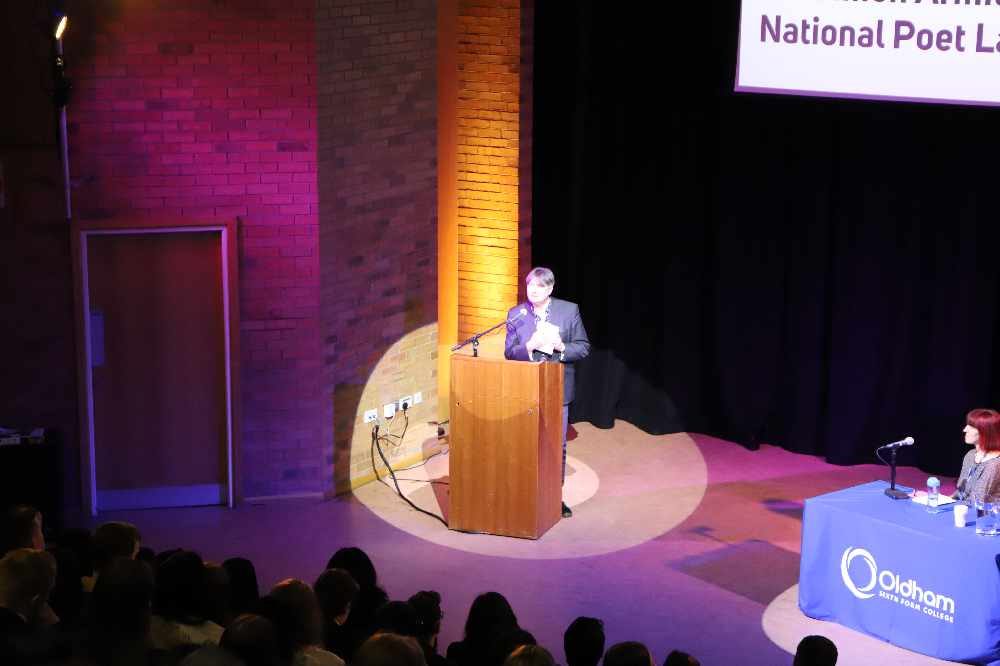 Over his 30-year career, Simon has written 28 collections of poetry as well as translating classics from Old English, and writing plays for the stage and screen.
Simon opened his recital with a reading of his sonnet 'The Clown Punk', followed by 'Zodiac T-shirt', a poem he wrote for a music event, which he described as a pop music style poem written in verse format. He went on to read 'Remains', which was met with an excitable reaction from the audience, due to the students' familiarity, having studied it within the GCSE AQA Anthology.
Another featured poem was "The Stuff", inspired by the people he worked with during his career as a Probation Officer in Oldham. The poem included local references including Mumps Bridge and the fact that Oldham is the home of the tubular bandage.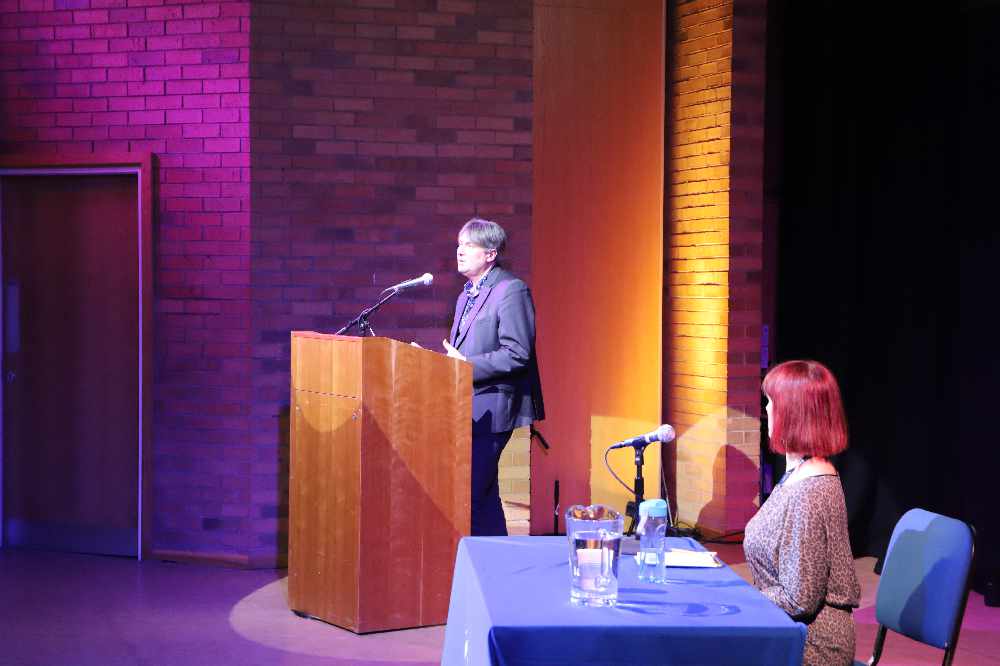 Simon studied Geography at university and went on to achieve a Master's Degree in Social Work and Psychology. His love for poetry began as a hobby, long before it became his career. When asked what advice he would give to young, aspiring poets, Simon was clear and direct…read! "You cannot become a writer unless you are a reader and to try and operate in a particular artistic field, you have to immerse yourself in it" were Simon's words of wisdom to students hoping to pursue a career in writing or poetry.
The event Chair and Course Leader for English Literature, Maria Beswick, said her highlight was "his discussion of the writing process, his inspirations and the stories that surrounded the conception of his poems. Students of English and the English department were thrilled to have Simon Armitage visit in the same term as Carol Ann Duffy!"
Acting Principal, Peter Roberts, said: "The College was delighted to welcome the Poet Laureate, Simon Armitage, to the College. He provided an inspirational hour of poetry and discussion that will remain in the thinking of those present for a long time. Following on from the recent visit of the previous Poet Laureate, Carol Ann Duffy, I think the event demonstrates the very strong commitment that College has to promoting literature and the arts to our students."