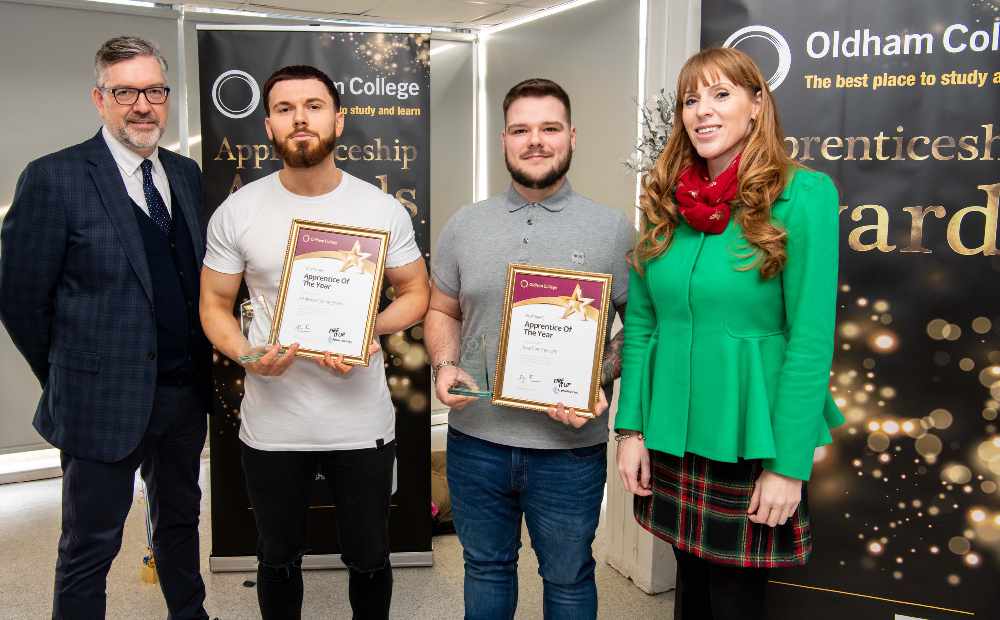 Failsworth MP Angela Rayner has been handing out awards to outstanding apprentices at Oldham College.
The Shadow Education Secretary also discussed the value of Apprenticeships in today's society as she presented prizes across four categories.
She said: "These awards are great examples of people that are grasping the opportunities of Further Education and Apprenticeships to make something great of their potential.
"We hear a lot about how value is created by innovation, technology and investment, but rarely about the value created by the labour of workers.
"A vocation requires thousands of hours of graft and a dedication to the traditions and knowledge of skilled labour.
"There should be no snobbery about these jobs. You don't often see an out of work bricklayer or electrician. These are jobs with meaningful skills that make a great contribution to their communities, local economy and their family life."
The theme of this year's National Apprenticeship Week, which took place last week, was 'Look Beyond'.
Oldham College, which was recently shortlisted for 'College of the Year' at this year's prestigious Times Educational Supplement's Further Education Awards, marked the occasion by hosting a number of events across all faculties - including sessions with visiting employers and past successful apprentices.
Principal Alun Francis said: "It's time it was universally accepted that Apprenticeships can unlock fantastic long-term career options and opportunities across all kinds of sectors, industries and specialisms.
"Apprentices today are all about making an impact. These awards showcase brilliant everyday examples of how the outstanding commitment of our staff, employers and apprentices delivers to everyone – including the wider economy and the community."
The award winners were High Street Hair (Outstanding Employer), Glodwick Dental (Employer Appreciation), Margherita Bozzerello and Abigail Bramwell (Distance Travelled) and Matthew Cunningham (a barbering apprentice) and Jonathan Sherratt (an electrical apprentice) who shared the Apprentice of the Year accolade.
Main image:
Oldham College Principal Alun Francis and Angela Rayner MP, with Apprentice of the Year winners Matthew Cunningham and Jonathan Sherratt.