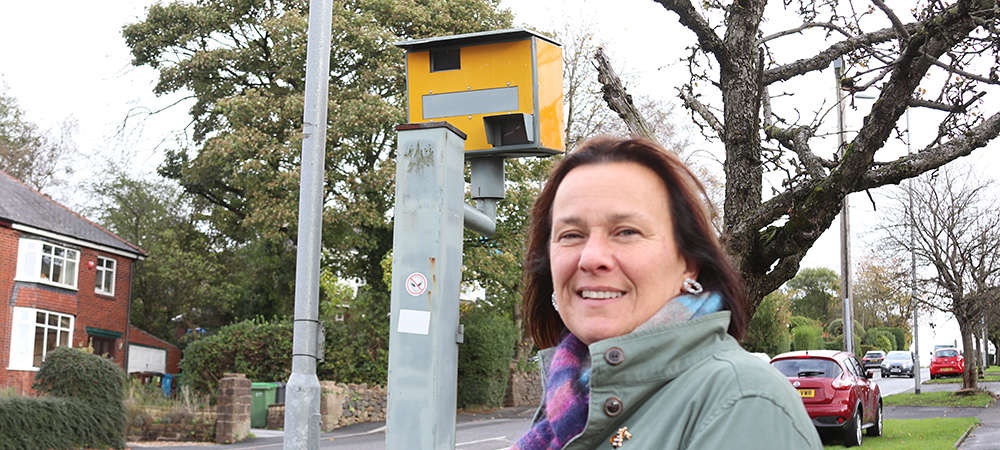 Alicia Marland, next to a speed camera in Grotton.
A meeting has been organised to discuss launching a community crime watch group for the Grotton area, in response to a rising number of incidents.
To help local residents work together to help cut crime, Alicia Marland - Liberal Democrat candidate for Saddleworth West and Lees Ward - has organised a public meeting on Wednesday (5 January) at 7pm at Grotton Pavilion.
The meeting will hear from the organisers of a Greenfield group to cut crime, as well as the local police, with a view to organising a local group for Grotton, Springhead and Lees.
Ward councillors Mark Kenyon and Sam Al Hamdani will also be in attendance.
Alicia said: "Everyone should be able to feel safe in their own homes over the Christmas period, and know that if someone does break in they will be caught and punished. But with the vast majority of burglaries going unsolved, that's simply not the case for far too many people.
"This Conservative government's failure to tackle crime is letting victims down and letting criminals get away with it.
"Liberal Democrats are working hard to make our communities safe and help residents feel safe too. We need a return to proper community policing, where officers are visible, trusted and known personally to local people."
Anyone interested in attending or getting involved should contact Alicia directly on 07766 107437, or email her on a.marland2203@gmail.com.
Read more from the Oldham Reporter