Oldham Council has joined forces with a range of Oldhamers, including young people, Oldham College and even a Rugby League great to film a video to celebrate social workers across the borough.
Monday 8 March to Friday 12 March is National Social Work Week, focusing on the positive contribution of social workers across England. This will be followed by World Social Work Day on Tuesday 16 March, celebrating the contribution of social workers everywhere.
In Oldham, the council say social workers in Children's/Young People and Adult teams have done a tremendous job in the most challenging of times, especially during Covid.
To recognise their great work and also to attract more people to become social workers, Oldham College media department were commissioned by Oldham's Principal Children's Social Worker Lindsay Tanner to make a 15-minute video.
In the video, a range of young people who have been supported and cared for answer questions from people, such as Oldham Council Chief executive Carolyn Wilkins and Young People Council cabinet lead Councillor Eddie Moores. Rugby League Great and Oldhamer Barrie McDermott is also involved.
Young people such as John, a care leaver. John has been helped by Oldham Council Children's services since he was ten, He is now at University studying primary school education.
John says: "If it wasn't for Oldham social workers I would not be at University now. They are real people who care for children and what's best for them. There are sometimes difficult decisions to make but they are always made with the best interest of the child in mind."
In the video, Oldham Council Chief Executive Carolyn Wilkins speaks with Kallum, a student social worker.
Kallum says: "I am so glad I have been placed in Oldham to work. Children and families are always in the centre of what is being decided and it's why I got into social work."
Barrie McDermott, a former Great Britain rugby league international and now a Sky Sports pundit, who lives in Oldham, says: "I think social workers are amazing. They are people who have to make difficult decisions but are always there to put an arm around someone to give them encouragement.
"I would say to anyone thinking of becoming a social worker in Oldham that the Borough is a great mix of different cultures and races and the one thing that binds us together is that we are all proud of being an Oldhamer."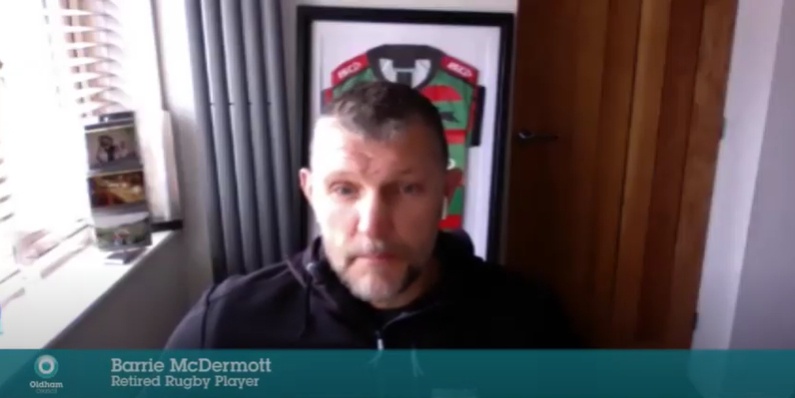 The 15 minute film will now be shown at a national event on Thursday to celebrate National Social Work Week. It has been made by Digital and Creative students at Oldham College.
Alun Francis, Oldham College Principal and Chief Executive, said: "Our Digital and Creative students were delighted to have the opportunity to get involved and sharpen their video-editing skills and experience by supporting the production of this view to mark Social Care Week.
"Oldham College also has many fantastic learners studying for routes into social care work to join the next generation of key workers.
"Social care workers are frontline heroes in supporting people and families across all our communities, and this has never been more evident than during the pandemic."
View the film at the top of the page and to find out more about being a social worker, email Lindsay.tanner@oldham.gov.uk
Read more from the Oldham Reporter