A 'cold and cowardly' man who carried out brutal knife attacks on two women aged 61 and 71 just days apart has been jailed.
Jayden Hayes, of no fixed address, was sentenced on Friday (8 January) to life in prison with a minimum of 21 years at Manchester Crown Court, Crown Square, after pleading guilty to two counts of attempted murder.
The 24-year-old (pictured) will remain on licence for life should he ever be released.
Hayes carried out the horrific attacks in the Derker area of Oldham during November 2019, searching for lone female victims while riding his bicycle after nightfall.
At around 6.20pm on 1 November 2019, Hayes was cycling along Sharples Hall Road when he rode past his first victim - a 61-year-old woman who was returning home with her tea after visiting a fish and chip shop.
Hayes got off his bike and ran back up behind the woman before stabbing her to the side of the head, causing her to fall to the floor.
While prone on the ground, Hayes stabbed her multiple times - including in the face, head and chest, narrowly missing the woman's heart.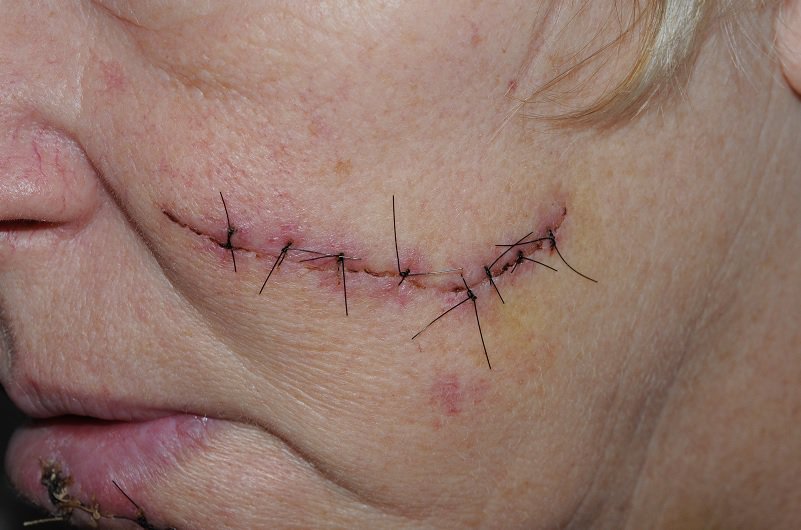 The horrific injuries sustained by the 61-year-old woman
The second attack was just before 6pm on 20 November, 19 days later.
A 71-year-old woman was walking along an alleyway linking Stoneleigh Street to Yates Street, on her way to a newsagents on London Road.
Hayes entered the alleyway from the other side. He walked past the woman before approaching her from behind and cut her throat with a knife.
Despite the victim wearing a scarf and thick coat fastened about her neck, the force was such that the knife cut through the material and left a four-inch wound across the width of her throat.
Police were able to link Hayes to the attack using CCTV and phone evidence.
Upon his arrest, examinations of his phone showed Hayes had been searching for information about knife attacks and serial killers.
Both victims received extensive hospital treatment and have since been discharged.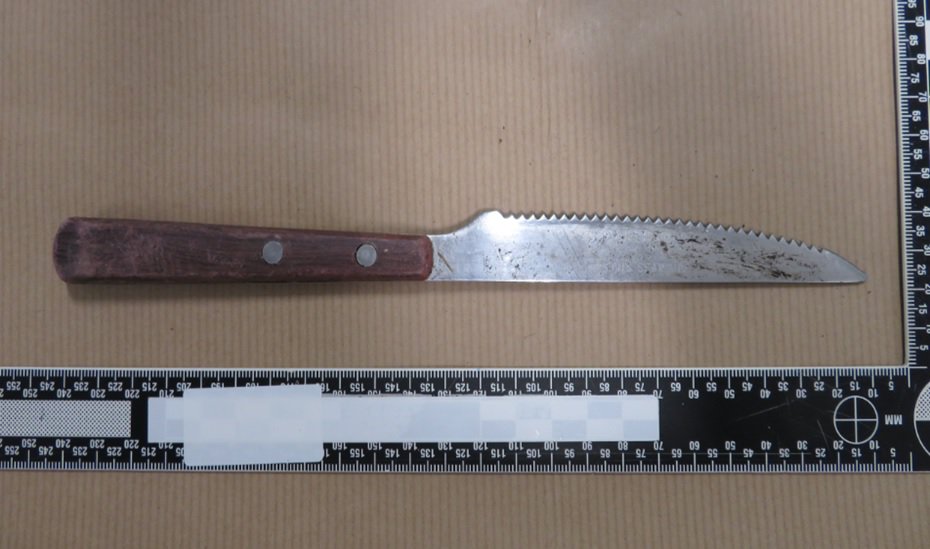 The knife used during the attack on the first victim - a 61-year-old woman
'Hayes is a clearly very dangerous individual'
Detective Inspector Ben Cottam, of GMP's Major Investigations Team, said: "Hayes is a cold and cowardly violent offender. Throughout both attacks he remained silent and made no threats or demands of his victims.
"His crimes were of someone who seemingly wanted to inflict the maximum degree of hurt, simply for the sake of it. If not for hard work of our officers I dread to think where Hayes' escalating pattern of offending would have led.
"Thankfully we were were able to identify Hayes and remove from our streets a clearly very dangerous individual, before anyone else was hurt. It is because of the work of the emergency services and the remarkable strength of these two women that these attacks didn't result in the loss of life.
"I'd like to thank them for their immense bravery during this investigation and subsequent court case. I hope it gives them a degree closure that this man will remain behind bars for a considerable period."
Watch footage of Hayes prior to the stabbings in the video at the top of the page.