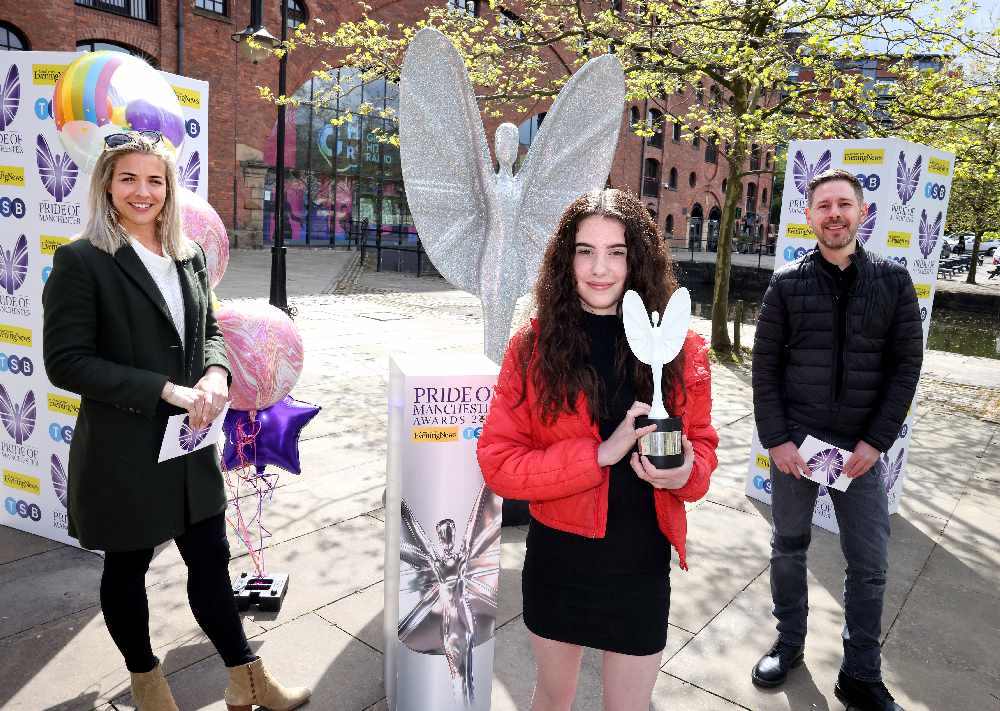 Amazing Keira Arnold receiving her award.
A 13-year-old girl has been selected to receive the Pride of Manchester Teenage of Courage Award for her incredible fundraising efforts.
Keira Arnold was delighted to be presented with the prestigious award after fundraising for Dr Kershaw's Hospice for over four years, raising money for 'Keira's Wishes', her very own fundraising initiative which provides patients with their last wishes whilst at the Hospice.
Her remarkable efforts have seen her raise over £36,000 for the hospice, with Pride of Manchester choosing her to earn their esteemed Teenage Courage Award, an achievement presented to those who have battled against the odds to help others.
Keira was initially surprised with the award by Hits Radio presenters Gemma Atkinson and Wes Butters before attending the official Pride of Manchester Awards event hosted by TV star, Kym Marsh, at the iconic Midland Hotel in Manchester city centre.
She began her fundraising journey after her dad was cared for at Dr Kershaw's and her sole aim has been to help make special memories for patients and their families.
Her fund, 'Kiera's Wishes' has enabled patients to enjoy special moments with their loved ones with precious weddings, early Christmas days and trips to the seaside. Recently, Keira also kindly used some of her funds to buy smart TVs for each of the 12 patient beds in the new In-Patient Unit.
Her activities have also seen her organising commendable virtual markets during the pandemic, supporting both local businesses and the hospice.
The Pride of Manchester Awards celebrate truly remarkable people and regional winners in each category are considered for the shortlist of the national Pride of Britain Awards.
Joanne Sloan, Dr Kershaw's CEO said: "Keira's support, dedication and enthusiasm has been inspiring. For a young person to be so committed and so supportive is just so wonderful to see.
"Keira truly deserves the Pride of Manchester Award, she is an inspirational young lady, and we can't thank her enough for all she does for us and for the special memories she gives to our patients and their families."
Keira was both surprised and thrilled to receive the award and said: "I am really shocked to have won this wonderful award, it's so nice to know that people like what I do in my fundraising.
"Helping other families makes me really happy, especially in difficult times. It inspires me to keep going."
Despite her already impressive fundraising total, Keira says her target is to keep going until she raises £1 million to make more wishes come true.
"That would be my one wish, so that I can help even more people," she said. "But I'm not really planning on stopping at all. I just want the best for everyone."
In the past Keira has been named Oldham's Young Citizen of the Year and presented with the Mayor of Oldham's Appreciation Award, showing how much her efforts have been appreciated.
If you are interested in following in Keira's footsteps and taking on your own fundraising challenge to support the vital care that takes place at Dr Kershaw's Hospice, call the Hospice's Fundraising Team on 0161 624 9984 or visit https://drkershawshospice.org.uk
Read more from the Oldham Reporter