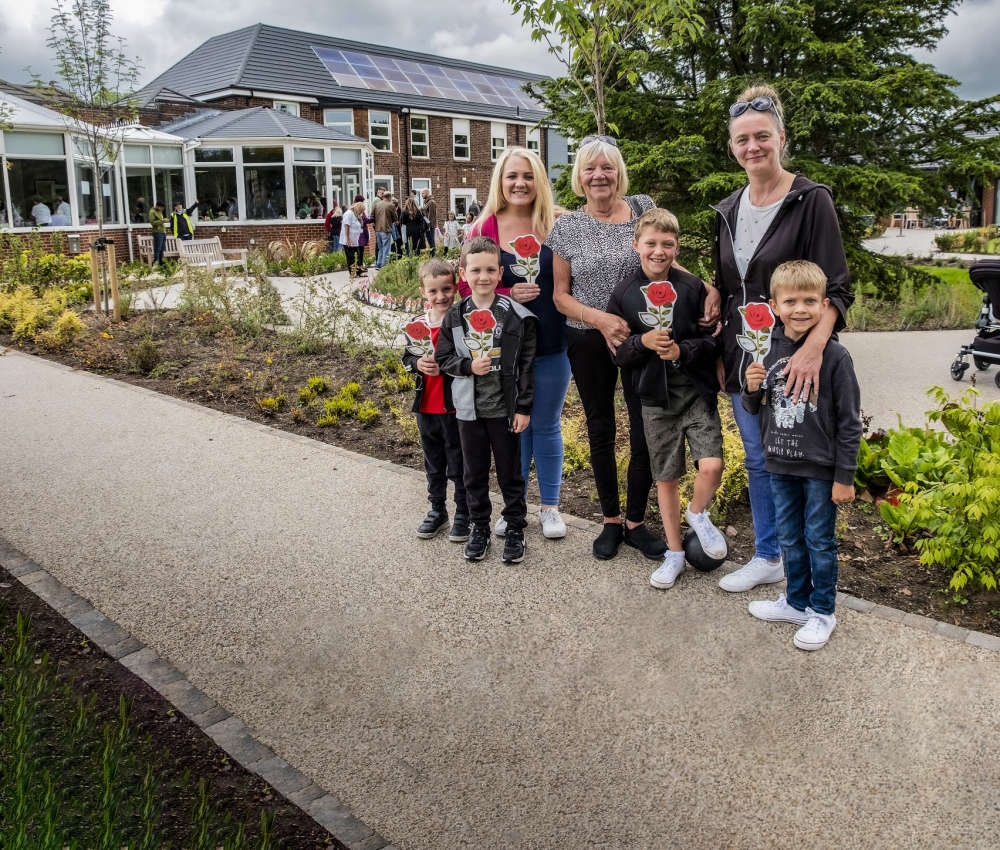 The first event held at Dr Kershaw's Hospice since the start of the pandemic saw hundreds of people from the community support the hospice's 'Rose to Remember Appeal'.
In April, Dr Kershaw's launched the new appeal, supported by the Co-op, asking the community to dedicate a beautiful rose plaque to their loved ones, with each plaque then displayed at the Hospice's Rose to Remember Open Garden Day on 3 July.
The Open Garden Day saw over 400 rose plaques on display, with each one dedicated to loved ones. The event saw 300 members of the local community turn out to support the hospice.
With over £8,000 raised to support patient care at Dr Kershaw's, the kindness and generosity of those who supported the Rose to Remember Appeal and Open Garden Day will now enable more patients and their families across the community to receive specialist care and support from the hospice.
The Hospice's Open Garden Day was a summer celebration to remember those who we have loved and sadly lost and included performances from Dr Kershaw's Hospice Choir, giant outdoor games, cream tea and the Hospice's specialist Gin on sale, a Name the Bear stall, a raffle as well as many other stalls.
Event Organiser and Director of Income Development and Marketing at the Hospice, Rebecca Bentham, said: "We were thrilled with the turnout at our Rose to Remember Open Garden Day. With it being our first event at the Hospice since the start of the pandemic, we were worried that people wouldn't attend, but the community turned out in their hundreds to support us, which far exceeded our expectations.
"It was so nice to see the Hospice back open to our community, and the event had such a lovely atmosphere. Everyone was happy, smiling and enjoyed the day. We hope those of you who were able to make the event enjoyed it! We are delighted with the amount raised which really does mean so much to our patients and families across the community and we want to thank every single one of you who supported our Appeal or attended our event!"
Hospice supporter Kim Wales made a rose dedication in memory of her mum, Marie Griffiths, who passed away at Dr Kershaw's just eight weeks before the Rose to Remember Open Garden Day.
She said: "It has been a lovely event, all our family came and it was a nice way for us all to get together to remember mum. The gardens are so lovely and the rose plaques look beautiful. The Hospice did so much for mum and just made everything so much easier. Her room was overlooking the gardens, and it was so lovely to have such a nice view after she'd been in hospital for so long.
"We were thrilled when we found out we could attend the Rose to Remember event and support Dr Kershaw's, thank you just isn't enough for all the care and support mum got, the Hospice's team truly are angels without wings."
Hospice Director Rebecca said: "Thank you to the Co-op for their dedicated support with our Rose to Remember Appeal and event, the team kindly attended to serve afternoon teas as well as providing all the supplies on the day to be served in our café. Thank you also to our volunteers who supported at the event, to Booths Garden Centre for their donation of plants, to Park Cakes for their help with the cake stand, to Kershaw's Krafties for their fantastic craft stall, to Dr Kershaw's Choir for their amazing harmonies and Barry from Conexus Tuition for lending us the outdoor target game! We couldn't have done it all without you!"
Royton Co-op Store Manager, Darren Ramsden, added: "I am so happy that the Rose to Remember Open Garden Day was such a success. As Manager of our local Co-op in Royton, it made me and my team proud to be able to help support such a worthwhile cause in the community and I look forward to what more we can achieve in collaboration."
If you kindly made a rose dedication and haven't yet collected your plaque, you are still able to do so. You can visit the Hospice's reception, Monday to Friday between 9am and 6pm, or contact the Hospice's Fundraising Team at fundraising@drkh.org.uk or 0161 624 9984 to arrange for your plaque to be posted to you at a small P&P charge.
Following the popularity of the recent event, the hospice has already set the date for next year's Rose to Remember Open Garden Day, which will be taking place on Sunday 2 July 2023.
Read more from the Oldham Reporter