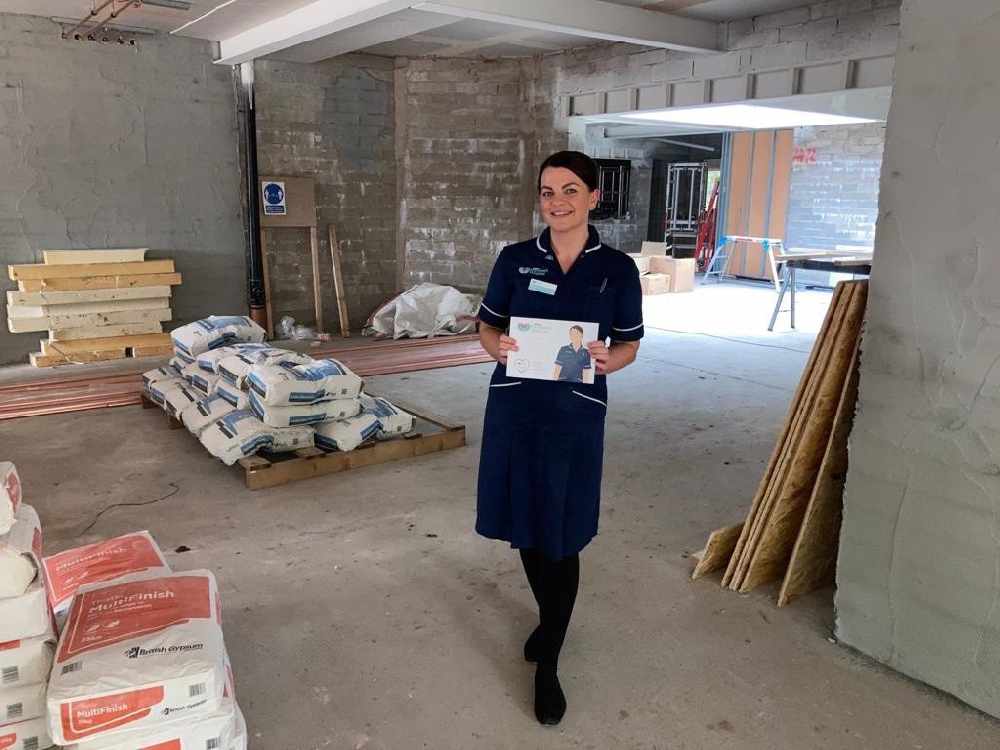 Dr Kershaw's Hospice is asking the local community to help after the Covid-19 pandemic affected plans to furnish its soon-to-be-complete new In-Patient Unit.
With building work well under way and a September opening in sight, the pandemic couldn't have struck at a worse time for the Royton-based hospice.
The delays, which have led to an additional cost for the project, have left the hospice with an unexpected shortfall of £601,352.
As a result, Ward Sister Kelly Foster (pictured) is spearheading a new appeal called Furnish with Love – Give the Gift of Comfort to raise funds to buy the specialist furniture needed for the new in-patient lounge area within the new facility.
Kelly explains: "Like everyone in our community, this pandemic has had a huge effect on the Hospice, our first priority, as always, has been patient care. The whole team has risen to every challenge to ensure that our patients come first.
"With hospice services working well, our attention turned to the building of the new In-Patient Unit, which has been delayed due to the pandemic by a few months with unexpected additional costs.
"Our plan for the facility to be ready by the New Year is well on track but the funds for the internal all-important furnishings are still very much needed, so we're asking our community to find it in their hearts to help.
"Our vision is to create a lounge that is a home from home, for patients to relax in with their family and friends. We want to add to our patients' comfort and safety as they spend time with their loved ones, providing a place where they can have precious time together, creating special forever-memories."
The in-patient family lounge will be a combination of areas, from cosy corners furnished with coffee tables and chairs, comfortable sofa spaces and even a dining room area with a large table and chairs for a family to sit and eat together.
Dr Kershaw's is reaching out to the community to make a contribution towards the purchase of these specialist items, furniture that is similar to the furniture you have in your own home but with differences in that they must follow strict health and safety guidelines.
The hospice say community support for this initiative is vital to ensure that patients and their families can have their precious moments in a special, comforting environment.
Everyone in the community can help by making a donation or organising their own Furnish with Love fundraising activity - whether it be staging a virtual quiz, taking on a virtual 5k, asking your friends and family to sponsor your own fundraising, or spreading the word and asking others to donate.
The hospice says just £30 could help towards the gift of a comfortable armchair to support a grandma as she sits to hold her grandchild for the first or perhaps, the last time.
To learn more about the Furnish with Love campaign, head to www.drkershawshospice.org.uk/support-us/furnishwithlove/.