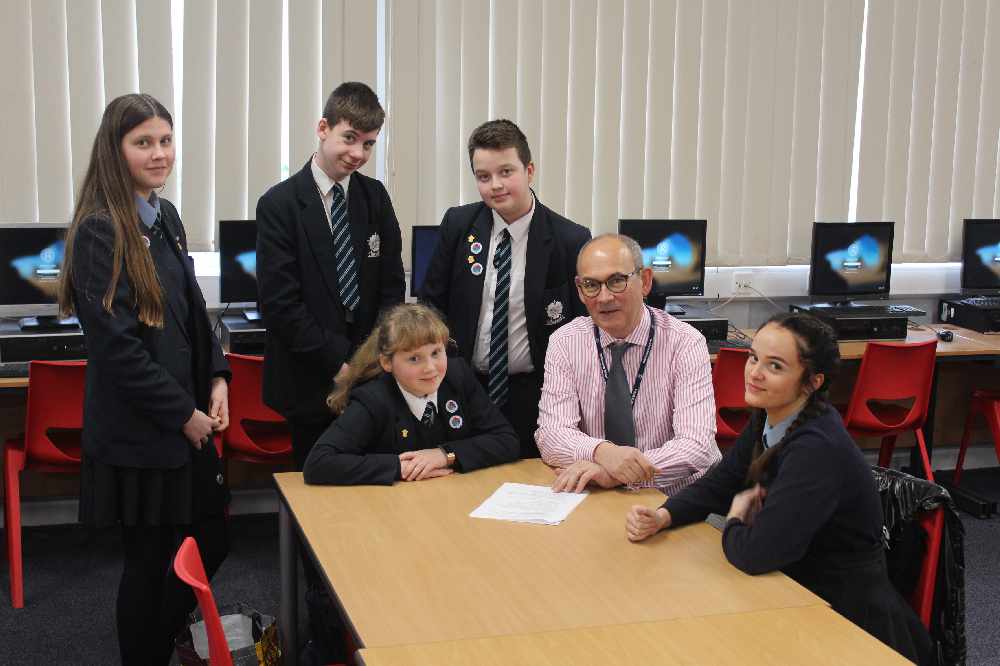 Saddleworth School's executive head teacher has announced he is leaving at the end of the summer term after nine years.
Matthew Milburn will depart on the Uppermill school's GCSE results day in August and is planning to take a gap year, having been involved in school or college education every September since 1969.
Announcing his decision, Mr Milburn said: "It will be really tough to leave the people and the school behind but now is the right time."
The 54-year-old wants to travel with his wife Leigh, and then, once "fully refreshed" he will think about future options.
Prior to joining the High Street school, Mr Milburn was a head teacher at a large and successful secondary school in Barnsley. By the summer, he will have completed 17 years as a Headteacher and Executive Head - more than half of his professional career.
Saddleworth School is moving into a new building in Diggle for the 2021/22 academic year, and the next head teacher will need to get themselves established and set up the systems and routines that will optimise the opportunities that this long-awaited move offers.
In negotiation with Mr Milburn, the school's Governing Body have advertised for a Headteacher to lead the school from September 2020.
There are also personal reasons why Mr Milburn feels the time is right to move on too. His youngest son, Max, finishes university in May and his wife's parents are both in Leicestershire, so the family plan to relocate to Rutland.
Mr Milburn has been involved in supporting Kingstone School in Uganda for the last 15 years and plans to continue as a mentor and advisor to the school's proprietor Mr Moses Nyanzi.
Mr Milburn said: "Leading a school is a privilege – there have been so many highlights over the last nine years, so many moments that feed the soul.
"Being a teacher is the best job in the world. To work with young people every day is life affirming. Too often children get a bad press and yet it is hugely empowering to see them develop and grow.
"I started out as a drama teacher at Breeze Hill School in 1988 ands it's been so lovely on parents' evenings to meet former pupils who have chosen to send their children to Saddleworth."
He went on: "Just last week, we heard from colleagues at Oldham Sixth Form College that some of our pupils have progressed to great universities.
"The sporting successes of our pupils have been extraordinary and who could fail to feel inspired by the concerts and presentation evenings that celebrate the hard work and talent of the children we serve."
Until very recently, Mr Milburn taught drama lessons at Saddleworth - a subject that he has a particular passion for.
He specialised in "drama as a learning process" as opposed to Theatre Arts, and has always encouraged pupils to understand the world by standing in the shoes of another.
This approach is perhaps reflected in the school's use of Pupil Dirven Review, which sees young people offer their own evaluation of how well they have done in their learning whilst talking to parents, other pupils and their form teacher in an hour-long interview.
Saddleworth is part of the Dovestone Learning Partnership - a Cooperative Trust which includes nine schools, Saddleworth and eight partner primaries.
The Heads and governing bodies of the school worked together to form the DLP and Mr Milburn said: "For too long, competition between schools has been seen as the only way of enabling improvement.
"I'm so pleased that by collaborating with our local primary schools we've been able to form an alternative, democratic model that responds to the needs of our local community and context."
Since becoming a National Leader in Education and Executive Headteacher at Saddleworth in 2017, he has spent time working with other schools - some of which have faced particular challenges.
He has always been an advocate for Peer Review, rather than an inspection model that uses criteria that change every few years to label schools. This is the model that has encouraged perverse behaviours and gaming by some school leaders.
"It shouldn't be the case that schools feel a pressure to off role or exclude some of the most vulnerable young people that they serve.
"A school should be judged by how it looks after and support the most vulnerable and not just academic outcomes."
Over the last two years, Mr Milburn has worked with the Oldham Opportunity Area as a Lead Headteacher and, in this role, he has co-ordinated an Aspirant Leader programme that provides coaching and networking opportunities for school leaders across the region.
He adds: "I really think more colleagues should look to take on and sustain leadership roles in schools. It can be a challenging job but the rewards are immense."
In a tribute, a former head boy at the school, Joe Wheeler, has congratulated Mr Milburn on his years of service and dedication to the community.
He said: "Your commitment to creating a better learning environment for children of all background was admirable. And on a personal note, for your support of both my work in the community and my academic lifestyle, I will always be grateful, particularly for the week that I shadowed you which helped to solidify my desire to one day be a head teacher. If I can do half the job that you have, then I'll be fulfilled with my achievement."
Main image:
Saddleworth School executive head teacher Matthew Milburn with some of his senior students.