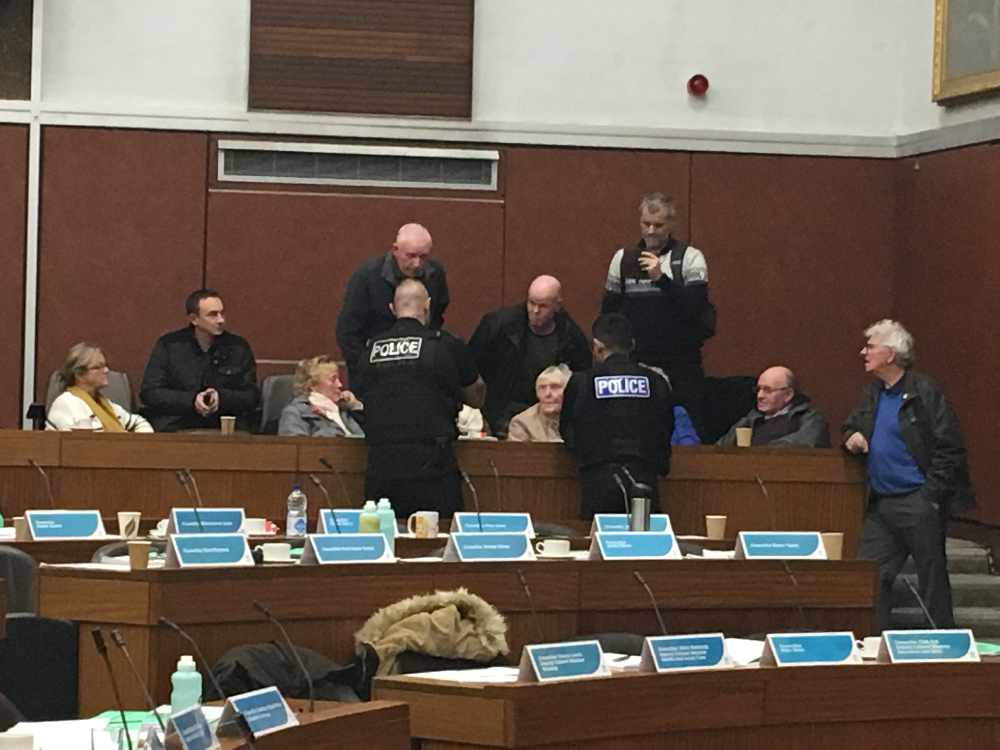 "You have no authority here Jackie Weaver, no authority at all" and "read the standing orders – read them and understand them!"
Already these lines uttered by furious councillors at a tiny virtual parish meeting in Cheshire have become as legendary as the words of Winston Churchill or Shakespeare.
But it's not just the planning and environment committee of Handforth Parish Council where voices are raised and the formality of democracy descends into chaos.
Greater Manchester has seen its fair share of bizarre council outbursts across its ten town halls over the years.
It may not be what the ancient Greeks had in mind, but reporters have been witness to slanging matches, police officers called into council chambers, shaken fists and swear words.
Here are some of the highlights.
Laminated signs-gate
This meeting of Manchester's annual budget full council was off to a rocky start before it had even formally begun.
A blazing row broke out after Labour veteran councillor Pat Karney put up a series of homemade (and controversially laminated) signs bearing the words '10 Years of Tory And Lib Dem Cuts' above the Lord Mayor's chair.
However this didn't go down too well with a councillor on the town hall's Liberal Democrat opposition benches.
When Lib Dem leader John Leech entered the chamber, he began to pull down the message – prompting Labour's city centre chief Coun Karney to sprint across the length of the room to begin remonstrating.
Shouting at Coun Leech, he told him to hand over the laminated A4 pieces of paper at least 11 times.
"They're mine, give them back to me," he shouted at the councillor, as other Labour members looked on in amazement.
"You do not run the council… we make decisions about this council.
"That's vandalism. Give them back to me. Give them back now. We won't start til you give them back to me."
Finally snatching them off Coun Leech, Coun Karney raised his voice further, shouting: "How dare you.
"Get more councillors elected if you want to take decisions about this council."
There was no audible response from the Lib Dem leader, and the meeting carried on with the signs in place although Coun Leech continued to call for their removal.
However it wasn't to end there as Coun Karney subsequently had to face a standards panel over the bizarre scenes, which he later apologised for.
An independent investigation concluded he had used 'council resources' to make the laminated party political sign but did not find he had brought the authority into 'disrepute'.
Did someone forget to mute?
In Rochdale, the move to virtual council meetings has encountered a few problems, which culminated in a former Labour councillor being called a 'bitch'.
The 'appalling' remark was made after independent Coun Jacqui Beswick backed a Conservative amendment to a Labour motion on the coronavirus funding.
After Coun Beswick indicated her support, an unidentified woman councillor was heard to mutter the word 'bitch', having presumably left her mic on by mistake
The West Heywood member, who left Rochdale's Labour group last year, lodged a complaint about the incident and called for the culprit to own up and say sorry.
Coun Beswick said: "Hopefully they will come forward and apologise. It's unacceptable behaviour and I don't expect to be abused just for the fact I'm voting for what I believe to be right – It's my vote, my choice.
"To be called a bitch is just unacceptable."
The Conservative group also lodged a complaint over what leader Coun Ashley Dearnley has described as the 'childish, irresponsible, immature behaviour' of some Labour members during the meeting.
Homes plan and voting confusion causes uproar
Oldham's planning committee has seen plenty of weirdness in its time, including a councillor waving around a dead rare newt to object to an application.
But things really fell apart at an extraordinary meeting convened to rule on a hugely controversial application for 265 homes and a new link road in the borough.
The proposals were brought back for a second time after the committee – with a previous chairman – had gone against officers' recommendations to refuse them.
When they returned more than a hundred residents packed out the council chamber to voice their opposition.
The night was mired in confusion as the acting chair, Councillor Clint Phythian struggled to make the voting procedure clear, prompting heckles and shouts of 'shambles' from the public gallery.
One Liberal Democrat councillor later described it as 'quite frankly was the worst meeting I have ever attended'.
Despite being approved, the battle against the Knowls Lane plans continued with a cross-party group of councillors putting out a cover of the sixties Northern Soul classic 'Hey Girl Don't Bother Me' by The Tams to raise funds for a legal challenge.
Furious councillor brings meeting to a standstill
An angry councillor ranting 'liars' and 'I'll see you in court' saw a meeting of Wigan's full council cut short.
Wigan leader Councillor David Molyneux moved a vote to suspend proceedings as outspoken independent Coun Bob Brierley shouted 'you're liars' and 'I'll see you in court'.
Councillors had been discussing whether to approve a recommendation by the authority's standards committee to strip Coun Brierley of a committee place.
But the meeting was brought to an abrupt end amid raised voices in the chamber as members of the ruling Labour group backed Coun Molyneux's move to suspend proceedings.
Coun Brierley said colleagues needed to 'get the full facts' and called the actions of the council 'a disgrace'.
"I'll see you in court. And all the rest of them, you're liars," he added.
Racism row over memes of Asian councillors
A meeting of Bury council descended into chaos after a furious row broke out between two councillors.
Cabinet member for communities Tamoor Tariq called Conservative councillor Nick Jones a 'racist' during the budget debate.
He later said that his accusation of 'casual racism' was prompted by a meme posted by the Young Conservatives Bury Twitter account.
Coun Tariq said: "For years I have been targeted by Conservative councillors who have refused to call me by my proper name in the chamber, something that never happens with non-white councillors."
Following the row, Conservative leader James Daly demanded that Coun Tariq apologise and be removed from the council chambers.
He said: "Of all the slanderous disgusting things that have been said in this chamber, what Coun Tariq has just said is beyond belief. It is completely untrue. He should be ejected from this chamber because anyone who uses that language in here is unfit to sit in this chamber."
Mayor Jane Black, who chaired the meeting, asked for the matter to be resolved after the meeting in the interest of passing the budget in time.
Coun Daly added: "We'll stay in this chamber solely to scrutinise this budget on behalf of local people, but the fact that you sit here and say that is a disgrace."
This was the second council meeting in a row that the high-profile Labour councillor has been caught up in a fight.
Conservative councillor Bob Caserta allegedly gestured towards Coun Tariq in a way which was perceived as a 'physical threat'.
In a video of the meeting, Coun Tariq can be heard asking the Tory councillor whether he was threatening him, to which Coun Caserta responded saying, 'yes, I am when you use language like that'.
Britney Spears taunts
Councillors in Tameside called for a new social media code of conduct to stop members 'slagging each other off' online.
One Labour councillor said he felt attacked when a Tory councillor sent him 'pictures of Britney Spears' during an online debate.
The issue of social media was raised during a discussion about councillors' behaviour around elections.
Cabinet member Coun Ged Cooney said he heard reports of members calling each other liars online, or bringing up their sexuality amid political debates.
He said some of the behaviour could be deemed bullying.
Hyde councillor Jim Fitzpatrick quoted some of the tweets he said he 'had to put up with' from other Tameside councillors and members of the public.
One accused him of being 'lazy lying Labour', he told members.
"I will have a political discussion, and I have with Councillor [Liam] Billington," he said. "But it descends into him sending me cartoons or pictures of Britney Spears for some reason, saying I'm obsessed.
"I don't know why he needs to do that, he can quite easily debate with me but it does descend into that sort of childish behaviour for some reason."
Coun Cooney told the assembled members that they should not act like internet 'trolls'.
"We're not keyboard warriors sat with our little y-fronts on, we're elected members dealing with people's issues," he added.
Police called into council chamber
Oldham full council normally sees its fair share of anarchy but this was taken to a new level after the police were called to remonstrate with members of the public.
Residents sitting in the public gallery refused to leave before questions about historic safeguarding allegations were heard, causing proceedings to be adjourned twice.
The disarray began when one resident, Debbie Cole, took to a podium and began speaking after the deputy mayor had announced the end of public question time.
Ms Cole said she wanted to ask about the launch of a review into whether authorities – including the council and police – responded appropriately to allegations of grooming in the borough in recent years.
Deputy mayor Jenny Harrison paused the meeting, but protesters continued to remonstrate from the public gallery, refusing to leave until the question was answered.
The situation became so tense GMP officers had to be called to the council chamber by council staff to speak to the residents.
In total, the meeting was delayed by an hour and 22 minutes as police and council officers dealt with protestors.
However, they were allowed to remain in the council chamber, where they heckled from the public benches for the remainder of full council.
Main image:
Police were called to talk to protesters at a meeting of Oldham full council. Photo: LDRS.