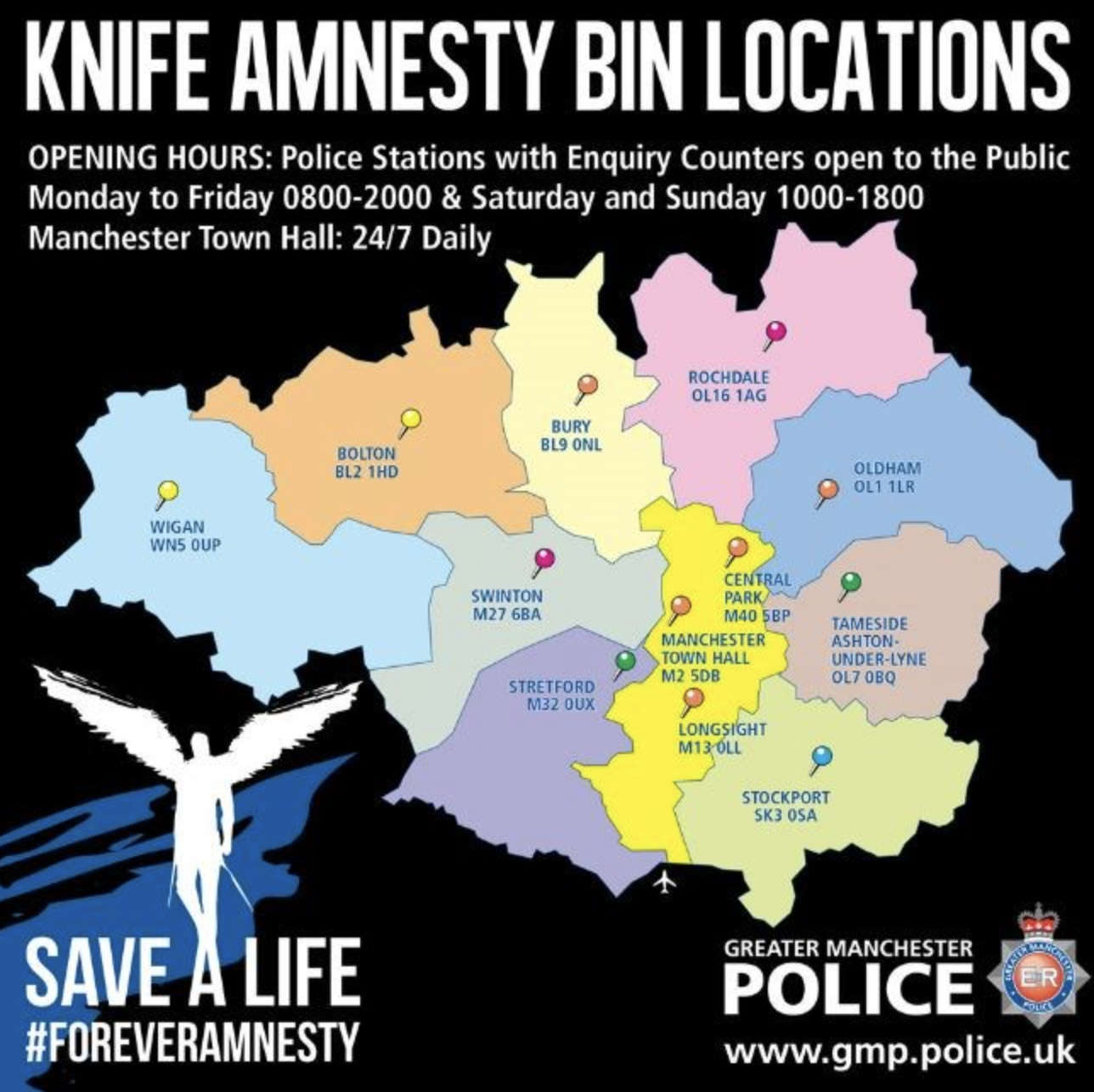 Greater Manchester Police has joined the nationwide battle against knife crime as part of Operation Sceptre.
The operation is the bi-annual national knife crime awareness campaign and week of action for police forces across the UK.
The initiative which is co-ordinated by the National Police Chief's Council is aimed at raising awareness of knife crime. It also provides a snapshot of the efforts police forces are continuously engaged with to tackle knife crime.
The operation, which runs all this week, will see officers from across Greater Manchester Police (GMP) engaging in targeting operations, community engagement events, educational events and visits to premises to help reduce knife crime and discourage people from carrying knives.
An amnesty bin will be available in Tameside for knives to be handed in.
The Operation Venture team – GMP's dedicated serious violence and knife crime team – will also be supporting the operation with proactive uniformed and plain clothes patrols in districts across Greater Manchester.
Deployments by the Operation Venture team are unpredictable and designed to prevent serious violence by seeking to identify and arrest anyone caught carrying a knife.
The Operation Sceptre week of action will also highlight the selling of knives (including in the online space) and officers will be working with partners to engage retailers and highlight the ways in which they can be more vigilant to ensure knives are sold responsibly.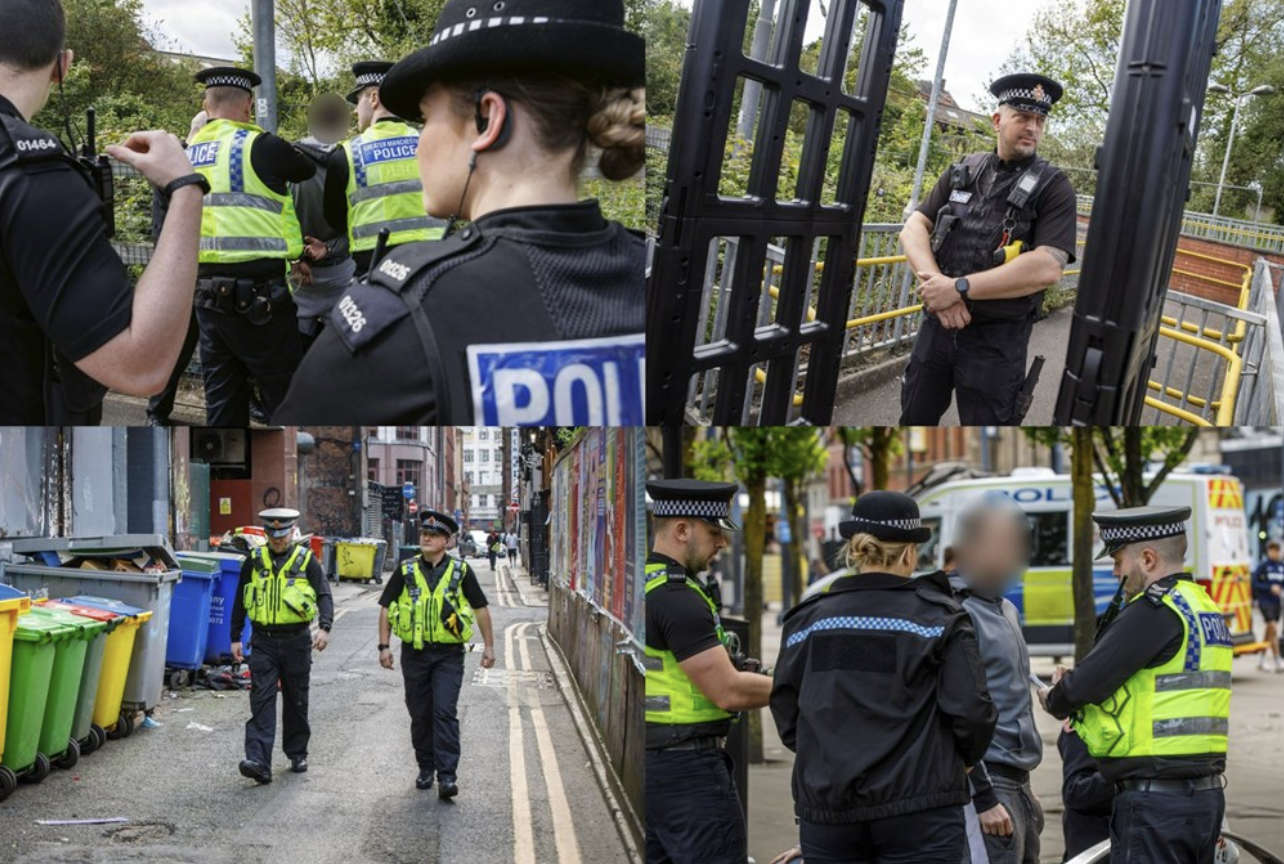 GMP will also be spreading awareness of the Forever Amnesty surrender bins, which are permanently located in police stations across Greater Manchester, all year round. Anyone can surrender a knife anonymously in these bins with no questions asked. Details of opening times for these police stations can be found here: Forever Amnesty | Greater Manchester Police (gmp.police.uk)
GMP will also continue working closely with a range of partner agencies, including the Greater Manchester Violence Reduction Unit, to make referrals into support services and ensure victims of serious violence are supported.
Superintendent Caroline Hemingway, GMP's force lead for knife crime, said: "Knife crime has a devastating impact on families and communities. Weeks of action like Operation Sceptre are an opportunity to show the work GMP is engaged in all year round to tackle the issues and protect communities.
"Ultimately, we want to prevent serious violence from ever occurring and community engagement events and education form a big part of this strategy.
"Our School Engagement Officers regularly visit schools and deliver important lessons to children and young people about the dangers of knife crime.
"We also work closely with a range of partners to raise awareness of the consequences of carrying knives and make referrals into support services with the aim of discouraging people from carrying knives.
"Many young people report that they feel safer carrying knives, but what they don't realise is that this actually puts themselves and others at more risk of harm.
"I also want to be clear that carrying a knife in a public place is a serious offense. GMP takes a zero tolerance approach and anyone caught with a knife will be arrested and could spend years in prison.
"If you suspect someone is carrying a knife, I would urge you to have those difficult conversations before it is too late and if they persist you must report it to the police. Too many lives have been ruined as a result of knife crime and we need communities to come together and work with us. You can help stop someone you love from becoming a victim of knife crime."
Kate Green, Deputy Mayor for policing, crime, criminal justice, and fire, said: "Thanks to the work of GMP, our Violence Reduction Unit, partners, and communities, we have seen reductions in knife crime across Greater Manchester, however we know there is more work to do.
"Operation Sceptre provides an opportunity to intensify our work around raising awareness of the dangers of knife crime, educating young people and taking knives off our streets, but we all have a part to play in preventing knife crime."
You can report knife crime by calling 101 or 999 in an emergency. You can also make a report via GP's website: www.gmp.police.uk
To report anonymously, call the independent charity Crimestoppers on 0800 555 111 or via the website: www.Fearless.org