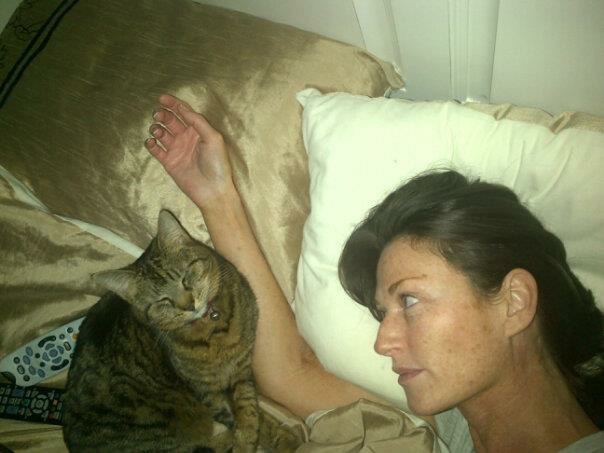 Helena with Gizmo.
A petition asking for cats that are killed or injured on the roads to be scanned for a microchip in the same way the law requires for dogs will be debated in Parliament this month.
Gizmo's Legacy is a campaign spearheaded by Helena Abrahams who is originally from Oldham, but now lives in Bury. Helena created the campaign after her cat of 16 years, Gizmo, was hit by a car and euthanised without being checked for her microchip which would have meant proper closure for her owner.
Helena said: "Gizmo went out to play on July 17 2016 and I never saw her again. The law says that dogs have to be scanned for a chip in a road traffic accident, but there is no law for cats and that wasn't widely known. Gizmo's Legacy is about changing that to make sure that owners get the chance for closure with their pets because that is so important."
Currently if a driver runs over a cat they are not legally obligated to report it, which they are with a dog and other animals. Microchipping cats is also not something owners have to do by law like they do with dogs.
Helena started a petition that reached over 100,000 signatures and the group got the good news that it will be debated in Parliament on Monday June 17. Helena will be joined by two Oldham women who have worked on the campaign, Michelle Whitehead and Wendy Andrew. The group has made Gizmo's Legacy t-shirts for the trip.
They will be handing the petition over to Downing Street at 3pm with the debate taking place at 4.30pm.
Also attending will be Debbie Matthews, daughter of Bruce Forsyth, who created the Vets Get Scanning Appeal, Richard Jordan and Dr Daniel Allen from Pet Theft Awareness and Helena's local MP for Bury North James Frith.
Helena said: "We are absolutely thrilled to be going to debate. We can't thank everyone enough for backing the petition. Now we have to make the law happen for all our pets."