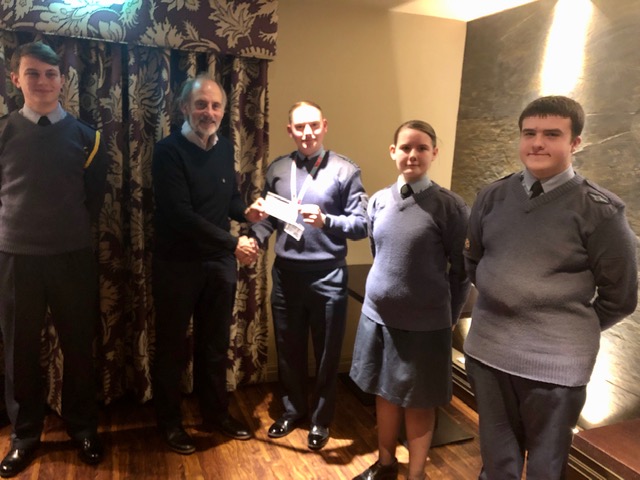 Oldham Air Cadets from 2200 (Oldham) Squadron ATC are flying high after visiting Saddleworth Rotary Club.
Because the dedicated team received a £250 donation to replace their existing radios which have been in service for 22 years.
Over the years, Saddleworth Rotary and the ATC have worked together on various public events, including the high-profile Wellifest and the Saddleworth Show.
The help the officers and cadets provide over the two-day event is invaluable, so it was a great pleasure for Rotary to help support an organisation that helps young people to develop their confidence and personal skills.
Oldham Air Cadets currently has 38 cadets from all communities from Oldham, Royton and Saddleworth.
They take young people from 12 years and can offer a three-year BTEC training in Aviation Studies, which is equivalent to four GCSEs.
They also offer other activities such as advanced flight simulators as well as the opportunity to actually fly.
Main image:
Saddleworth Rotary President Ian Brett presents the cheque to Flight Lieutenant Joe Lord, supported by Cadet Warrant Officer Oliver Broadbent on the left, and Cadet Cameron Hall and Cadet James Barnes on the right.