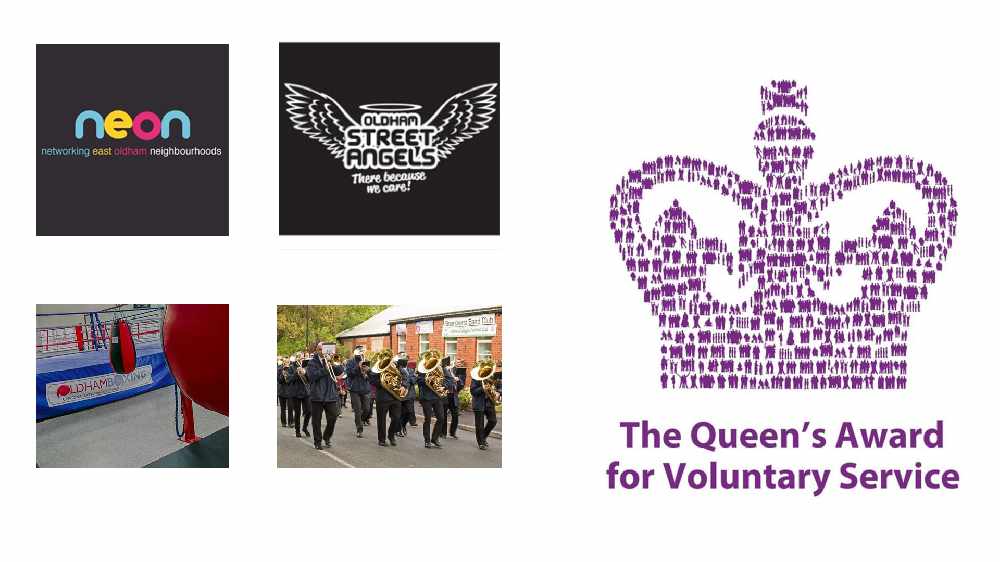 Four Oldham charities have been honoured with a Queen's Award for Voluntary Service.  
They are Networking in East Oldham Neighbourhoods (NEON), Oldham Boxing and Personal Development Centre, Oldham Street Angels and Saddleworth and Oldham Area Whit Friday Brass Band Contests.
Commonly known as the MBE for volunteer groups, it is the highest award a group can receive in the UK.
They are part of a group of 241 charities, social enterprises and voluntary groups to receive this prestigious award this year across the UK.
Greater Manchester has received the most awards of any region for the fourth year running.
The Queen's Award for Voluntary Service aims to recognise outstanding work by volunteer groups to benefit their local communities. It was created in 2002 to celebrate the Queen's Golden Jubilee.
Recipients are announced each year on 2 June, the anniversary of the Queen's Coronation. The Greater Manchester award winners will receive their award later in the summer from The Lord-Lieutenant and two members of each group will attend a Garden Party at Buckingham Palace in 2022.
The Lord-Lieutenant said: "This award recognises the contribution an organisation makes within its community. It is a rare honour. It is not won easily and it recognises real achievement, effort, and a major contribution to the community.
"The last 16 months have highlighted just how valuable volunteering is to the country, with groups innovatively continuing their valuable work in the community, despite the restrictions and threat of the virus and I hope many more will be nominated in the future."
Any group of two or more people that has participated in voluntary work for more than three years can be nominated for the award.
Full details on how to nominate are available at https://qavs.culture.gov.uk
Nominations for the 2022 awards close on 15 September 2021.
Networking in East Oldham Neighbourhoods (NEON)
Over 5 years ago, NEON set up services to address issues of social isolation, health and education, poverty, food and housing needs in the community.
Their network is made up of 64 community groups, who come together to provide support and activities in East Oldham.
It's premises on Holt Street are open seven days a week, all year round, and offer everything from food distribution, facilitating adult services, and hosting weekly social and education groups.
NEON even provides a lifeline for the hardest to reach members of the community.
Oldham Boxing and Personal Development Centre
Oldham's boxing club is about much more than getting in the ring.
The centre's team support people of all ages, especially those in the 8-25 age group, who may suffer from emotional problems, mental health, drug and alcohol issues or bouts of aggression.
They have helped those in the community develop their confidence, achieve self-worth and self-belief. Some sessions are non-contact and are focused on strengthening relationships and improving fitness.
Disability inclusion is a huge part of the club, as are classes catering for children, women and seniors.
Oldham Street Angels
Night life in Oldham town centre can become dangerous, with accidents and fights leading to injury, and inebriation resulting in people needing reassurance or help getting home.
The group provides first aid, food and support to rough sleeps, contraceptives for women's health and listening ears to people.
In addition, the angels have shower and washing facilities, as well as a warm resting place at their base in the town centre on Hunter's Lane.
A statement released by the group said: "The award given to Oldham Street Angels marks the 10th anniversary of our weekly community presence supporting the town centre's night-time economy. We continued to be there right through lockdown (even though the pubs /clubs were closed) serving food and providing clothes for those sleeping rough.
"Thanks to all the volunteers who have helped along the way. Some have continued to support us since that first meeting in church when I first floated the idea in a sermon!"
Saddleworth and Oldham Area Whit Friday Brass Band Contests
Beginning in 1884, the brass band contest has become part of the area's cultural heritage.
The group behind the competition develop, plan, produce and coordinate the staging of the band festival. Magazines are created and advertising space sold to raise funds for the event and their industrious nature doesn't end there.
To ensure the safety of residents and participants over 30 miles from the event, the group also liaise with local authority, police, transport and health services.
Co-ordinator of the group, Bob Rodgers added: "The group were told they were being nominated for the award in the Autumn of 2019. It is ironic that since then we have been unable to function for the last two years through restrictions imposed by Covid. However, we are all looking forward to continuing with this great show in 2022, when hopefully all our banding activity will be back to normal."
Read more from the Oldham Reporter