More than 50 firefighters are currently at the scene of another large moorland fire which broke out on Saddleworth Moor on Tuesday afternoon (June 2) and appeared to be spreading.
A huge plume of smoke could be seen over the moorland above Oldham and near Dovestone Reservoir.
People said on social media that the smoke can be seen from Ashton-under-Lyne, Mossley and even as far as Stockport and MediaCityUK in Salford Quays.
Local residents are being asked to keep doors and windows closed, while people are also being told to avoid the area - especially drivers on the A635 Holmfirth Road at Greenfield. The car park entrance off Holmfirth Road has been closed.
Officers from Greater Manchester Police are also at the scene ensuring people stay away.
In an update just after 4pm on Tuesday, a spokesperson for Greater Manchester Fire and Rescue Service said: "Firefighters are currently at the scene of a moorland fire in Oldham. GMFRS was called at 2.20pm, to reports of a moorland fire near Holmfirth Road, Oldham, close to Dove Stone Reservoir.
"There are currently ten fire engines in attendance tackling the fire. The fire is producing a large amount of smoke. Please can people avoid the area while firefighters tackle the fire and if you live near by keep your windows and doors closed."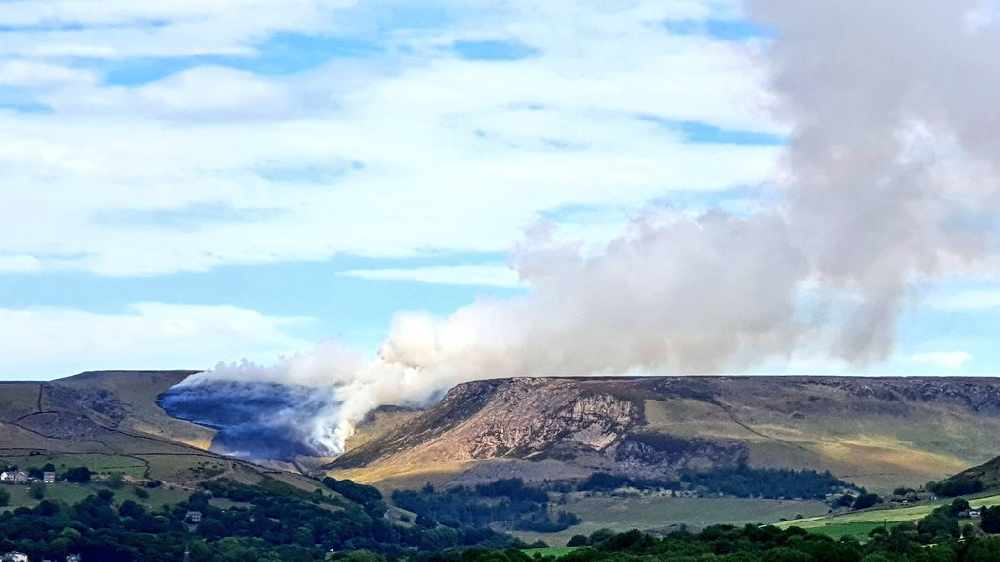 Image by @PurplefacePhoto on Twitter
Ten fire engines, a wildfire unit and a Burn Team from Lancashire Fire and Rescue Service are in attendance, as well as a United Utilities helicopter, a Wildfire Unit from West Yorkshire Fire and Rescue Service and other emergency agencies.
The scale of the fire is now believed to be approximately 600m by 600m.
GMFRS said additional crews and resources were being summoned to the scene to back up the operation into the night.
They said in an update at 7.30pm on Tuesday evening: "A multi-agency meeting took place at 18:30 between Northwest Ambulance Service, Oldham Mountain Rescue Service, Lancashire Fire and Rescue Service, West Yorkshire Fire Brigade Wildfire Officer, United Utilities and GMFRS. The joint-operation to extinguish this fire is continuing at an aggressive pace and progress is being made by fire crews on the left flank of the fire and the helicopter on the right."
Head of Operational Assurance and Performance, Area Manager Ben Levy, who attended the scene earlier to support the emergency response, has described the scene.
He said: "Crews have battled very harsh conditions in steep, uneven terrain to fight this fire. Additional hazards caused by wind threatening to spread the fire onto a vast expanse of tinder-dry moorland. Specialist fire investigators are on the scene seeking to determine the cause. In the meantime, I urge everybody to take extra-special care when enjoying our open spaces at this time of year, in conditions that can easily lead to large outbreaks of fire like this.
"I am incredibly proud of our crews and grateful to Lancashire Fire and Rescue Service and West Yorkshire Fire Brigade, as well as our colleagues from North West Fire Control who have effectively handled over 90 calls in relation to this incident."
Saddleworth parish councillor Max Woodvine also tweeted to remind people of the Public Spaces Protection Orders in place.
🚒🚨 @manchesterfire racing along Oldham Road to attend a fire on #Saddleworth Moor.

Now seems a good time to remind everybody that a Public Spaces Protection Order was introduced to stop these fires from happening! 🔥

Please take notice 👇🏼 pic.twitter.com/QvPc8Qy1jD

— Max Woodvine (@MaxWoodvine) June 2, 2020
Two Public Space Protection Orders (PSPOs) were introduced in Tameside and Oldham last October to protect the moors and wildlife.
Anyone found lighting a fire, barbecue, or other objects including fireworks and sky lanterns, will be given a fixed penalty notice of £100, or face prosecution. Failure to pay any fixed penalty amount could lead to prosecution.
The latest moorland fire comes as fire crews have been repeatedly pleading with the public to stay safe and not to light fires or have barbecues on moorland.
Last weekend, from Friday through to Sunday, GMFRS reported that they attended 453 incidents - including moorland fires, a blaze involving 200 tonnes of paper, false alarms, and an incident where firefighters rescued two dogs, a canary, a hamster and a tortoise.
Photo album images and video by Nigel Wood