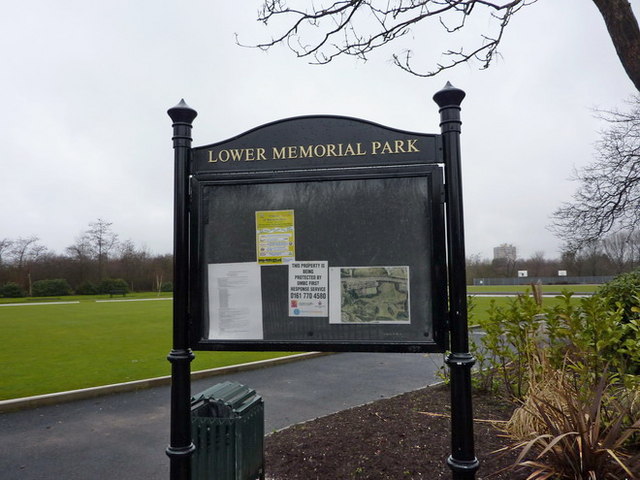 A parcel of open land has been gifted to Lower Memorial Park Trust to preserve an important green corridor in Failsworth. 
Oldham Council say it has transferred the 2.5-acre site to ensure it can be used for recreational purposes for years to come.
The land runs north of the Lancaster Club, alongside Broadway, to the allotment gardens.
It will now be safeguarded by the Trust - also responsible for the adjacent Lower Memorial Park, which was purchased by public donation after World War I and dedicated as green open space for the residents of Failsworth.
Cllr Sean Fielding, Council Leader and Failsworth West councillor, said: "We want Oldham to be the greenest borough in Greater Manchester and to do that we have to make the most of our natural and built environment.
"This land is an important asset to the area and forms part of the Moston Brook green corridor - it's important it remains undeveloped and preserved as public open space.
"We are delighted to gift it to the Trust who we know will champion it and protect it for the future."
A recent community consultation on the potential to transfer the land was overwhelmingly in favour of the proposal. It also highlighted the need for better pathways and pedestrian access points into Lower Memorial Park, especially from Broadway.
The council hopes the transfer of land will extend the size and legacy of the Lower Memorial Park area. The park was created almost 100 years ago using donations from the families and friends of 240 men from the town who died in the First World War.
In 2017, it was dedicated in perpetuity as a Centenary Field, to honour the memory of those who lost their lives and those who fought in World War I. The site is protected by Fields in Trust in partnership with The Royal British Legion, alongside the council, to protect this outdoor recreational space for the benefit of future generations.
The additional land will now be held in trust by Lower Memorial Park Trust. It means it can never be sold without the consent of the Trust and will guarantee it remains open and accessible for all residents.
The transfer will also open up opportunities to secure funding and grants to improve the site and the council say it will support the Trust to explore these opportunities and deliver them.
Read more from the Oldham Reporter