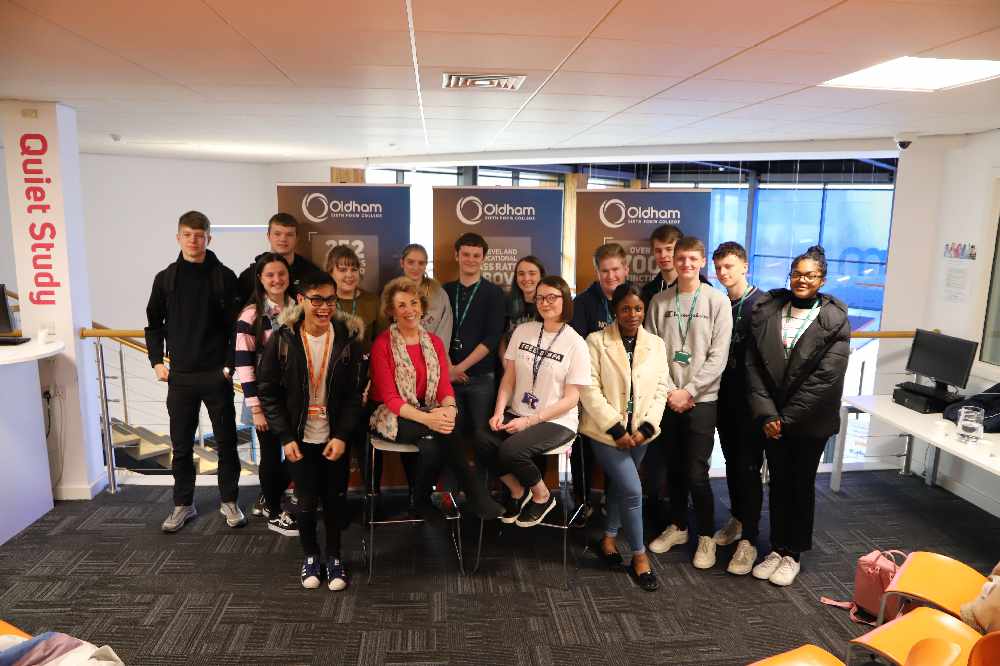 Oldham Sixth Form students with Edwina Currie.
Oldham Sixth Form College welcomed back Edwina Currie who was there to talk to students about the current state of British politics.
Mrs Currie, who has visited the college twice previously, has been a member of the Conservative Party since the age of 16 and served under the UK's first female Prime Minister, Margaret Thatcher, in the 1980s. The college event included a question and answer session followed by a workshop which allowed students to talk further with her.
Mrs Currie discussed her political career and continuing presence within the media, including appearances on reality TV shows, 'I'm a Celebrity Get me Out of Here' and 'Strictly Come Dancing.'
Questions from students encouraged her to discuss her opinions on Brexit and the upcoming race to be the next Prime Minister. She was clear that she does not support a second referendum and that the priority for the next Prime Minister is to "get Brexit sorted."
Both the students and Mrs Currie acknowledged how a confusion and lack of faith in the political system is causing young people to become disengaged. When asked what needs to be done to change this, Edwina answered "politicians must stick to their promises."
She also agreed with students that there is a north/south divide in politics, recognising that decisions made in Westminster are not always reflective of the northern population. This echoed the thoughts of Angela Rayner, Labour Shadow Secretary of State for Education, during her visit to the college in March.
The talk concluded with questions relating to gender equality and feminism which were then developed during the smaller workshop giving students the chance to analyse and evaluate the complex topic.
Students were then invited to express their opinions and received valuable feedback from Mrs Currie on how to debate effectively. She praised the students' confidence in expressing their opinions and admired their independent thinking.