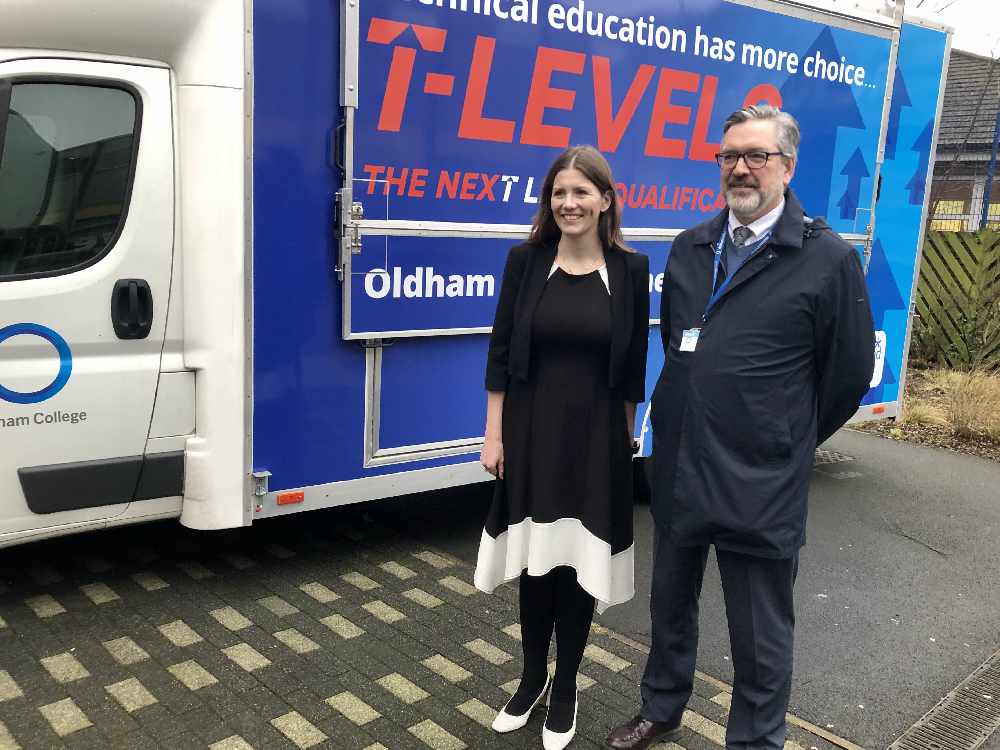 Oldham College has been visited by Education Minister Michelle Donelan MP, who found out more about their progress in delivering the new T Level qualifications.
During her visit to the Rochdale Road college on Thursday (23 January), the Children's Minister met Alun Francis, Oldham College Principal and Chief Executive, to discuss plans for the new qualifications before talking to learners studying in the Digital and Creative Faculty on campus.
T Levels are new two-year qualifications that have been developed to deliver world-class technical education, and give learners an exciting new choice after their GCSEs.
The courses have been developed in close collaboration with employers and businesses – including multinationals like Fujitsu and Skanska – so that their content meets industry needs and better prepares students for the world of work.
T Levels will offer a mix of classroom-based learning and 'on the job' experience during an Industry Placement of at least 45 days over the two-year course.
Ms Donelan, the Conservative MP for the Chippenham constituency in Wiltshire, said: "It was great to visit Oldham College and see all the fantastic work that is already underway to ensure that T Levels will be a great success.
"T Levels have been developed in close collaboration with employers so that young people are going to get the skills and knowledge they need to get a good job, or continue to further study or training.
"Oldham College is very well placed to deliver these with its strong local partnerships with employers and other local institutions – and it clearly has ambitious plans.
"This is obviously a great learning environment and it was inspiring to see and hear how committed and engaged the staff and students here are in their work."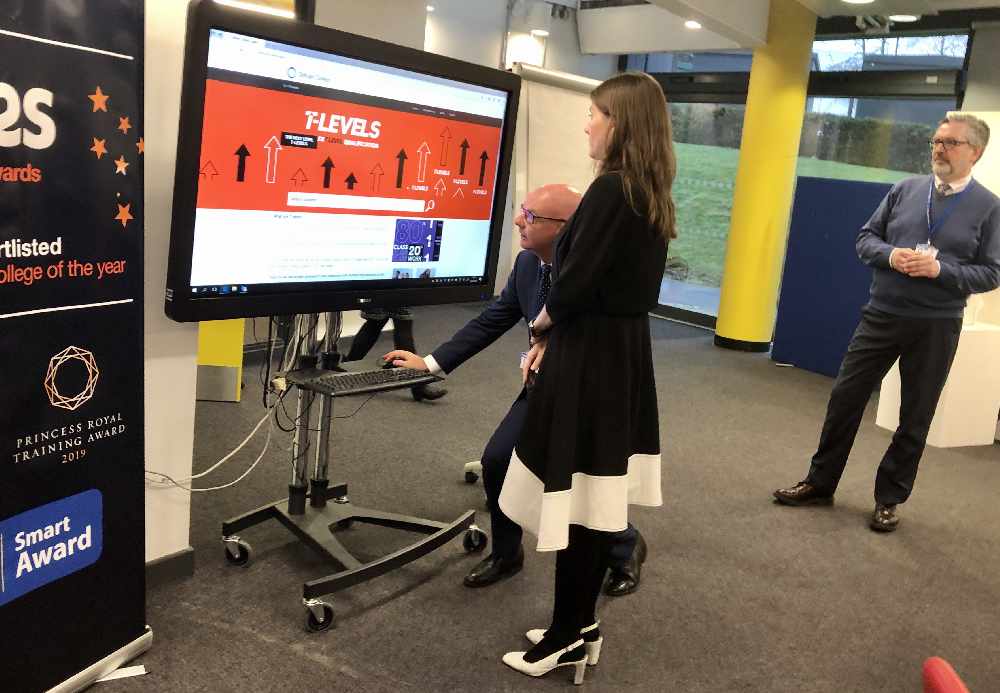 Ms Donelan finding out more about the college's work to introduce T Levels.
As we reported earlier this month, the college was shortlisted for 'College of the Year' at this year's prestigious Times Educational Supplement's Further Education Awards.
The establishment will begin delivering T Levels in September 2021, with a route into Digital, Construction, Education and Childcare, and Health and Science.
Local pupils who entered Year 10 in September 2019 will be amongst Oldham College's first cohort of T Level students from September 2021.
T Levels are part of a compressive package of curriculum options which can lead to apprenticeship or degree routes to high skilled employment. Oldham College is a specialist provider of work related education and training and offers the full range of options.
Alun Francis said: "We're delighted to welcome Michelle Donelan and show her the comprehensive work already underway to start delivering T Levels – and to give even more young people a head start to the future they want.
"We're focussed on raising awareness and explaining these new options through our strong partnerships with schools and their learners, and we were able to show Ms Donelan some of our work with partners like new occupational maps and a website showcasing this offer to young people.
"Oldham College is uniquely placed to deliver T Levels. These are a specialist type of work-related provision that can capitalise on our existing relationships – and our higher education provision at University Campus Oldham – which already means thousands of apprenticeships and traineeships with local employers.
"Many learners now feel they wish to pursue a technical education route into work because they see the traditional academic route from A Levels to University as expensive and no guarantee of positive career outcomes.
"The new T Levels combine the benefits of practical and theory-based learning to meet the big challenges of improving skills levels, boosting the economy and improving productivity."
Main image:
WELCOME: Education Minister Michelle Donelan with Oldham College Principal and Chief Executive Alun Francis