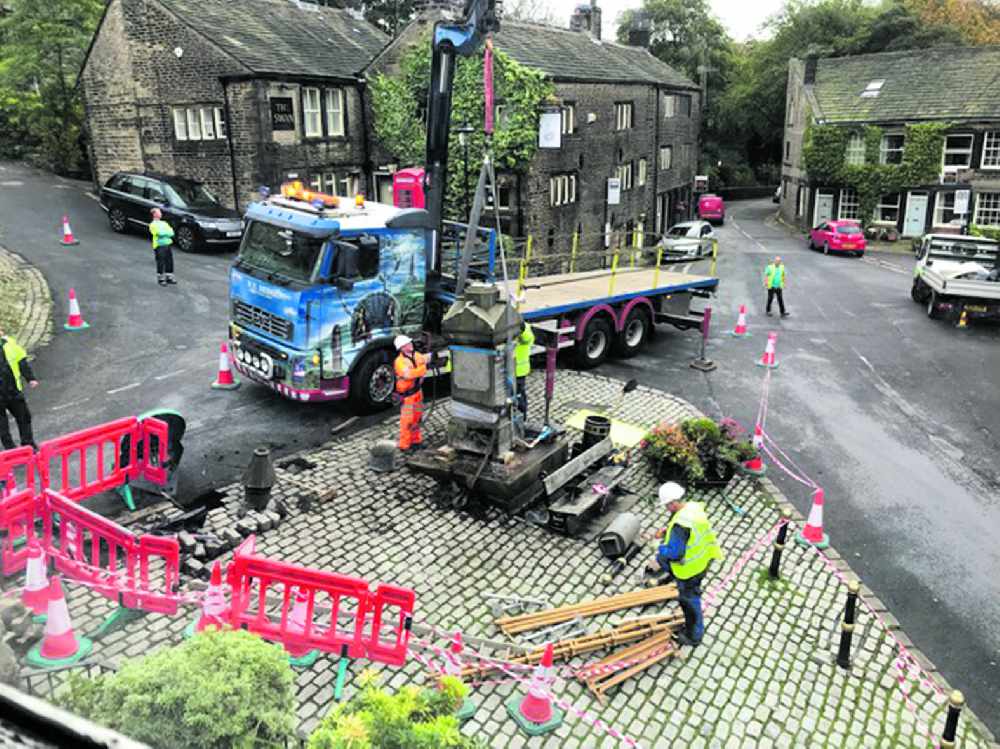 Oldham council have been praised for restoring an iconic monument to pride of place in a Saddleworth village.
A 40ft articulated lorry brought chaos to Dobcross after knocking over the landmark, damaging an old fashioned lantern and flattening several safety posts.
The lorry then collided with the gable end of an ancient cottage and finally got jammed in a narrow lane.
But a team of dedicated engineers using special lifting gear have now restored the memorial, believed to weigh ten tonnes, to its plinth in the village's cobbled square.
David Morris, the world's celebrity champion whistler, lives in the village's former bank, overlooking the scene.
He said: "It was the second time the memorial has been knocked over and initially we feared the worse.
"It's such a heavyweight piece of history and loved by villagers and visitors.
"But once the engineers had restored the monument to its upright position on its plinth we could just see scars above the inscription which took the impact.
"Other than that there is no visible lasting damage and once the lantern is replaced and the posts restored, everything should be fine."
John Warham, chair of the Dobcross Village Community executive, said: "Everyone is really pleased with speed the council the restored the monument. It's a good job."
And continuing the praise on social media, one villager posted: "Hooray, it's just like home!"
A spokesman for Oldham Council said: "We recognise the importance of the Dobcross monument to the people of the village, which is why we have worked hard to get it put back in place."
The monument was first erected in 1901 by public subscription as a tribute to Oldham-born doctor Walter Henry Fox Ramsden, Saddleworth's first medical officer of health.
An additional panel was added to the monument in memory of his grandson, WPB Stonehouse, also a local physician, who died in 1998.
The monument was first toppled from its plinth after being accidentally stuck by a van on the morning of Christmas Eve 2014.
Then Oldham Council brought in experts to ensure the monument was sympathetically restored in time for the village Whit Friday 2015 celebrations.