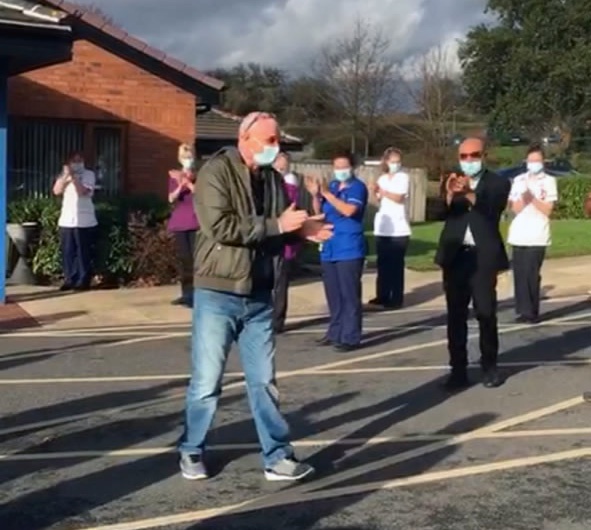 APPLAUSE ALL ROUND: Guard of honour for Gary as he leaves hospital.
Garry Dissington spent more than 100 days in ICU fighting virus after being given only a 10 per cent chance of survival
An amazing COVID-19 recovery story unfolded yesterday at the Rochdale Infirmary Floyd Unit when Oldham patient Garry Dissington was finally discharged home to his family.
Gary, 57, from Shaw, was first admitted to The Royal Oldham hospital during the first wave on March 29, where he was diagnosed with COVID-19.
He was treated on the hospital's Acute Medical Unit for six days, the Intensive Care Unit, and wards including G1, F7 and F8.
As his recovery progressed Gary was transferred to the Floyd Unit at Rochdale Infirmary, which is a specialist unit for brain injuries.
But yesterday staff lined either side of the carpark outside the Floyd Unit and clapped and cheered Gary during a special guard of honour as he was finally discharged fit and well back to his family.
Patient Gary Dissington was discharged from our care today after he spent over 100 days in intensive care making this one of the longest admissions due to #COVID19 in the country. What a legend! #NCA #NHS #TheRoyalOldham #RochdaleInfirmary #COVID #Recovery pic.twitter.com/KAE5x0vYxy

— Northern Care Alliance NHS Group (NCA) (@NCAlliance_NHS) November 13, 2020
Gary said he was delighted to be reunited with his wife and his new born baby granddaughter.
It is understood that he is one of the longest-standing stay-in-hospital COVID-19 patients in the country with over 100 days in ICU.
Doctors and nurses are amazed at his recovery; at one stage doctors gave him just a 10 per cent chance of survival.
Dr Redmond Tully, Consultant at The Royal Oldham Hospital, involved in Gary's care, said: "I am over the moon to see Gary leave hospital. He is a true fighter, his recovery is remarkable, and testimony to the great care he received at The Royal Oldham and Rochdale Infirmary. Gary was first admitted after being struck down with COVID-19 during the first wave, he was really very poorly, and for us to see him now well enough to go home to his family, including his wife and new born granddaughter, is truly amazing."
Dr Tully explained that Gary has also helped with vital COVID-19 research during his time in hospital.
He said: "We also owe Gary our gratitude because has also personally added to our knowledge of how to treat COVID-19 by being the first patient at The Royal Oldham to be recruited to the national urgent public health RECOVERY trial into treatments for COVID-19. Thanks to him and thousands of other people like him, we now have a cheap and readily available treatment that we know reduces the risk of death from COVID-19."
Gary's daughter Chanelle Dissington, 27, said: "I would like to say how absolutely incredible the care was that was provided to my father while he was in hospital in Oldham and Rochdale. We are very overwhelmed to have him back at home today, but we are very thankful to the NHS.
"My dad Gary is a bit overwhelmed himself as he has just got home, but we are all so happy and thankful for all the hard work of the doctors and nurses – they saved his life."