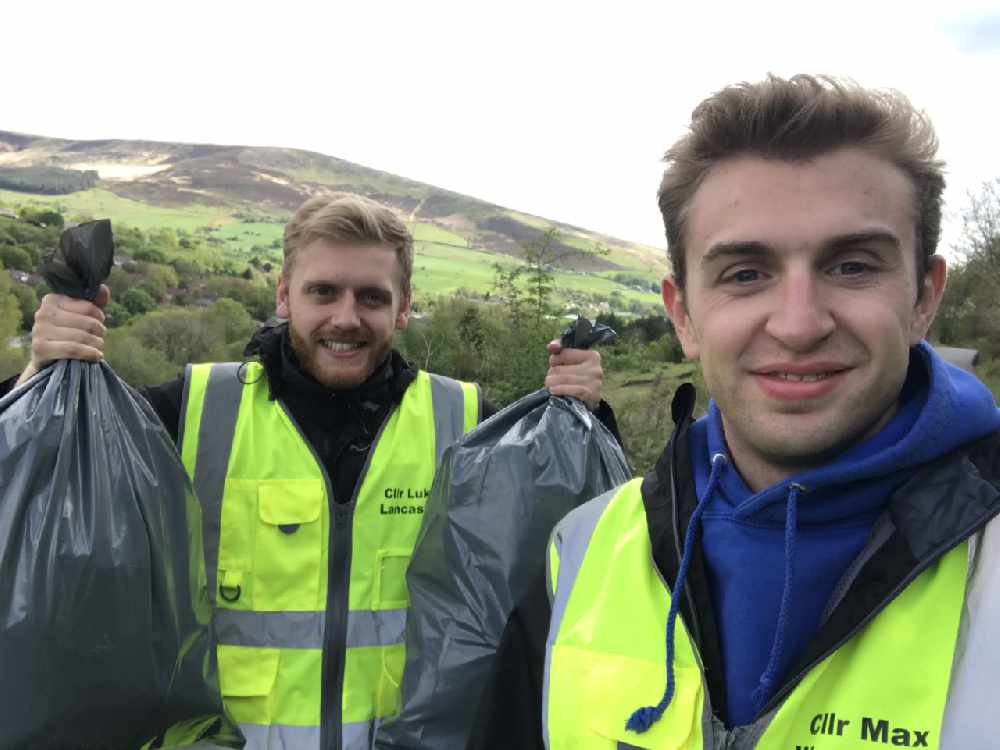 Councillors Luke Lancaster (left) and Max Woodvine.
Saddleworth's newest councillors have been embracing the Great British Spring Clean by sprucing up their local area. 
Keep Britain Tidy's annual Great British Spring Clean runs from 28 May to 13 June this year.
Councillor Luke Lancaster, who now represents Saddleworth North, joined the litter-pickers in Denshaw village for their weekly Saturday morning gig.
He then spent time in south Saddleworth with his colleague Councillor Woodvine on Ladcastle Road and around Moorgate Quarry as well, in Uppermill, where they also collected a few bags together of rubbish.
Cllr Lancaster said: "I'm reliably informed that the Denshaw litter-picking group has now been going for a full year - a huge thanks to each and everyone who has helped the village tidying effort these past 12 months."
He further remarked: "Despite what critics may say, litter-picking isn't just for election time!"
Cllr Woodvine raised concerns about littering in his ward.
He said: "I receive many complaints about people parking in this area and dumping rubbish out of their cars! These people tend to travel from outside of our Civil Parish - if they can bring the rubbish, they should take it home and not leave it for locals to pick up."
The Great British Spring Clean is now in its sixth year, and in 2019, more than half a million #LitterHeroes collected just under a million bags of litter, weighing around 4,308 tons.
You can pledge to get involved by going to www.keepbritaintidy.org/gbspringclean.
Read more from the Oldham Reporter