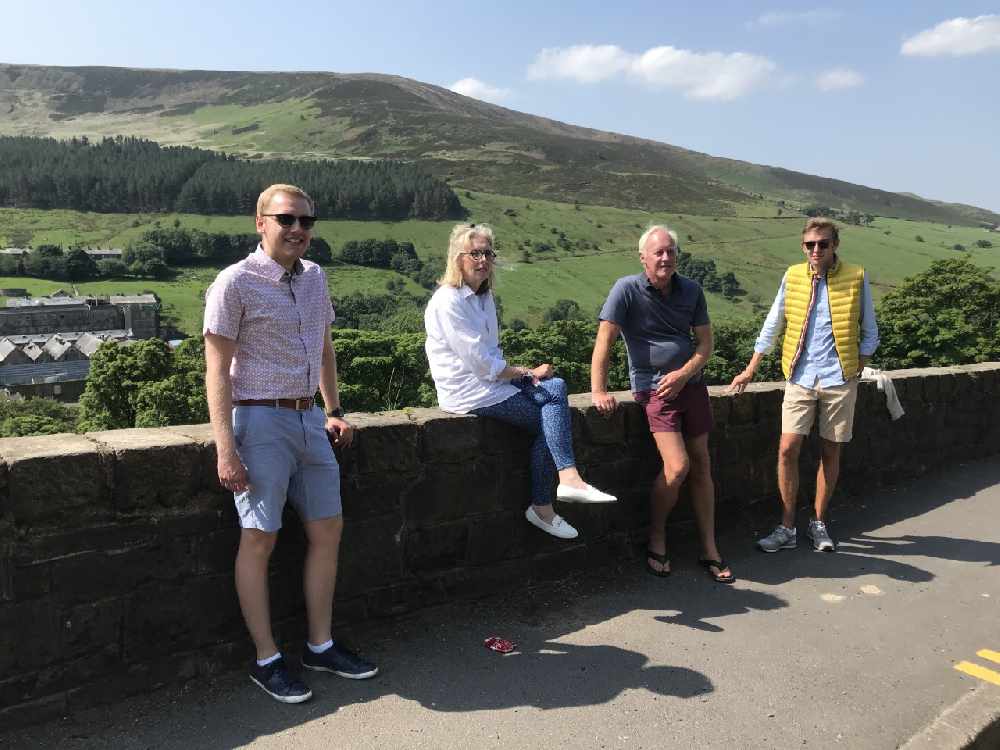 The Conservative candidate for next year's Greater Manchester mayoral election has spent a day in Saddleworth, getting a feel for the place and chatting with local businesses and traders. 
Accompanied by her husband Nathan, Laura Evans - who will be challenging incumbent Andy Burnham for his role - spent Wednesday touring the villages with Councillors Max Woodvine, Luke Lancaster and Graham Sheldon.
Parish councillor Max, who invited Mrs Evans, said: "In a whistle-stop tour we showcased to Laura everything that is great and good about Saddleworth; its rich heritage and culture, its beautiful landscapes and picturesque villages but, much more importantly, its people."
After Mr and Mrs Evans passed County End, they started the day at Stonebreaks - the site of a planning application for 200 executive houses on protected land - before going on to overlook Fletcher's Paper Mill and Dove Stone from Holmfirth Road in Greenfield.
In finishing the day with a walk along Uppermill High Street, Mrs Evans chatted with local small business owners and market traders.
Of her visit, Mrs Evans said: "It has been a great pleasure to visit Saddleworth and experience for myself the love, commitment and dedication local Conservatives show to the villages they represent. Saddleworth is not only the jewel in Oldham's crown but also that of Greater Manchester.
"Whichever county boundary local people identify with Saddleworth remains a truly special place so we should celebrate all that is good about it, and that's a lot!"
The second ever Greater Manchester mayoral election, which was due to take place on 7 May but was cancelled because of the coronavirus pandemic, will take place in May 2021.
The other candidate vying for the role is Andy Kelly of the Liberal Democrats.
The mayor of Greater Manchester serves as the directly elected leader of the Greater Manchester Combined Authority, and has authority over strategic housing planning, transport, adult education and skills, social care and others.
Main image:
(from left to right) Cllr Luke Lancaster, Laura Evans, Cllr Graham Sheldon and Cllr Max Woodvine