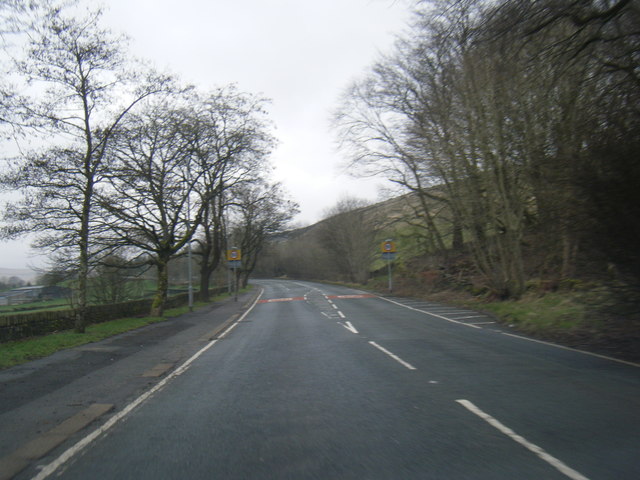 Residents living on a key road facing major disruption over the installation of a new drain have raised safety concerns with the contractors.
Work to build the new £635,000 drain on the main A62 Oldham-Huddersfield road at Delph began recently.
The road will be closed until May next year.
But worried locals have written to councillors, alerting them to problems over signage after a series of incidents involving lorries.
One resident said: "Some urgent action is needed regarding the signage on road closures. A long delivery vehicle came down the A62 from the Huddersfield direction through all the partial closure signs.
"I stopped the vehicle outside my property – he had to reverse the whole way back up the A62 to find a turning point. Another long vehicle, with a frustrated driver, decided to try to go along Midgrove Lane.
"He found he couldn't and in reversing, he damaged a lamp post. And in the latest incident, a large delivery vehicle got stuck and had to turn around just higher up than the Old Bell.
"He hit a wheelie bin and broke his front vehicle light. A lorry driver told me that various diversion signs coming down the A62 towards Delph are not very visible, confusing and some are partially hidden.
"He was confused particularly as there are no signs to warn long vehicles to turn around, or indeed any available turning area.
"He also said the A62 is a well-known major route for big brand delivery vehicles and, to his knowledge, the Highway Authority has not given them any advance notification which he believes is usual when a major highway is being closed.
"Some urgent action is needed before there is a real blockage and a possible accident. The signage is obviously not adequate in size or visible – indeed the current signs are confusing to local residents who know the area.
"The Old Bell have put up their own additional signs in various key areas to help clients."
The resident is asking contractors for a plan showing how the closures will apply and access for householders.