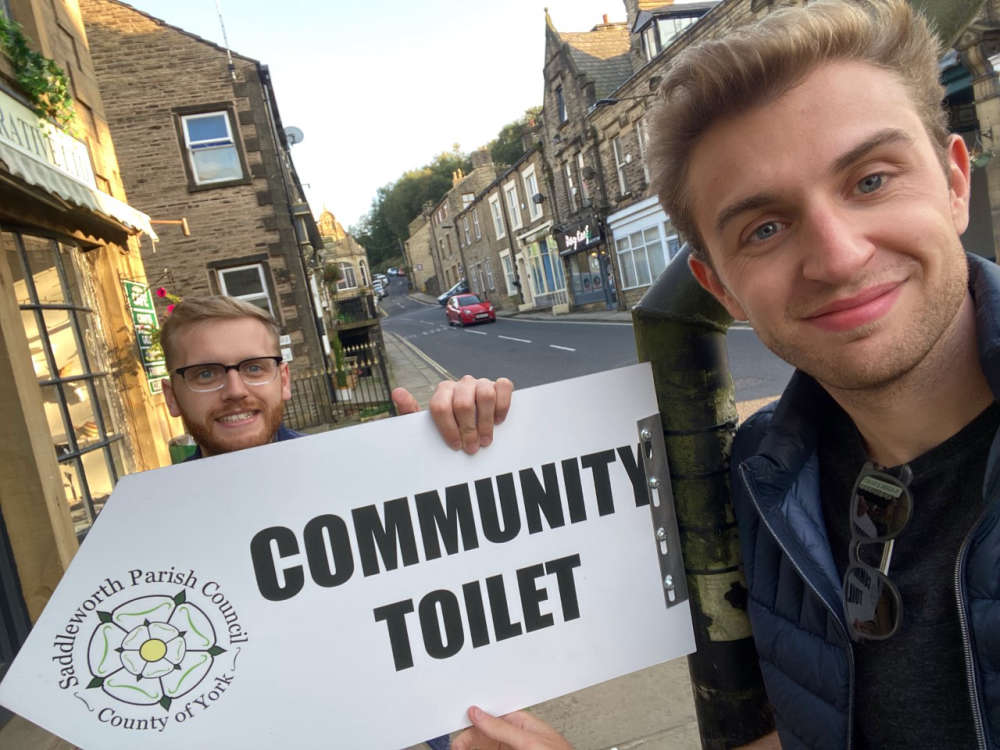 Councillors Luke Lancaster (left) and Max Woodvine.
As Saddleworth reopens after lockdown, so have its public toilets for use across the village communities - courtesy of the Parish Council's Toilet Scheme.
In 2020, it was proposed that funding for the scheme should be cut by half, however, Parish Councillors have agreed to maintain the same payments in order for members of the scheme to meet Covid-19 guidelines after a review of the scheme was carried out by the Environment Committee.
The scheme aims to 'provide clean, safe and accessible public toilets in various locations for residents and visitors to Saddleworth' and scheme members allow the public to use their facilities free of charge during opening hours, and without the need to make a purchase, in return for an annual payment of £600 from the Parish Council.
The Estates Manager at the Parish Council, along with Councillors Max Woodvine and Luke Lancaster, has now erected new signage outside the Community Toilets.
Environment Committee member Cllr Woodvine said: "Since I got onto the Parish Council I have been like a dog with a bone, determined to do something with this scheme! We've now reached a new settlement for it with locations across Saddleworth so hopefully it's all sorted.
"Last year we took all the old signs down and have finally been able to put the new ones up - without OMBC's logo now they no longer offer any funding."
Cllr Lancaster added: "This is another example of the Parish Council stepping up to the plate and succeeding where OMBC failed. I helped to take the old signage down and put the new signs up. All that you have to show is some willing!"
Saddleworth Toilet Scheme now provides facilities at the following locations:
Saddleworth Craft Co-operative - Delph
Junction Inn - Denshaw
Gate Inn - Diggle
Swan Inn - Dobcross
King William IV - Greenfield
Little Shop - Uppermill
Saddleworth Civic Hall
Read more from the Oldham Reporter