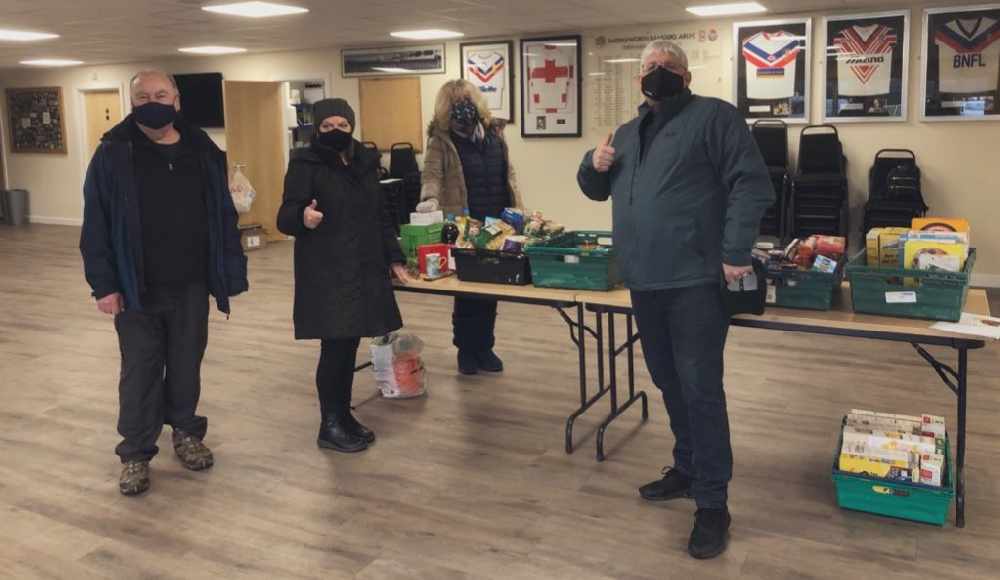 A kind-hearted community opened their shopping bags and wallets at a special 'Shop and Drop' fundraiser for Oldham's youth hub Mahdlo.  
The massive initiative was organised by a collective group of community Samaritans from Dovestone WI, Saddleworth Round Table, Saddleworth Rotary Club and Oldham Metro Rotary Club at Saddleworth Rangers' ground in Greenfield.
Food, toiletries, school items and donations flooded in during the two-day event, offering support to needy families struggling through the coronavirus pandemic.
A delighted Lucy Lees, Mahdlo's chief executive, said: "We filled a minibus four times with donated items. The food included beans, sweetcorn, pasta, porridge oats, cereals and milk.
"People donated items to help young people with their home schooling including pens, pencils, and notepads. We also had a large amount of personal hygiene items donated including shampoo, deodorant, toothpaste and soap.
"There were £110 cash donations and a few individuals signed up to become a volunteer at Mahdlo! The team have been busy sorting this morning and have started to put hampers together ready for distribution.
"The hampers include food for the family for a week, a meal plan with recipes, using items in the hamper, and health and well-being resources.
"We have been inundated with requests from schools to support families in need from across the borough. These are families that do not qualify for alternative support such as school meal vouchers or the food bank."
The organisers reserved special thanks to St Joseph's School in Shaw, Debbie Sinfield from The Body Shop for their generous donations, and Saddleworth Rangers for the use of their clubhouse for collections.
Main image:
Thumbs up ...community champions: (left to right): Tony Burke from Saddleworth Rotary Club, Jane McAvan and Janet Mills from Dovestone WI, and Chris Wareing the chairman at Mahdlo.