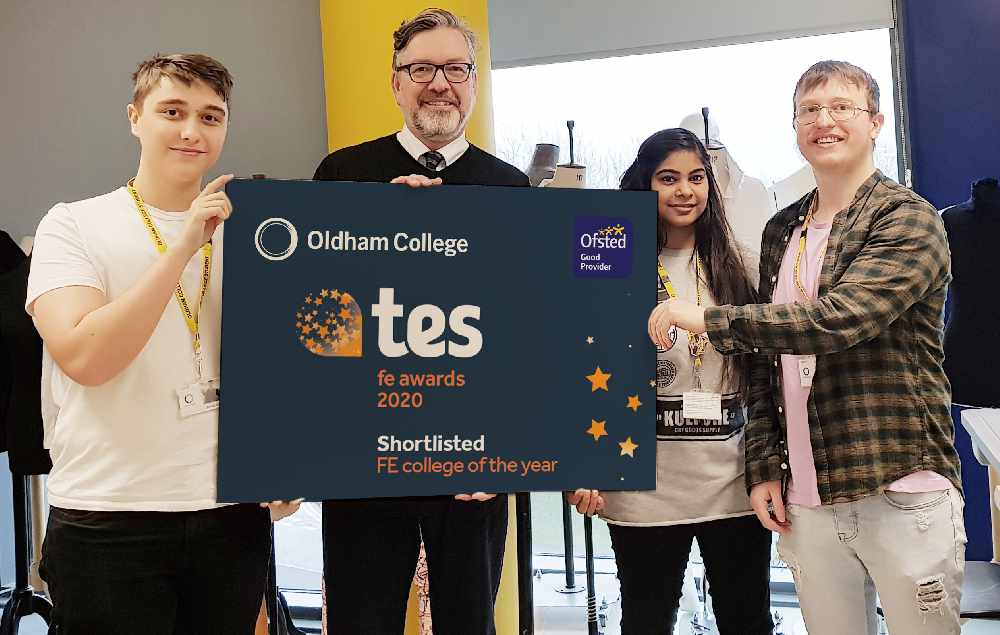 Oldham College is celebrating after being shortlisted for 'College of the Year' at this year's prestigious Times Educational Supplement's Further Education Awards.
The award seeks to reward the colleges whose imagination, commitment and hard work have led to stellar provision in all areas.
Judges asked for evidence of excellence in providing a high-quality curriculum with excellent student outcomes, reflected in strong recruitment and success rates in 2018-19.
Oldham College has already won national awards in the past year for its special needs support and its programme for training teachers, as well as achieving positive inspection results for both its further and higher education provision.
Alun Francis, Oldham College Principal and Chief Executive, said: "It's an honour for Oldham College to be shortlisted for these prestigious awards – and especially in the College of the Year category.
"We're emerging in our best educational and economic position for many years after a significant improvement journey that has been driven by the hard work of our governors, leaders and our extremely talented and committed staff.
"We've innovated in our teaching and learning, and enjoyed year-on-year improvements leading to our best-ever results, plus growing recruitment numbers.
"Ofsted confirmed our resurgence last year but we're not standing still and are working hard to deliver our comprehensive new five-year strategic plan, which includes fantastic programmes to develop our specialist curriculum offer in state-of-the-art new facilities.
"Oldham College now has a clear purpose and plan to capitalise on its growing position and reputation to make vital future contributions to national and local economic and educational outcomes – and to provide significant benefits to our local communities.
"We are already the first-choice college in our field and anyone considering us can be assured they're coming to a high-performing and ambitious place.
"We aim to be the best place to learn and work – and the best is yet to come!".
Tes FE editor Stephen Exley said: "Excellent practice exists right across the further education sector, and those shortlisted for the Tes FE Awards are the cream of the crop.
"Our judges were extremely impressed with the calibre of entries. To be shortlisted is an extraordinary achievement."
The TES FE Awards winners will be revealed at a gala awards evening at the Grosvenor House Hotel in London on Friday 20 March.
For a full list of nominees, visit tesfeawards.co.uk.
Main image:
Alun Francis (second left), Chief Executive and Principal of Oldham College, celebrating Oldham College's shortlisting for the TES FE Awards 2020 'College of the Year' with Fashion students.