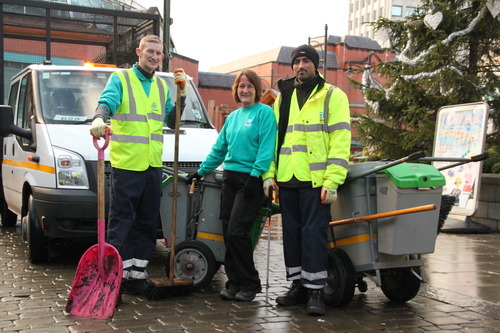 Government inspectors have given the thumbs up to Oldham's cleaner streets. 
Recently, the Government asked the charity Keep Britain Tidy to carry out an independent assessment of the cleanliness of main roads across the country.
Inspectors visited the borough covertly to look at how clean Oldham's highways were.
It gave them the equivalent to a grade B or above on one visit and no lower than a B on the other – meaning the borough scored four out of five.
Oldham Council say the streets are now being cleaned seven days a week, including on Bank Holidays.
Last year, the council took on 24 extra staff working on street cleaning and enforcement across the borough.
In addition, the authority has also added two new road sweepers – Bruce Springclean and Dustin Timberlake – to make sure the borough's roads, pavements and 'Backstreets' aren't 'Filthy'.
Groups and residents such as the Big Failsworth Clean Up team, Ghazali Trust, MyColdhurst, Uppermill Community Action Network and Ruth Major are also continuing to do their bit and help clean up the borough.
The council's leader feels the £600,000 that the authority has injected into its street cleaning budget is starting to pay off.
Councillor Sean Fielding, Leader of Oldham Council, said: "It's been made really clear to me by residents that we must get the basics right and clean streets are a key part of that.
"We've invested money in our streets cleaning service and this survey shows it is paying off.
"However, this is something that we can't do alone.
"We'd love all our streets to be litter free and for that to happen people need to stop throwing their rubbish, cigarette butts and chewing gum on the floor and get rid of it properly.
"If everyone did that then Oldham would be cleaner and better place."
To report littering, visit the online form on the Oldham Council website at https://bit.ly/2OrdlCe.